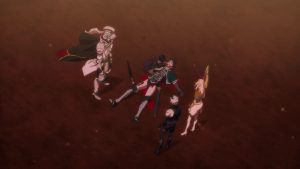 Contrary to what you might have thought, there was no editorial comment in my waiting two days to blog the finale of Shingeki no Bahamut.  It was simply a matter of logistics – my time is extremely limited and I'm extremely exhausted mentally (see my Made in Abyss finale post), and I had to prioritize the finales that were more important.  But that said, there's no denying that this one – and indeed, the entire final arc of "Virgin Soul" – was a big steaming pile of crap.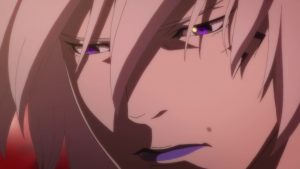 Was this the worst final episode of a good show ever in anime?  I kind of doubt it, because sadly that's a category rich in entrants.  But in recent memory it's definitely right up there.  This may be a case of "the less said the better" because I don't want to totally obliterate the fondness I had for the first 20 or so eps of this series, especially the first cour, so I'll keep this pretty short.  But I will say probably the most damning thing I could under the circumstances – this was a disaster big enough that if there were ever a third season of Shingeki no Bahamut, I won't be watching it.  Not after being jerked around this badly.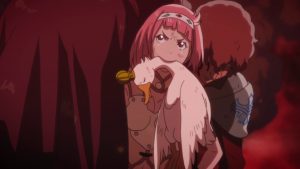 This was rather predictable, true, but not even in my wildest imagination did I imagine the writers here would so totally sell out everything they did in the first cour of the series.  It's almost inexplicable – as if the series changed staff midway through or something – because it's hard to believe the same hands wrote the first cour and the final arc.  What was the point of all that – all the character development, all the social commentary, all the pain the characters went through?  The ending betrayed all of that – narratively and philosophically in equal measure.  It just doesn't make any fucking sense.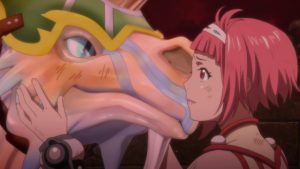 Thank goodness we had better series that wrapped up around the same time as Virgin Soul, because that takes some of the sting out of this experience.  Yeah, it really sucks to have what started out as a really good series totally jump the shark and poke the viewers in the eye with a sharp stick.  But it's not that big of a deal in the end – it's not like Shingeki no Bahamut is a masterpiece or anything, just a solid entertainer that briefly flashed the promise that it could be something more.  If you were undecided on watching this show, my advice would be be to avoid id or at least skip the second cour altogether – and that's a recommendation I almost never give.  The second cour is pretty much when bad things happen to good anime, and nothing more.