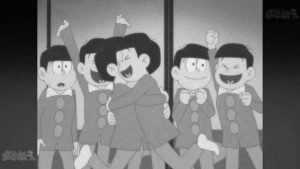 The success of Osomatsu-san is one of the more inexplicable phenomena in anime history, really.  It's weird enough that this remake of a remake of a 60's kiddie manga adaptation should have become a hit in Japan, where the franchise had been largely forgotten – but it became the #6 top-selling series by volume in anime history and spawned a galaxy of tie-ins and merchandising.  Even stranger still is that it became a hit in the West, where almost no one had ever heard of Osomatsu-kun and – presumably – the intensely culture-specific humor would mostly be lost on the audience.  I'll never forget Miyu Irino's utter befuddlement that this series should have been so popular with his American fans at A/X – it just made no sense to him.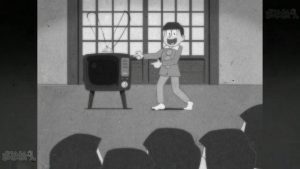 So what is it about Osomatsu-san that made it not just an unlikely hit, but one of the genuine cultural events in anime history?  Comedy is like gossamer – is should be appreciated, not dissected – so the specific appeal of this series is hard to quantify.  But this premiere, in all its unabashed zaniness and fearless cynicism, is probably a good example of whatever it is that made this show work.  Pierrot and the production committee put together a staff that innately understands modern anime comedy, hired a seiyuu cast of considerable renown (and comic talent) and acted from the beginning as if they had nothing whatsoever to lose.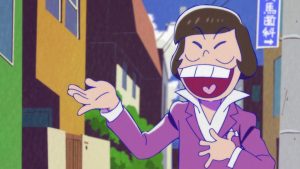 In a sense, this brilliant comic tour de force of a premiere was Fujita Yoichi and Matsubara Shuu (Osomatsu-san's director and head writer) expressing their own amazement that the original proved to be "slightly popular", and riddling all the trappings that came along with it full of bullet holes.  We start out flashing back to the original black-and-white "Osomatsu-kun" sextuplets worrying over what to do about their new series, when Osomatsu declares that they can turn on the TV and see what the future holds for them.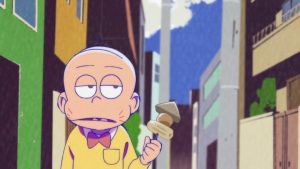 And what a future it is.  As seen through the eyes of Iyami (Sheeh!) and Chibita, who having been away for 16 months ("Trump Tower!") decide to check in on the sextuplets, only to find their house a garish den of corporate iniquity. Each of the brothers has let themselves go in hilariously grotesque fashion, their parents are greedily milking them for all they're worth, and all of the rest of the supporting players are now part of the leechy support staff riding the gravy train (except Dayon and Dekapan, who are trying to use their association with the sextuplets to get laid).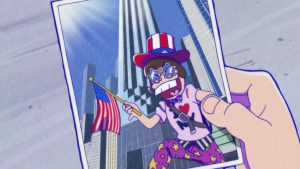 It's a brilliant move to confront the unlikely success of the first Osomatsu-san head-on like this, but the episode truly soars when the brothers decide to become "proper" as a way to avoid the brutal future (which ends with their fans turning on them and killing them) they've seen on their TV.  The definition of "proper" is where this really turns biting – it starts with Osomatasu chasing the salaryman dream.  Karamtsu has become an "Iron Man" type sci-fi hero, and Choromatsu has switched bodies with Totoko-san.  Ichimatsu?  He's a fantasy RPG character, and Jyuushimatsu has become 3D.  Creepiest of all, though, is Todomatsu – he's doing it proper by becoming live-action Totty.  The final form…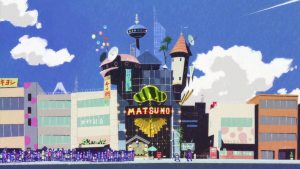 The whole "Chanto gattai!" sequence is brilliant, complete with the return of Iyami and Chibita as supervillains, and as you'd expect the whole "proper" things ends just as badly for the brothers as their eccentric billionaire future did.  No, all that's left is for the sextuplets to become their NEET selves again and try to muddle through another season somehow – and just to add a final Python-esque note to the premiere, Fujita-sensei gives us the new OP and ED back to back, uninterrupted.  Nothing Osomatsu-san does is conventional, really – that's one of its biggest draws – and it's laid down the gauntlet for its second season in brilliant form.  This series has set a high bar for itself, and trying to top yourself for insanity week after week can eventually devolve into a losing proposition, so a bit of caution is still warranted.  But on balance, Osomatsu-san 2 could hardly have gotten off to a better start.
OP: "Kunshi Ayauku mo Chikou yore (君氏危うくも近うよれ)" by AOP
ED: "Let's Go! Muttsu Go! ~Rokushoku no Niji~ (レッツゴー!ムッツゴー!~6色の虹~)" by ROOTS66 Party with Matsunoke Rokukyoudai
End Card: