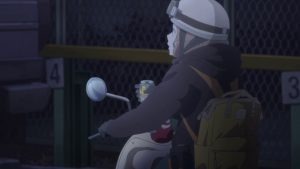 I'll be the first to admit I have a predisposition to like series like Just Because.  I have a weakness for pastel-toned coming-of-age dramas to begin with (and anime has delivered many excellent ones, most recently of course Tsuki ga Kirei).  But more than that, this genre that was once a staple of anime has become a dinosaur, even at studios that once thrived on it (like P.A. Works).  We just don't get get many series that are even aspirational (never mind successful) at delivering a thoughtful take on adolescent romance and angst, especially ones that focus equally on both girls and boys.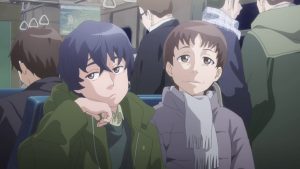 Does Just Because meet that standard?  Yes, most certainly – but I think that was clear even from the previews.  Ultimately a show has to be successful at execution, though.  And with originals, that comes down more to the series composition than anything else.  I'm not wildly enthusiastic about the C.V. of writer Kamoshima Hajime, and director Kobayashi Atsushi is as best I can tell a complete newcomer.  The production values from smaller studio Pine Jam (Gamers) are pretty middling, though I do like the overall look of the series.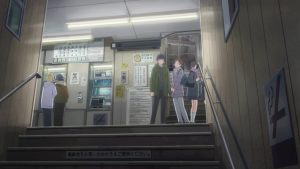 So – in sum, there are some definite qualifiers here, but on the whole I was pretty happy with the first episode of Just Because.  It didn't blow me away like the premiere of Tsuki ga Kirei, and it's already clear it likely doesn't have the chops to succeed at that level.  But it was solidly entertaining – I more or less liked the characters we spent time with, the setup was interesting, and the dialogue was natural and fluid enough to be effective.  And there were a couple of moments that packed some legitimate emotional heft.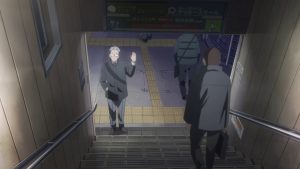 Story-wise, the focus is on transfer student Izumi Eita (Ichikawa Aoi, also a newcomer – and very good).  He's a quiet boy about to enter his third year of high school who's just transferred into a school near Kamakura somewhere – the hitch being that he's spending the semester as a school many of his middle school classmates now attend. Izumi likes to snap photos on his phone and seems to have adopted the role of observer of life.  Even more fond of photos is Komiya Ema (Lynn), whose three-member photography club is under threat of enforced disbandment.  She's not the main girl though – that seems to be her friend Natsume Mio (Isobe Karin, yet another newbie).  She's the former student council president who's cramming hard to get into a good college, and also seems to have something simmering with Izumi from their junior high days.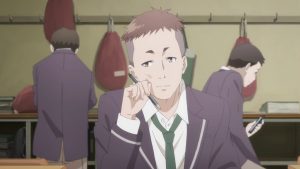 Clearly, there's going to be a split focus in Just Because.  Certainly romance is going to be a part of it – there's definitely a history with Izumi and Mio that's going to be explored.  Romance is also on the mind of Souma Youto (Murata Taishi), a third-year and old friend and baseball teammate of Izumi who's determined to hit a home run on the practice field – superficially as a sort of capstone to a mediocre baseball career which obviously didn't see (m)any home runs in actual games, but in truth as he seems to have set that up as a condition to confess to the girl he likes.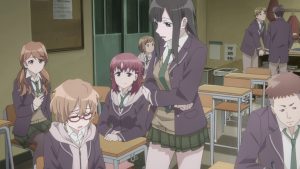 A bigger theme, I think, is going to be the dying days of youth – the struggle of kids being forced out into the world to balance their nostalgic attraction to innocent times with the looming dread of the real world.  I really liked the scene where the stragglers from the brass band took up the school fight song as Izumi pitched to Youto – the way this meaningless quest to homer took on a real existential importance to him, even as he stares down the prospect of having to get a job (no college for Youto, it seems).  There's some real potential here, as a study of how important seemingly trivial things seem to us in youth has real pathos in it.  The only question is whether Just Because will have the dexterity to close the deal, and that's something that will only become clear with time.