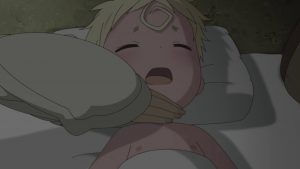 When it comes to content, Made in Abyss is really out there where the buses don't run.  Really special anime like this are a unique experience, and there's nothing else out there right now which brings all the elements to the table this series does.  It helps to have a brilliant source material to draw from, obviously, and this show seemingly does.  But as an adaptation this really is the whole package – art, animation, music, casting, pacing.  It makes you think and it makes you feel, it respects your intelligence and it challenges your preconceptions.  How can you ask more out of a fantasy series than that?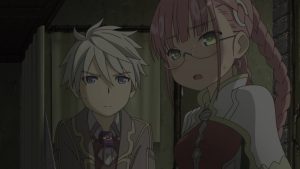 What Made in Abyss also does is defy predictability, a trait that makes it that much more precious in a medium where predictability is increasingly valued above any other commodity.  I certainly didn't expect an extended return to Orth and the orphanage this close to the end, but that's what we got in the pre-open.  It had been hinted at earlier that Kiyui would fall ill, and indeed he did – in fact, he's close to death from fever before a visiting pharmacist takes him to her ship and he miraculously recovers.  Jiruo suggests this is the "birthday death disease" – which finds its victims dying on their birthday (and two orphans whose birthdays are unknown have recently passed away).  As always, whenever "Abyss" answers a question it asks many new ones – what causes this illness?  Will Kiyui die if he returns to Orth?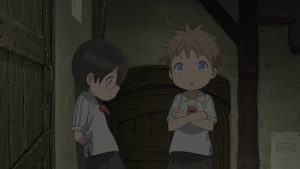 Another surprising turn is the sidelining of Riko from the narrative for two episodes (and counting) this close to the end (though of course it's not the end for the manga).  Ordinarily this might be a problem, but as I was watching this episode my feeling was that it was actually a positive.  Partly that's because Nanachi and Reg have great chemistry, and their on-screen relationship is fast-forwarded by their alone time together.  It's also frankly because Nanachi is rather more interesting than Riko, who's a fine character in her own right but really the least interesting – and dynamic – among the main cast of Made in Abyss.  I've noted that in the context of the story Riko fills more or less the same role as Gon, and I think that's still true.  But that Gon is the most compelling character in Hunter X Hunter in spite of that is testament to what an extraordinary creation he is more than anything else.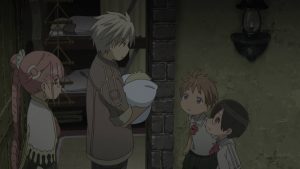 There's a quote at the end of the prologue that I love, because it frames the story of "Abyss" so beautifully: "Longing seizes people more powerfully than poison and more deeply than illness.  Once it catches hold of you, there is absolutely no escape.  That is quite a curse, and yet adventurers all willingly devote themselves to its pursuit.  For them, a life without longing is more terrifying than death itself."  That's true in Made in Abyss, but it's also just true.  Nanachi makes note of it later – how it drives people to confront the curse of the Abyss and creatures that can predict the future as they try and make meals of them.  It drives Riko, it drove Lyza and Ozen – and maybe once it drove Nanachi, too.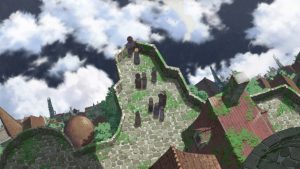 This series guards its secrets closely, but it continues to allow a little light into the shadows, inch by inch.  Nanachi's attempts to explain the curse to Reg using the "Fog Weave" are stubbornly abstract, but in the end they do paint a picture – in my mind I see a row of spikes and a "do not back up – severe tire damage" sign.  It's as if the curse (which Nanachi also describes as a "force field") tries to make the trip into the Abyss one-way for almost everyone who attempts it.  It's this force field which allows "Orby" and the other creatures of the depths the ability to predict the future – because the curse reacts to the living things around it (I'm still a little fuzzy on how that works, to be honest).  The curse is weaker the farther you get from the central shaft – though one senses there's more to the magic of Nanachi's hideout than that.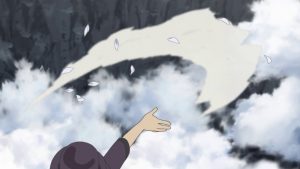 The next thing Nanachi does it try to "show Reg the world as she sees it" – which involves a two-way radio in his helmet and an encounter with Orby and a black whistle who's under attack from it (did Nanachi know that would happen?).  It's interesting that Nanachi refers to cave raiders as the "greatest threat" to her, and she means it – that's not going to stop Reg from trying to save the black whistle, though.  Which he does – with Nanachi's help – and gives him a message to take back to Jiruo, though he keeps Nanachi's presence a secret.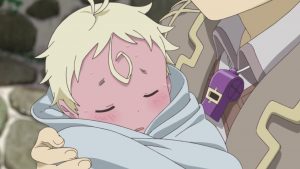 The other great mystery of the moment is Mitty, who continues to show an obsessive(ly creepy) interest in Riko.  There's an extremely unsettling moment which strongly suggests that the girl Mitty once was is still self-aware and trapped somewhere deep inside the hideous monstrosity she's become – which is, let's be honest, a horrifying thought.  There's a deep connection between Mitty and Nanachi, clearly – whether that extends to the time before one of both of them became "hollows" is unclear, but Nanachi certainly saved Mitty (and likely herself) from someone (male) who was doing terrible things to both of them.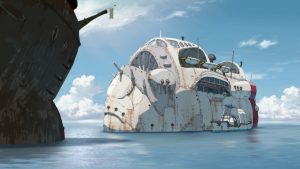 The final unpredictable turn comes in the final moments of the episode.  Not when Reg asks Nanachi to accompany he and Riko when they continue their journey – that was expected – but when Nanachi asks Reg to do her a favor and "Kill Mitty for me."  The change that comes over Nanachi here makes it obvious that this is brutally difficult for her – that indeed, she never wanted to ask this of Reg at all.  That suggests that whatever imperative compels Nanachi to do so must be a powerful and painful one indeed, but there are so many layers of darkness in this story that surprising as that is, it doesn't ultimate come across as a shock.  With only next week's double-episode finale remaining, it really feels as if we've just begun to explore the true depths of Made in Abyss.