It was both cruel and kind of Kyoukai no Rinne to end with such a magnificent episode.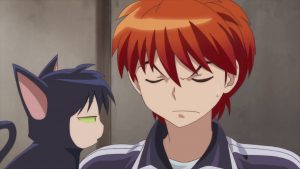 If any anime ever epitomized the concept of "taken for granted", it's Kyoukai no Rinne.  Over the course of six cours this show has never once been at the top of my season leaderboard, and almost never engendered a long blog post.  But more than anything else as I watched this final episode play out so splendidly, I thought about how much I'm going to miss Rinne.  And of course, how much I'd like to have it back for another season.  Sadly, there was no announcement at the close of the episode this time – which leads me to believe that our string of miraculous renewals for this series has finally run out.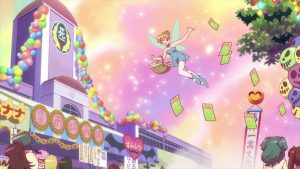 If indeed this was the final episode, I can honestly say that Kyoukai no Rinne has gone out on top – this was surely one of the finest handful of episodes in the show's entire run.  Superficially there was nothing "finale" about it – though it did give us a rare this season full-length story – but it was the perfect balance of snark and seriousness.  I haven't always loved the chapters featuring Matsugo, but he was the instigator for one of Rinne's most winning stories here.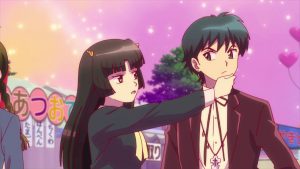 Let's say a word or two about arguably the series MVP and certainly its unsung (until today) hero, the Narrator – played with notable aplomb by the great Genda Tessyo.  He's Kyoukai no Rinne's one-man Greek chorus, peppering the narrative with wry observations like the one about how school festivals aren't supposed to be set up to make a big profit.  Fittingly it was in a tale from Greek mythology that Narrator-san actually got to sing – in a hilarious illustration of the "Orpheus Rule" in Matsugo's haunted house.  This was done in song – for no other reason, it seems, than because it was ridiculous.  After Orpheus and Hades had their say, Narrator-san delivered the coda (when Orpheus turns around to look at Eurydice) in song himself.  I don't think I've laughed harder at an anime this year.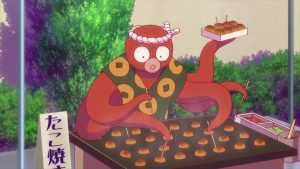 I love moments like that in Kyoukai no Rinne – no anime embraces random absurdity in such a delightfully understated way as this one.  And Rinne and Mamiya Sakura's trip trough the "Cursed Promise in the Underworld" (if a couple successfully finishes, they're sure to break up) is full of such moments.  Of course the attraction itself is the real curse for couples, as the girls  become furious at their partners for refusing to turn around when the various accoutrements elicit their screams.  Waiting at the end, too, is a ticket for free yakisoba if a couple finishes – setting up the eternal conflict for Rokudo-kun, food or Mamiya Sakura.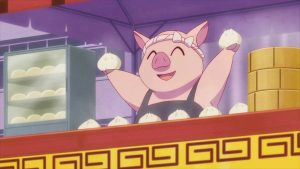 "Kawaii…mitai! Yakisoba…Mamiya Sakura!"  Poor Rinne-kun, faced with such impossible choices.  Meanwhile Rokumon-chan is taken out by konjak jelly (disgusting stuff, by the way), and Mamiya Sakura manages to fall into every pitfall trap in the path.  There's so much great stuff here – like the hands on Rinne's back belonging to a giant (and rather affectionate-looking) caterpillar, and Rinne-kun stepping on Mamiya Sakura's head.  Inoue Marina and Ishikawa Kaito are both really phenomenal here, but then they pretty much are in every episode – as is this entire cast.  That's one of the notable things about Kyoukai no Rinne of course – the seiyuu work is some of the best in modern anime, period.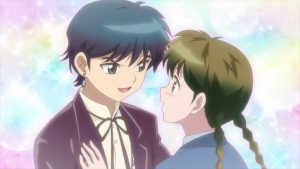 Of course, this being Kyoukai no Rinne, the food at the Shinigmai First Festival turns out to be truly awful (pigs preparing pork buns and octopus making takoyaki can't possibly be a good idea).  But while Rinne doesn't "win" by making it out of the Promise in the Underworld, he wins bigger by going back to search for Mamiya Sakura and choosing her over bad noodles.  We even get a final scene where Rokundo-kun gets a magnificent spread and actually gets to eat some of it, and not only that – a private moment with Mamiya Sakura where he actually calls her by first name only.  But this is still Kyoukai no Rinne, so we can't go with an outright happy ending – though bringing everyone together "because it's the last episode" is a suitably cheeky way for Rinne to close.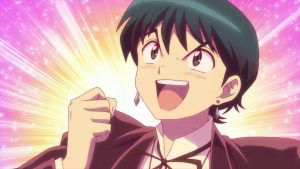 I sincerely, wholeheartedly hope this isn't the last episode we see of Kyoukai no Rinne.  I never paid as much attention to it as I should have and in truth, the second season was actually the best one, but damm it – I love this show.  Unabashedly, sentimentally love it.  To be as consistently funny for as long as this series has is a real achievement, and its absence will leave a far bigger hole in my anime life than I probably ever realized while it was airing.  I wouldn't say I'm terribly hopeful that there will be more Kyoukai no Rinne in anime form, and while I enjoy the manga this is a case where the experience just isn't the same – anime is the medium that suits Rinne best.  If this is it, all I can say is "thanks" – you've made my Saturdays a whole lot better over the past few years.