Winter is here (and it's only autumn).
I wish these season preview posts were more upbeat and optimistic, I really do. They'd certainly be a lot easier to write if they were. But most importantly, that would be an indication that the upcoming season was one to be really excited about. Unfortunately, though, that just hasn't happened for a while.
That said, no season this year has proved to be a complete wasteland. Each of them has had one real standout series (Shouwa Genroku Rakugo Shinjuu, Tsuki ga Kirei, Made in Abyss) and the most important sequels have generally delivered the goods as expected (mainly Boku no Hero Academia). And a few sleepers like Kabukibu! and Nana Maru San Batsu have lived up to their potential and filled out the schedule. If this is the new normal, at least it's not a total loss as far as quality is concerned.
There's a definite sense right now that anime is a medium in transition. Never have we seen a safer schedule, I don't think, than this one. The sequels (worthwhile or otherwise) are mostly to massive hits – Osomatsu-san, Hoozuki no Reitetsu, Love Live, et al.  Idols, otome series and cute girls shows are all over the schedule. But we seem on the whole to be transitioning away from anime's age-old model of heavy reliance on manga as a source material. I don't recall another season where traditional manga made up a smaller percentage of new series, and I'm almost certain I've never seen one with so many web manga, games and visual novels as their source. This is surely the least print-driven anime season in history.
The big variable right now seems to be Amazon and Netflix, and what influence – if any – they will have on anime's production model. Anime has probably never been more mainstream in the U.S. than right now, and the entrance of these giants into the streaming wars is a big part of that. But serious anime fans have big issues with both companies' business models (Neflix' 3-month delayed releases, Amazon Strike's ridiculous price structure), and there's little evidence that the money they bring into the ecosystem has filtered down to the production houses (and their employees) themselves in a meaningful way. Some studios seem to be trying to adapt, while others continue to cling to the production committee model.  And no one seems quite sure whether major change will happen or not.
As we look for beacons of hope, where does that standout show for Fall seem likeliest to come from? Well, there's Mahoutsukai no Yome – which I consider to be a good manga rather than great, but which is (so far) benefiting from truly spectacular production quality. Frankly I don't see a whole lot of other candidates – a second season of Hoozuki no Reitetsu (I'm not worried much about the new studio and director) and Kekkai Sensen (I am a bit worried about the director change) should deliver, but after that we pretty much jump straight into the sleepers. And who knows with those – even if a sleeper-heavy schedule those are by nature a crapshoot, and this schedule seems light on really intriguing sleepers.
Thematically we seem to be in pretty familiar territory (see above) for the most part. Fantasy may be edging out sci-fi this year, sports continues to barely register, and romantic comedy to exist mostly on the fringes of ecchi. All of the sure-fire production committee demographic targets are well-represented, but I don't see any dominant themes in the small corner of the schedule that looks genuinely interesting. One other notable thing about this season is the near-total lack of A-list directors – apart from Hoozuki's Yoneda-sensei, there aren't a lot of names with big-time track records.
The sidebar poll is in the usual place – go get it. Without further ado, on to the previews: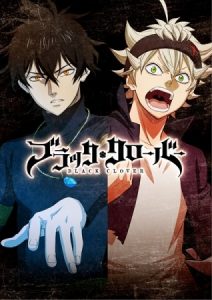 Black Clover – Studio Pierrot
Director: Yoshihara Tatsuya
Writer: Fudeyasu Kazuyuki
Schedule: Premieres Tuesday 10/03, 18:25
Episodes: TBA
First Look: I have not read Tabata Yuuki's manga, but pretty much every review I've seen runs along similar lines – unbelievably derivative, competent, generally unexciting. Black Clover isn't one of Weekly Shounen Jump's top sellers, and it seems to be getting their standard low-priority treatment (like World Trigger, for example) – lower-cost studio, journeyman staff. I actually like a lot of what Pierrot does and it's another lean season, so I'll give this one a look, but my expectations are modest.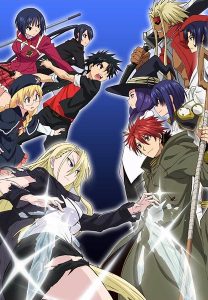 UQ Holder – Mahou Sensei Negima 2 – J.C. Staff
Director: Suzuki Youhei
Writer: Yasukawa Shogo
Schedule: Premieres Monday 10/02, 25:00
Episodes: TBA
First Look: In the annals of anime history, few manga have been more ill-served by their adaptations than Mahou Sensei Negima. It's no masterpiece, but Akamatsu Ken's series is thoroughly entertaining and no doubt would have been highly successful with a straightforward, competent adaptation. Instead it received a series of disjointed and often-original TV and OVA treatments from numerous studios (to give you an idea how bad it was, Shaft's was the best), which totally lost the charm of the manga.
Fast forward to 2017, and Akamatsu's "Negima" universe gets another bite of the apple – and I'm once more worried. First of all, UQ Holder was not originally subtitled "Mahou Sensei Negima 2" – it seems to have been forced to become a linear Negima sequel when it didn't achieve huge popularity in its original form. And there are strong indications (like the absence of certain characters from all promo material) that J.C. Staff intends to fast-forward through (or skip altogether) the UQ Holder portions of the manga and jump straight to the Negima-centric material. I like UQ Holder and I'll go into this hoping for the best, but it just seems as if this mythology was born under a bad sign where anime adaptations are concerned.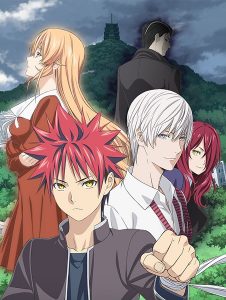 Shokugeki no Souma: San no Sara – J.C. Staff
Director Yonetani Yoshitomo
Writer: Yasukawa Shogo
Schedule: Premieres Tuesday, 10/03/17, 24:30
Episodes: TBA
First Look: I always worry just a little about whether Shokugeki no Souma will get another season, but so far we're batting 1.000. While this show's disc sales are almost non-existent (which actually puzzles me a bit), it has WSJ popularity going for it – but it's not quite as popular as the magazine's heaviest hitters. So far that's been enough, and I'm glad – while I don't consider this to be a classic or anything, it's a thoroughly enjoyable series (especially if you love to cook). I didn't think the second season was quite as interesting as the first – it largely bypassed character development in favor of the shokugeki action. But it was still a fun ride, and I'll certainly be watching again.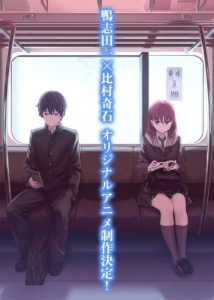 Just Because – Pine Jam
Director: Kobayashi Atsushi
Writer: Kamoshima Hajime
Schedule: Premieres Thursday, 10/05, 21:00
Episodes: TBA
First Look: On paper, this original series from Pine Jam (who're impressing me with Gamers this season) looks like the most interesting original of the Fall, and maybe even a candidate to be this upcoming season's Tsuki ga Kirei. It seems to be a genuinely gender-balanced character drama, and has a distinct and at least superficially attractive art style. And the previews have been well-produced and interesting. But it has a first-time director, and writer Kamoshita Hajime (Sakurasou) hasn't exactly blown me away in the past. I'll certainly be tuned in and it's high on my interest list, but I think there are good reasons to be skeptical.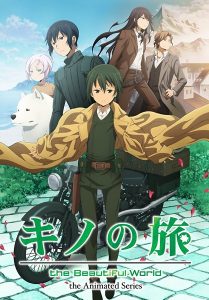 Kino no Tabi: The Beautiful World – The Animated Series – Lerche
Director: Taguchi Tomohisa
Writer: Sugawara Yukie
Schedule: Friday, 10/06, 22:00
Episodes: TBA
First Look: Pretty much everything about this refresh of Kino no Tabi is new – the staff, the cast, the studio. To be honest the magic of this series was always kind of lost on me – it has its charms, but I could never quite understand what all the fuss was about. I think the original Kino no Tabi – like Durarara – predicted a lot of trends that would follow in anime, especially when it comes to light novel adaptations. When DRRR came back it seemed kind of tame and dated, a relic – we'll see if that happens with Kino no Tabi.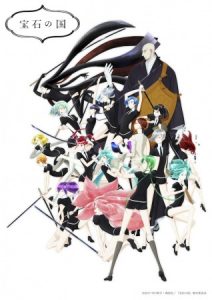 Houseki no Kuni – Orange
Director: Kyogoku Takahiko
Writer: Oono Toshiya
Schedule: Premieres Saturday, 10/07, 21:30
Episodes: TBA
First Look: Houseki no Kuni (for some reason more often referred to by its English title – "Land of the Lustrous" – than most series) has a couple of factors that make it an interesting sleeper.  The manga is pretty well-regarded, and the writer for the adaptation is Oono Toshiya (Tsuritama).  That latter point doesn't hold as much weight with me as it once did given Oono's record since, but it's still a point in this show's favor.
The  story surrounds a race of genderless immortals called "Gems", which populate the Earth in the distant future who do battle with "Moon Dwellers" who want to turn them into jewelery (seriously).  In the manga these Gems are apparently quite androgynous, though the anime seems to have (naturally) made them overtly female.  There's a lot of uncertainty with this one, and the premise sounds more strange than outright compelling, but it's at least an intriguing unknown.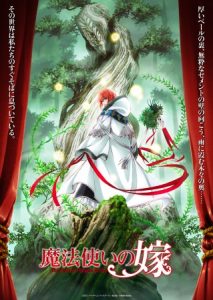 Mahoutsukai no Yome – Wit
Director: Naganuma Norihiro
Writer: Takaha Aya
Schedule: Premieres Saturday, 10/07 – 25:30
Episodes: 24
First Look: It's been clear from the first previews that Wit's take on Yamazaki Kore's much-lauded and best-selling manga was going to be one of the most visually stunning anime in years.  We were introduced to the material in an original three-episode preview OVA which was indeed ridiculously gorgeous, and did a very good job of setting up the story.  Now, a two-cour TV anime waits in the wings, finally bringing canon manga material to the screen.
The first three episodes of the TV series were previewed in theatres this summer, and while I won't spoil content I will say they were superb – and maintained the stratospheric visual standard of the OVAs.  I don't consider Yamazaki-sensei's manga a masterpiece, but it's very good indeed – there's a bit of "Potter" mixed with "Natsume" to this story of a young Japanese orphan girl who winds up in the care of a strange and powerful mage.  Strange, mystical, alternately sad and surreal – Mahoutsukai no Yome is special, whatever its flaws may be.  If this isn't the finest series of the Fall, I'll be fairly surprised.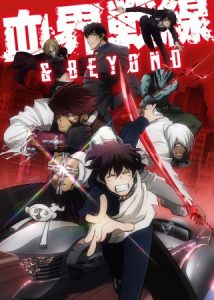 Kekkai Sensen & Beyond – Bones
Director: Takayanagi Shigehito
Writer: Kamo Yasuko
Schedule: Premieres Saturday, 10/07, 27:08
Episodes: 12
First Look: Along with Hoozuki no Reitetsu, this is certainly my most anticipated sequel of the season.  Both were in my year-end Top 10 list after their first seasons, and like Hoozuki, Kekkai Sensen has a new director.  It also has a new writer, though this time the studio remains the same – and it's probably the best in the industry right now.  So there's a lot to feel positive about with this continuing adaptation of Nightow Yasuhiro's manga.
With that said, the circumstances are somewhat cloudier here than with Hoozuki.  There's a delicious irony with this season of Kekkai, too – we have a writer/director team who were ripped by fans for having made changes in adapting another manga, Dagashi Kashi (which is headed to a sequel without either of them), taking over a series where changes to the manga were mostly praised.  I'm not so much worried about Takayanagi and Kamo, as I quite liked the changes they made to Dagashi Kashi and loved the show on the whole.  But losing Matsumoto Rie is a worry – she's one of the brightest young stars in anime directing, a genuine auteur, and her limitless imagination and brilliance was all over the first season of Kekkai Sensen.  It's hard to know just what to expect here, but I'll certainly be rapt with attention when this one kicks off.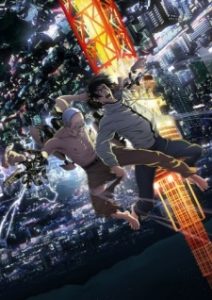 Inuyashiki – MAPPA
Director: Satou Keiichi/Yabuta Shuuhei
Writer: Seko Hiroshi
Schedule: Premieres Thursday, 10/12, 24:55
Episodes: TBA
First Look: MAPPA is keeping up a remarkably busy production schedule – so much so that I worry they're taking on too much.  With this adaptation of Oku Hiroya's Seinen manga they take over the NoitaminA slot, though that currency is so devalued at this stage that it barely registers as a thing.  I'm not that crazy for Oku's tale of a terminally ill and perpetually disrespected 58 year-old who notices strange things happening to him after what seems like a meteor strike, but it is at least a fairly serious story.  The staff is pretty solid here, too (Satou is coming off Shingeki no Bahamut: Virgin Soul), and though the fact that Inuyashiki is going to be mostly CGI isn't a point in its favor, it will be kind of interesting to see what MAPPA can do with the technology.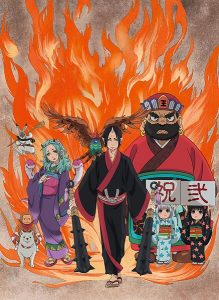 Hoozuki no Reitetsu 2nd Season – Studio Deen
Director: Yoneda Kazuhiro
Writer: Gotou Midori
Schedule: Premieres Saturday, 10/07, 25:00
Episodes: 13
First Look: The only thing surprising about Hoozuki no Reitetsu getting a sequel (until Osomatsu-san came along it may have been the most surprising blockbuster hit of the 10's) is how long it took to happen. Maybe Wit was just too busy, but the series ended up jumping studios anyway, so it's hard not to wonder why this didn't happen two years ago.
Delayed or no, it's great to have Hoozuki back – it was one of the most literate and visually beautiful anime comedies ever. The visuals may take step back with Deen (or they may not – just look at Rakugo) but I'm not at all worried about Yoneda stepping in as director. He's rock-solid, as his recent work on Akatsuki no Yona and Kabukibu! demonstrates. There's no reason not to expect another stellar season in Hell.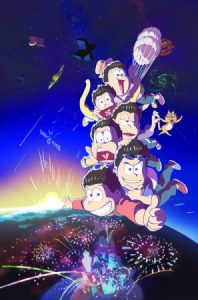 Osomatsu-san 2 – Studio Pierrot
Director: Fujita Yoichi
Writer: Matsubara Shuu
Schedule: Premieres Monday, 10/02, 25:00
Episodes: TBA
First Look: Speaking of Osamatsu-san… This sequel was inevitable as it gets – last I heard the first season is the #6 best-selling anime of all-time on disc on a per-volume basis. I wasn't even sure it was going to be streamed when it was first announced, and look at it now. Perhaps even more stunning is the show's overseas popularity – Miyu Irino seemed totally baffled that so many guests at Anime Expo were fans.
The team is fully re-assembled for the second season, and it's probably reasonable to hope it might be nearly as good as the first. Shows that thrive on outright lunacy can be tricky to maintain, though – there's going to be a lot of pressure on Fujita and Matsubara-sensei to keep topping themselves. I think a big key will be giving the supporting cast a lot of love – it's a hilarious group that was if anything underserved in the first season.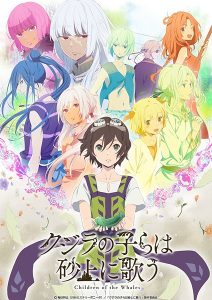 Kujira no Kora wa Sajou ni Utau – J.C. Staff
Director: Ishiguro Kyohei
Writer: Yokote Michiko
Schedule: Premieres Sunday, 10/08, 23:00
Episodes: 12
First Look: There's a fair amount that interests me about this adaptation of Umeda Abi's manga.  It's the story of a group of children who live on an island floating in a giant sea of sand.  They have some sort of special power which causes them to die young, and have never met another human who wasn't part of their culture.  The hero is the archivist of the group.  All in all it's a very interesting concept, and in fact the manga's been nominated for the 2017 Tezuka Cultural Prize.
That being said, the consensus among those I know who've actually read the manga is that it's good rather than great.  That's how I would describe the staff too, pretty much – I don't hold Shigatsu against Ishiguro (the direction wasn't the problem there) but his resume is that of a solid craftsman rather than an artist.  Going in cold turkey I have pretty high expectations, but my sense is that Tales of the Whales Calves probably doesn't quite have the raw materials to be a classic.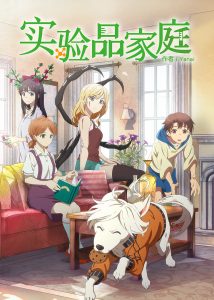 Shiyan Pin Jiating: Frankenstein Family – Studio TBA
Director: TBA
Writer: TBA
Schedule: Premieres October 2017, Time TBA
Episodes: TBA
(EDIT: This seems to have been pushed back to Spring 2018) First Look: If it seems like there's a lack of concrete information in that listing, you're right.  In fact I'm not even sure this is going to air, since we don't even know a studio yet – but Frankenstein Family was announced as an October series, so I'm including it just for the heck of it.  And it's a complete flyer for me, too – this series is an adaptation of a Taiwanese manhua and I know absolutely nothing about it except that it's about a family full of children who've apparently had genetic experiments performed on them by their parents, leaving only the youngest son as a normal human.  I like the art, plain and simple – sometimes the look of a series gives me a sleeper feeling for no concrete reason I can point to, and this is one of those cases.
Will Definitely Blog: UQ Holder, Shoukegeki no Souma: San no Sara, Mahoutsukai no Yome, Kekkai Sensen and Beyond, Hoozuki no Reitetsu 2nd Season, Osomatsu-san 2. Five is actually a pretty big number in this category, though it's a sequel-heavy schedule for sure.
Sleeper Candidates: Houseki no Kuni, Kujira no Kora wa Sajou ni Utau, Shiyan Pin Jiating: Frankenstein Family 

OVA/Movie: Lean.  Very, very lean.
Natsume Yuujinchou Roku OVA – 10/25/17: The first of two "Roku" OVAs will be the sequel to the earlier "Itsuka Yuki no Hi" OVA, which while anime-original is easily the best of all the Natsume Yuujinchou specials to date.
Hizukuri (ONA) – 11/2017: This one-off net animation about a boy on a journey to get his dead father's scissors repaired looks mildly interesting, though I wouldn't like to bet it'll ever be subbed.
Theatrical: Slim Pickings for a second season in a row.
Yowamushi Pedal: Re:GENERATION – 10/13/2017: Another Yowapeda compilation movie (with some added scenes, of course) to tide us over until the arrival of the fourth season sometime in 2018. Trailer:
Haikara-san ga Tooru Movie 1: Benio, Hana no 17-sai – 11/11/2017: Furuhasi Kazuhiro directs this updating of the 70's TV anime about a tomboy who challenges traditional Japanese gender stereotypes.  I don't know the original very well, but it's interesting how little things have changed in Japan in the last 40 years where this theme is concerned.  Trailer:
Godzilla: Kaijuu Wakusei – 11/17/17: Admittedly I was hoping anime's first attempt to take on the Godzilla mythology would be a TV series, but I'll still be fascinated to see what Polygon and Netflix do with it.  The usual Polygon creative staff has been assembled and I think by now we have a pretty good idea of what to expect from them, so I'd be surprised if this 2-film series doesn't turn out to be solidly competent.  Godzilla: