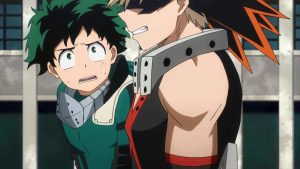 I think anyone could be forgiven for feeling the last few eps of Boku no Hero Academia were a mere prologue, but this is a series that always delivers when it's time for the main event.  All Might, Bakugo and Izuku are the three people at the spiritual heart of this series, no question about it – it's a big cast and there are others who are comparable in plot importance to Bakugo at least, but these are the three cornerstones of the story.  We've never seen them in this kind of situation before, so that's obviously a pretty big deal for BnHA.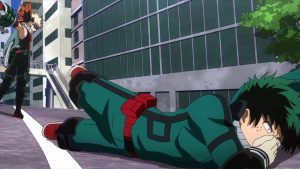 One thing for Izuku Midoriya – he certainly never gets dealt an easy hand in life.  Having to partner with the most insufferable prick in the academy and face off with the most powerful teacher was the worst possible draw for Deku in many respects.  Yes, Kacchan is insanely powerful, but boy – is he a chore.  And in All Might not only does Izuku have to face off against the man widely considered the most powerful in the world, but that man also fills a role that's some combination of father and God (as Recovery Girl notes) in the boy's life.  On some level it looks like two-seven off suit.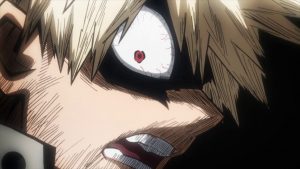 Make no mistake, though – even setting aside the de facto purpose of the exam (to force the students to confront their own weaknesses in order to survive) this was a matchup that probably had to happen.  I don't think you'd face two students this powerful off against any lesser opponent than All Might, and these two (or Shouto, in some combination) would probably be the only ones with a chance to beat him.  And if you worried that kind-hearted All Might would go too easy on these two, especially given his love for Izuku, you needn't – he embraces the difficult task that's been laid him with admirable directness.  All Might doesn't go all out – that could only end one way – but he doesn't pull his massive punches, either.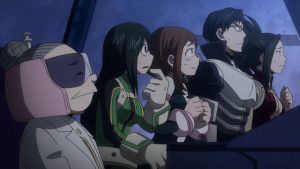 Bakugo remains an extremely difficult character, in every sense.  I don't like him, certainly – in the sense that he's an egomaniacal bastard who treats others in a way that defies all decency (especially Deku, of course). But as a character he's unbelievably interesting, and not just because he's so powerful.  Despite his loose-cannon personality he truly is a conniving, devious kid most of the time – he's actually thinking about the consequences of his actions, even if those actions are seemingly impulsive and frankly stupid.  Would he have been better setting aside the juvenile name-calling and general abuse and teaming up with Izuku in a real sense right from the beginning?  Absolutely.  But that doesn't mean Kacchan is blindly plowing ahead with no regard for tactics.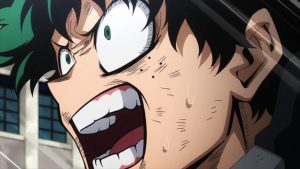 Funnily enough, for all his obnoxious ranting, Bakugo understands this fight better than Izuku does.  He knows Deku has too much respect (and love) for All Might, and that it's a problem.  He also knows that simply running away as Deku suggests is a losing strategy – even with his handicap wrist weights All Might is simply too fast.  No, the only chance the boys have is to take something out of the #1 hero along the way – to pick and choose the moments to confront him, but confront him nonetheless.  And for a change it's not Izuku who's in control of tactics – it's really Kacchan who's driving the effort here, right down to physically hurling Deku towards the exit gate at one point.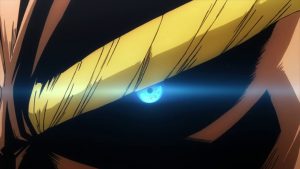 This is some pretty brutal stuff to watch, really – especially when Deku and All Might, who love each other like son and father, really do serious damage to each other (as the aftermath shows).  I would certainly argue that Izuku's faith in Kacchan is misplaced – there's no reciprocal respect here, much less affection – but that faith is an element that gives Deku the strength to go all out against his hero and mentor.  What All Might sees in Deku is obvious – intelligence, compassion, and the same selfless courage he possesses himself.  But his interest in Bakugo is different – this is a boy with massive potential as a hero, but that potential also carries great dangers with it in someone with Bakugo's shortcomings.  Anything All Might can do to make a difference with Kacchan he will – but that's a damn tough nut to crack.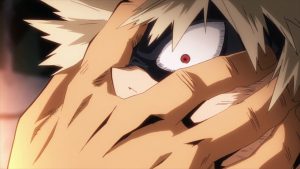 I'm honestly not sure whether All Might had it in him to make one last attempt to win this challenge there at the end – Izuku really did give him one with everything he had on it – but I don't think it matters in that the boys proved what they needed to prove (barely).  But for all its ferocity this was still, in the end, a controlled simulation – the real world is outside, and the League of Villains isn't going anywhere.  With the likes of Dabi (Shimono Hiro) and Toga Himiko (how great to hear Fukuen Misato in BnHA – she's hardly been in anything lately, and she's one of the best) joining up with them, there's plenty of fertile ground for the eventual third season to cover.