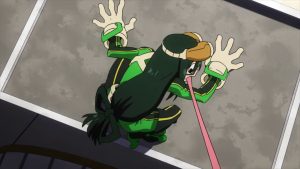 Truth be told, this wasn't the most exciting episode of Boku no Hero Academia.  If almost had the feel of anime-original material, though that's only partially true – these individual student-teacher exam battles do (mostly) take place in the manga too.  But most of them are pretty quickly dealt with there, where they all occur simultaneously with the main focus on only a couple of them.  I admire the anime's decision to give more of the cast a chance to shine in this scenario, but they've had to do a fair amount of padding out (with the timing of the season break in mind, no doubt) in order to do so.  And somehow, there seems to be a certain spark missing in the end product.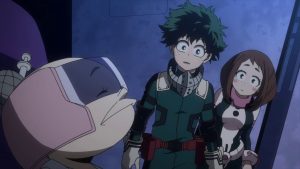 The first battle in the spotlight this week was fan favorites Tsuyu and Tokoyami taking on Ectoplasm-sensei.  This was one of the battles that was over in a blink in the manga, but there seems to be a general trend towards giving Tsuyu more focus in the anime (she's insanely popular, especially in the West).  Recovery Girl's note in observing this was that it's better to have a power that's compatible with everyone rather than one tailored towards a specific sidekick, and Tsuyu pretty much illustrates that here.  Tokoyami's quirk is one of those that's insanely strong when conditions are right but has definite weaknesses – he's a specialist of the highest order, but Tsuyu is a generalist, and that's what saves the pair here.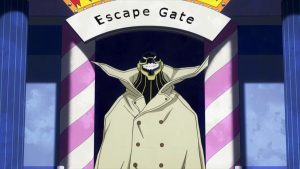 Next up is Iida and Ojiro against Power Loader, another contest that's mostly anime-original.  It's entertaining enough, but there doesn't seem to be a whole lot of raison d'etre behind it – it's not as if any larger lessons are taught (even by Recovery Girl), or Ojiro makes any real contribution to the team's win.  If anything I guess the point here is to show that Tenya-kun is starting to move past his trauma from the Stain incident and get back on-track towards behing a hero his brother (and more importantly, Tenya himself) can believe in.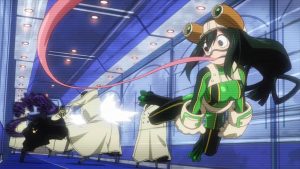 The most important duel of the episode is the one that most resembles its original manga length and form, and I don't think it'd a coincidence that it was the most compelling this week.  Yaoyarozu and Shouto taking on Aizawa-sensei – there are a lot of storylines to this one, and these are three very strong (in the narrative as well as combat sense) characters.   Momo is off her game since her rather passive (and ultimately unsuccessful) participation at the sports festival, and Shouto is not someone who needs to be pushed in order to push himself – he asserts control over strategy in an almost automatic manner, and Momo allows him to do so.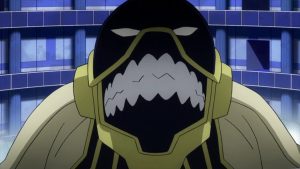 This is an interesting matchup in that it highlights all the elements this test is really about.  Aizawa is all about forcing the students to confront their weaknesses, and he's paired Momo with a very forceful (though not arrogant in a Bakugo way) personality.  He's also matched himself up against a student in Todoroki-kun who often doesn't sweat strategy much, because he's so powerful he doesn't need to.  Since Aizawa knows his students (and their weak points) better than anyone and is a master strategist himself, he's put Todoroki in a spot where he has to rely on Yaoyarozu-san – which it really nerve occurs to him to do until he has no choice.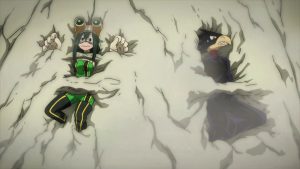 This is an excellent battle, and Aizawa-sensei is a great, great character – one of those Horikoshi gems that's constantly revealing new facets the more its observed.  But the inescapable reality here is that Aizawa, in his eagerness to help Momo regain her confidence, has basically let she and Shouto win.  And Momo is smart enough to realize it, even if he tries to explain it away as a mistake in judgment in the end.  Momo clearly likes and respects Shouto (and maybe more), and I think that's mutual – and no question his acknowledgment of her in the end will do her a lot of good.  But she and Aizawa-sensei both know the truth, and in a sense he's done something here which could be seen as disrespectful – look at all the praise Kacchan got for not holding back against Ochako.  Mightn't it have done more good if Aizawa had acknowledged Momo's clever plan, but defeated her anyway?