No question about it, Keppeki Danshi! Aoyama-kun is the stealth series of the season.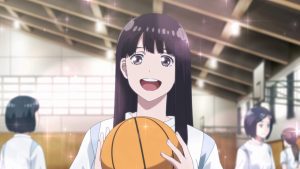 Sometimes – not every season – we get a show which has an enormous upswing in my perception from the time it airs to the time it hits full-stride.  And this summer it's definitely Aoyama-kun, which has turned out to be so much more than I thought it was going to.  As is often the case I'm not wholly sure if it's a matter of the series getting off to a slow start or of my being blinded by snap judgments (I suspect it's a combination of the two) but the more I see of this series, the more it pushes towards the lofty perch lovably quirky comedies like Tanaka-kun wa Itsumo Kedaruge and Kono Bijutsubu ni wa Mondai ga Aru! have in my anime lexicon (though it's not at their level quite yet).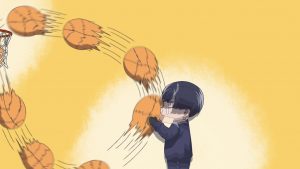 What is it that makes this show so special?  A lot of stuff, really, but what jumps out at me is how everything is just better and more interesting than it needs to be.  From the OP to the ED (which reveals new subtleties of genius with every viewing) to the casting to the shot composition, Keppeki Danshi! Aoyama-kun is a show with both style and substance.  It would have been very easy to make a perfectly pleasing comedy about two-dimensional characters given this premise, but that's not what this series is – and I assume mangaka Sakamoto (ironic, that) Taku takes a solid measure of the credit for that.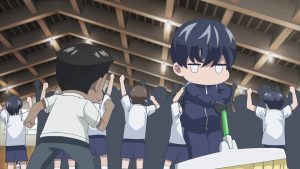 Speaking of casting, that just keeps getting better.  Every veteran seems perfectly suited to their roles, and we add the delightful Nakahara Mai to the team this week (another superb name will join next week) as Odagiri Mio, the freshman basketball club starter who can't shoot to save her life.  It's hard to give too much credit for casting Nakahara perfectly of course, because she can play pretty much any type, but she unsurprisingly nails it here as the pure-pure and cheerful Mio.  Mio is big, buxom and beloved – a great athlete but when it comes to basketball, not much else.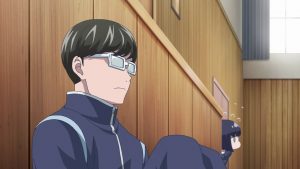 It would come as a surprise to no one that Aoyama-kun can shoot – and dribble, and do just about anything else on a basketball court (as long as he has his gloves on).  As such, the feckless Mio gets it into her head to take him as her Shisho, though about all he can do is say "Feeling" over and over.  Mio being straightforward and simple, it doesn't take much to convince her that Aoyama has fixed her, though in reality it's all in her head (and for the record, girls who can dunk in competitive play are rare as hen's teeth – never mind in high school, never mind a Japanese high school).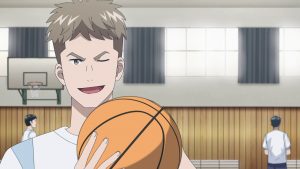 But that's far from the headline here.  No, that would be what happens when Mio shows her gratitude by clapping Aoyama-kun on the shoulder – and he doesn't pass out, or dash for the showers.  That, naturally, gets the school in an uproar.  Things are going to the next level for this series, as the subjects of the earlier episode plots are being folded into the current ones more and more.  While everyone who pines for either Aoyama or Mio (which collectively encompasses almost everyone in the school) are obviously bummed, we see this mostly through the perspective of Moka-chan and Narita-kun.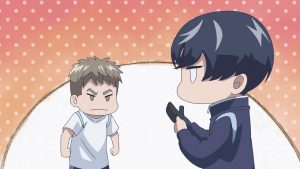 Why is it, exactly, that Aoyama can be patted on the shoulder by Mio – or high-five her, or arm wrestle her, or even (almost) eat a bento she prepares?  That isn't made wholly clear – it's assumed (thanks in part to Tsukamoto-kun's gossip-mongering) that it's because the two are romantically inclined.  Naturally that's what Moka fears, but I'm not so sure.  It seems more likely that this is an extension of what we saw in Narita's episode – that Aoyama-kun wants very badly to be "normal", and with Mio he can do normal things he's never been able to do before (which adds a certain poignancy to his character – and Narita's, too) .  Why?  Who knows – love may be involved or it may not, but it seems like a topic that's going to be further explored as the series progresses.