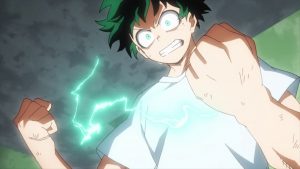 There's nothing much new to report here.  Boku no Hero Academia delivering near-perfect shounen is old hat by now, as we're 15 episodes into a second season that has surpassed an already-excellent first in every way.  It's a great talent for a writer to be able to be thematically consistent without ever being repetitive, and Horikoshi displays it in spades with this series.  The directions the story follows are always new and the characters are always evolving (they are adolescents, after all) but each twist and turn is built on the foundation of what came before it.
There are a lot of moving parts in the narrative at the moment, but I don't really think it's necessary to try and do a systematic analysis of all of them so I'm going to hopscotch all over the map for a bit.  Let's start (though the episode doesn't) with Stain, because I think he's quite interesting.  Villains like Stain are favorites of mine, because they can sound so reasonable when they want to.  There's perhaps no one more dangerous than a sociopath who believes he's righteous, and Stain most certainly does.  He may be a sociopath but he's absolutely lucid – he considers every move, and every move has a larger purpose.  Heroes and villains are equally meaningless constructs to him, and equally contemptible – but he has common ground with the one group, for the moment.  And Stain is too calculating to dismiss the importance of that.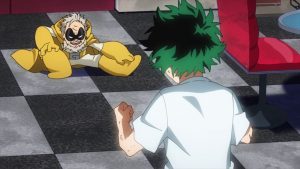 For the moment, Stain is the obsession of Iida, but not directly in Deku's sights – which are clearly focused on Gran Torino.  The old man is putting the boy through the wringer, but not thoughtlessly – it's all about helping him understand the power he's inherited.  As usual Izuku is harder on himself than anyone else is – Gran Torino recognizes just how quickly he's able to adapt to new information.  Midoriya's agile brain is constantly working, grinding – his greatest strength, and his greatest vulnerability.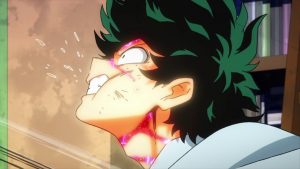 As Gran Torino decides to take Izuku to Shibuya to battle some real (small-time) villains (not wanting him to because tunnel-visioned on fighting against Jet), the other Yuuei cadets continue their internships.  Most notable here, perhaps, is what Best Jeanist does to Kacchan – and there's not a damn thing he can do about it.  Meanwhile Tsukauchi-san (remember him?) pays another visit to All Might to bring him up to date on the investigation into the USJ attack.  The headline here is that Noumu had at least four distinct sets of DNA – and the attack was likely the work of someone whose quirk is the ability to pass on quirks to others.  To say that this alarms All Might would be a plus ultra understatement.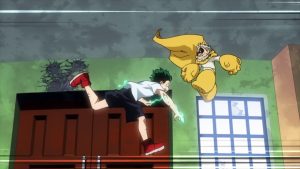 It's in Hosu where all of this disparate threads are destined to become entangled.  Iida-kun is of course continuing his internship with Manual, a quiet man who sees more than he lets on.  He's figured out Iida's real motivation for choosing his little-known hero agency (most likely he suspected it from the beginning) and he attempts to fulfil his most critical duty in his own understated way – cautioning Iida against pursuing the cause of vengeance (which would be both morally wrong and illegal).  Stain's path takes him to Hosu too (as Iida knew it would), to finish the job he started – and Shigaraki and Kurogiri are right behind him.  And the Shinkansen from Yamanashi to Tokyo, of course, passes through Hosu Station…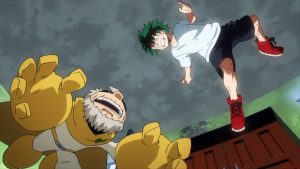 It's fascinating the way Stain's approach and that of the League of Villains are so perfectly displayed here.  Stain comes back to finish a job he started – one which must be done for the good of the world.  Shigaraki, by contrast, is here to unleash chaos, plain and simple – which he does by releasing more Noumus.  That unwittingly brings Gran Torino and Deku into the fray, as they're passing through just as the Noumu are wreaking havoc on the city.  Gran Torino does what a hero does – he leaps into battle against the Noumu while ordering Deku to stay safe on the train.  Meanwhile Iida – as Ingenium – confronts Stain at last, just as the latter is about to justify his "Hero Killer" moniker with the hapless hero, Native.  The battle is well and truly joined, now – some sought it, some didn't, but none of the principals can avoid it any longer.