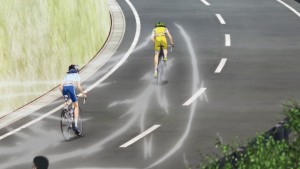 I'll forgive you if you thought this episode of Yowamushi Pedal felt less like a finale than any finale this season – it certainly did to me.  I think there's a good (and obvious) reason for that.  Key animator Horiuchi Hiroyuki (who's a legend, by the way) recently let it slip that he was "scheduled" to work on Yowapeda's fourth season.  That doesn't count as an official announcement (though I elected to tweak my usual policy and call this a "season finale" as a result of it), but truthfully, there was never much chance we wouldn't see a fourth season.  Yowamushi Pedal remains a very popular series with much cross-promotional success, so this was largely a given even if Horiuchi-san hadn't spilled the beans.  The only real question was timing – the anime is getting relatively close to catching up with the manga, and I thought we might see a break of a year or more.  Now, the smart money says it's only a couple of seasons.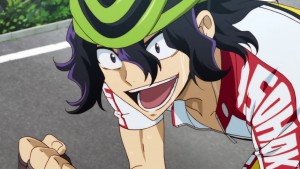 In any event, "New Generation" ends in a fashion pretty consistent with most of its run, and that means relatively little (too little) focus on Onoda, and quite a bit on Teshima.  But the first part of this episode was undeniably fascinating for the cycling fan in me, and as someone who's watched every Tour de France this century (and a few before that) I can tell you that the question of "fair" is very much a nebulous concept in the sport.  Bicycle racing on the grand tour level has as many "unwritten rules" as any sport there is – protocol, etiquette, tradition, whatever you want to call them.  So what is a rider supposed to do when another rider has a mechanical a few hundred meters from the finish?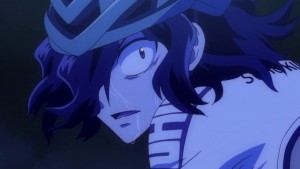 The short answer is: it depends.  The most famous recent example in the Tour de France came when the handle of a fan's bag caught in Lance Armstrong's wheel during a mountain stage in 2003, causing him to crash.  Ullrich waited, despite being only a few seconds behind Armstrong in the general classification.  Indeed, it's generally held that you don't take advantage of a fallen man and attack, but despite what romantics would have you believe, it doesn't always work that way.  In 2010 Alberto Contador attacked when Andy Schleck (Abu!) dropped a chain.  But Contador would say he did it because two other G.C. contenders were ahead of him, up the road.  Andy was livid, Contador vilified.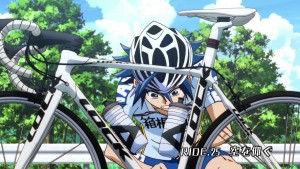 So when it comes to what Teshima did in this episode, well – no one, I think, would have blamed him if he'd plowed straight through and claimed the mountain checkpoint. But in the final analysis he probably did the right thing, because there were no other riders threatening and – to be honest – because he probably knew his victory would feel hollow if he claimed it because of Manami's breakdown.  I respect that, because this was likely Teshima's one and only chance at major cycling glory – and, in fact, he may have utterly spent himself in chasing it.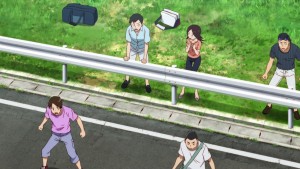 That said, I'm glad Manami-kun won.  Why?  Because I think it would have severely undercut Manami's status as a powerhouse in Yowamushi Pedal if he'd lost to Teshima. Frankly, if he's so great it shouldn't even have been this close.  With all due respect, Teshima is an ordinary rider – and someone as gifted as Manami is supposed to be (needs to be if he's going to be Onoda's fated rival) can't lose to him if the playing field is (metaphorically) level.  Credit to Teshima for erring on the side of sportsmanship (and to Manami for showing it's actually possible to bow while riding a bike), and for putting up a good fight.  But the better man won.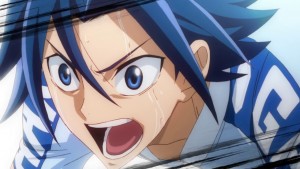 For all that, this was just the King of the Mountains checkpoint – not even the finish of day one, never mind the whole inter-high.  And when Onoda finally does show up it's just in the nick of time, as Teshima is about to wipe out on the side of the road and perhaps film a Life Alert commercial.  We know Sohoku is a team that supports each other, but rarely have we seen that demonstrated so literally.  For Teshima, it should really just be a question of gathering himself enough to be a domestique and provide leadership at this point, and center stage ceded to Onoda, Naruko and Imaizumi.  In any Yowamushi Pedal context I'm aware of, those are the only boys who have the ability to give the likes of Hakone Gakuen and Midousuji a real fight.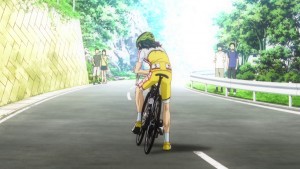 That should provide Yowamushi Pedal with the fuel it needs to ramp up the drama in a big way, but if that weren't enough, we're treated (in the epilogue) to the prospect of a return by Makishima.  He's decided to fly back from England to inspire Onoda-kun – indeed, he'd intended to be there from the beginning but his flight was six hours late.  Kinjou and Tadokoro (driver's license!) have hooked up with him, and they're on their way to Nikko.  I'm going to be very interested in seeing how Watanabe-sensei and Yowapeda handle this reunion – will it happen in the support tents, in the hotel?  Or will Onoda look to the roadside at some critical juncture of the inter-high and see his beloved sempai's turquoise locks waving in the breeze?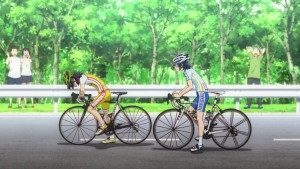 You'll never have to twist my arm when it comes to more Yowamushi Pedal – whenever it arrives, the line to welcome it forms behind me.  This wasn't Yowapeda's best season, but it was still rock-solid sports anime with some truly great moments – and we're pretty much in a down cycle for sports anime, generally.  Yowapeda is one of those series I suspected might be a hit even before it started airing, and I'm quite gratified that's turned out to be the case.  This series just has "it" – heart, warmth, wit, and a clear love for the sport it pays tribute to.  If Teshima can wait for Manami-kun, I can certainly wait for the fourth season of Yowamushi Pedal – let's hope that wait isn't too long.
Epilogue:
End Card: