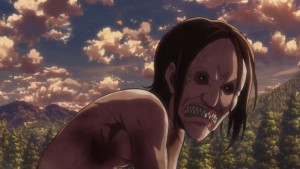 The big news in this final episode of Shingeki no Kyoujin's second season wasn't so much the episode itself, but what came after.  Namely, an announcement that a third would be coming in 2018.  Maybe if that had happened the first time and we'd gotten a sequel in 2014 or so, Shingeki wouldn't be staring at one of the biggest sequel sales declines in Blu-ray/DVD history (though the first season was such a monstrous hit that still leaves plenty of room for this one to be profitable).  Here's hoping that in addition to the shorter wait, we get a better overall series too.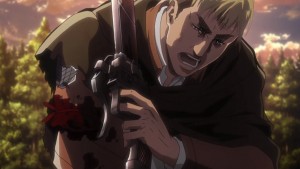 This announcement will understandably leave millions of Shingeki fans pleased – what it means for me personally is a little harder to define.  On the one hand, Attack on Titan remains a singular anime experience – weird and almost psychedelic in a way that's quite unique.  On the other, this season at times (including this week) approached an almost Blood-C level of "Please God, let this be intentional self-parody – but I don't think it is".  Frankly, it was at times incoherent and unutterably stupid – and there are limits to how much of that one can take and still consider a viewing experience enjoyable, especially given the healthy doses of simplistic jingoism running through the series.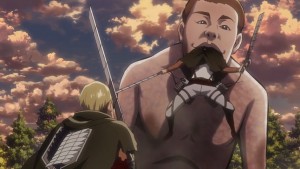 I would also question, frankly, just how much was really accomplished this season.  Yeah, we found out Ymir, Reiner and Bertholdt were titans – but after the Annie experience (which was far better in every respect from a dramatic standpoint) we already knew that titans were people, which is the salient point.  Was there ever really any question that Hannes was going to die horribly?  Of course not, the only surprise was how long it took – and yet Erwin lives on despite every catastrophic failure.  WHY WON'T YOU DIE, DAMMIT!?  We didn't even get to spend much time with the main characters (not that Eren and Mikasa are any kind of grand literary creations, but still).  Whatever advancement took place in the plot could have happened in two or three eps, and this isn't a show that will advance characters even if you give it a thousand.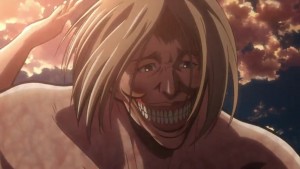 I just don't know…  If one can't appreciate a scene like Eren and Mikasa having a tender moment as the motherkiller titan (who's just devoured Hannes) grins down at them as anything but absurd, can they possibly still be in the target audience?  The problem is, I want to be.  Shingeki no Kyoujin is a genuine cultural phenomenon (less now than it was, admittedly) and one of the few anime-related ones that's close enough to my stylistic zip code that I can ever consider being a part of it.  I want it to be a guilty pleasure, I suppose, but this season the pleasure side of the equation got smaller and smaller as the episodes ticked by.
But you know, I sure as hell can't watch Love Live or Nisio Isin.  There's always Osomatsu-san, I suppose…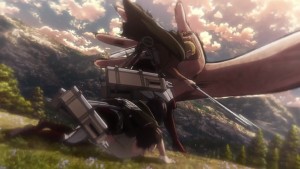 I think my favorite moment of this bizarre, cattywampus clusterfuck of a finale was watching Eren take huge bites out of his own flesh, desperately trying to turn himself into a titan.  It was definitely one of those "Is it or isn't it?" moments (I'll give Araki the benefit of the doubt and say it was) and in addition the ironic timing of it, giving us as it did the full range of the Kaji Yuuki quality spectrum on the same day was rather delicious.  Isayama and Araki-sensei are nothing if not fearless, I'll give them that – and all mockery aside, there is something to be said for that.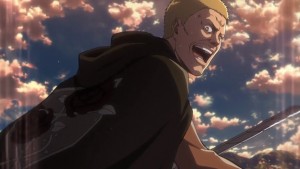 So where did we end up then, when the wheel of insanity stopped spinning?  Well, Ymir decided in the end to go with (and in fact, probably save) Reiner and Bertholdt – as a repayment for them having been responsible for her own salvation, so she says.  More than half of Erwin's soldiers are dead (that's pretty much a given with every decision he makes).  There's a weird guy standing on the sasquatch's shoulder, looking back at Eren.  And Eren, apparently, is in possession of the Coordinate – and that, it seems, gives him the power to control the titans at least on some level (which makes him the most important person in the world, I suppose).  Oh, and Mikasa sort of confessed.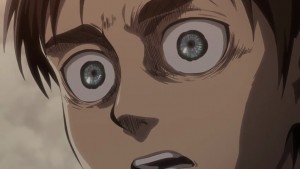 There does come a point with a show like Shingeki no Kyoujin, I guess, where one is pot committed.  Once you've soldiered through all the bad dialogue and militarism for long enough, you figure you may as well stick around and see what happens – see what's showing when all the big secrets are finally revealed.  That's about where I am now – still vested enough in the conspiracy plot to be curious despite the constant jerking around by the writing, and still hopeful that the few characters who do have enough depth to be interesting survive and get their due in the plot.  At least this time around we won't have to wait four years to jump back on the crazy train.