Who would have thought an episode about a teenaged boy deciding whether to use his left hand would be so riveting?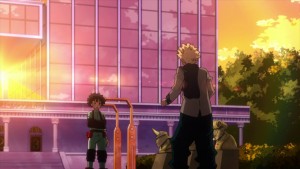 Boku no Hero Academia is really peerless shounen at this point in time.  It just goes about things the right way, taking no shortcuts and utilizing no trapdoors or cheat codes.  Imagine a superhero story built around the idea that everything has consequences – for your feelings and those around you, for your health, for your career and finances.  And for the world.  Imagine that, and you have a pretty good idea of what makes Boku no Hero so special.  And if that doesn't sound interesting to you, there's a good chance BnHA isn't going to be your cup of tea.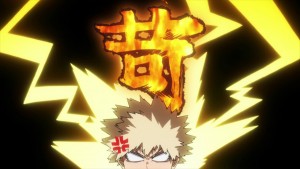 Horikoshi-sensei is, if nothing else, a serial defier of expectations (like that other shounen mangaka, what's-his-name, with all the health problems).  Todoroki vs. Kacchan is the obvious main event this massive sports festival undercard has been building up to – the undisputed heavyweight championship of Yuuei.  But that battle wasn't going to be the point – the battle you expect to be almost never is with Boku no Hero Academia.  And the battle that really mattered here was the internal one going on with Shouto.  If the literal battle had a clear winner, that symbolic one is indisputably still ongoing.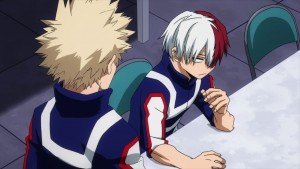 Not even a full-throated "Ganbare!" from Deku was enough to convince Todoroki-kun to unleash his full power against Bakugo – and that just served to enrage the latter all the more.  The dynamic between these two is really fascinating – Kacchan is the quintessential "angry young man", but based on what we've been shown of these two, it's Shouto who's got every right to be.  We know what he's been through, yet he's ever-contemplative to the point of indecisiveness.  Kacchan, meanwhile, seems to have been catered to and admired for his talents for his entire quirked life, but he's filled with rage.  Not blind rage, mind you – he's always thinking things through, as I think he's proved by now – but rage nonetheless.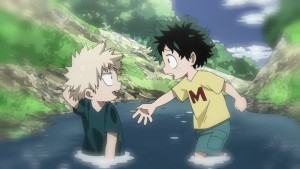 If you think about this final round from Bakugo's perspective, in a way it's the worst possible result.  Not only did he win with Shouto refusing to unleash his left side (worse still, he actually started to release it and stopped himself), but now he must live with the fact that Izuku forced (or inspired) Shouto to use his full power, but he couldn't.  That could be taken (not inaccurately, in my view) to mean that Todoroki respects Deku more than Kacchan.  It could also be taken to mean that Deku is more powerful.  Whatever spin he puts on it is all bad for Bakugo, which is why he's put into full Hannibal Lecter mode after the match.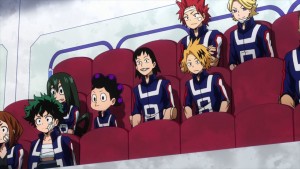 Maybe some people will call this final an anti-climax, but the point is, it's not a climax in any sense – in fact, this could very credibly be argued to be the real starting point of the series.  That's why what happens afterwards is much the more important part of this episode.  After a highly amusing awards ceremony (dear old All Might hugging all the winners – well, all but one – and then muffing his lines…  How do you not love this guy?), everyone involved must get on with their lives.  And that – as always with Boku no Hero Academia – means dealing with the consequences of everything that's happened.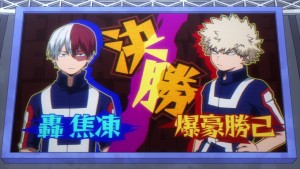 What does that mean?  For Iida, it's confronting the reality that heroism is a fucking dangerous career and, even more existentially devastating, that his beloved aniki is fallible.  For Deku, it's the reality of what his choices are doing to his mother – who "lost consciousness seven times" watching him suffer in the tournament.  And for Shouto (noted: Kaji Yuuki is doing remarkably well at not screwing this up – so far), it's the reality that he still hasn't (despite Deku's heartfelt help) come to terms with who he is – at the key moment when he could have defeated Kacchan using his flames, he saw his mother's face and could not act.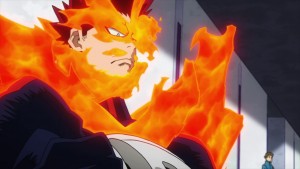 If this arc was about any one character, it may have been Todoroki-kun even more than Izuku.  And his decision to finally confront his mother – who he's been avoiding for her sake, not his own – speaks to the degree to which Deku really did help him move forward.  Shouto now knows, at least, that his situation isn't as literally black and white as he was making it out to be – and that until he comes to grips with his past and what it's done to him, he can never move forward and become a hero like the one he admires so much (a man who is himself dealing with issues Shouto cannot even begin to suspect).  Things are never simple in BnHA, and everything has consequences – and no one better illustrates that than Shouto.  We're seeing now in all its glory why he's such a remarkable character.