Everything I said last week, only more.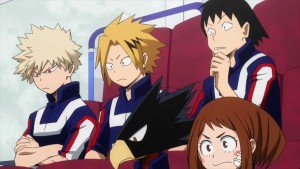 Wow.  Of course I thought a lot about how this particular chapter of Boku no Hero Academia would play out in anime form, but in the end it exceeded my expectations.  Thank goodness it usually falls to studios like Bones and Madhouse to bring material of this caliber to the screen, because it deserves this kind of treatment.  When the reality of something exceeds the imagination of it, that's a truly remarkable achievement – and in terms of manga and anime, a pretty damn rare one.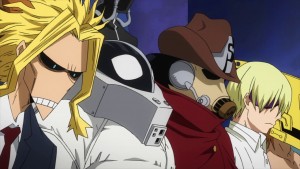 I think it's a common trait in great shounen that they're quite judicious with the grand "shock and awe" moments.  But as with that other great mangaka who I won't mention so as to piss of the people who make of fun of me for always mentioning him, Horikoshi Koushei understands this essential point – if you're going to make the audience wait for the big payoffs, you better bloody well deliver big-time when they come.  It's hard to imagine many who'd want a bigger payoff than this – it was monumental.  And as with most of the payoffs in this series, there was a tremendous amount of psychological complexity underpinning the action.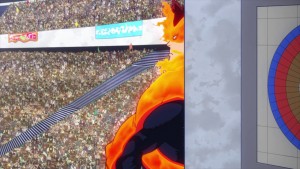 What really makes this particular clash stand out is that these are two wholly admirable and decent competitors, of roughly even ability.  This is not G** vs. H***ka here – both Deku and Todoroki-kun are honorable and decent.  Both want to becomes heroes for all the right reasons (even if Todoroki is a bit confused about this at times).  They genuinely like and respect each other.  But they also want very much to kick the other's ass, because both are totally determined to make it to the top.  And if someone is standing in your way, you have to crush them.  Still – it goes much deeper than that.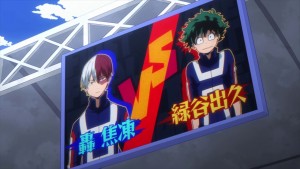 So much is happening here, my goodness.  Up in the bleachers, we once again see Bakugo putting the lie to those who dismiss him as a hotheaded berserker child.  Kacchan is actually one of the most calculating members of this cast, right down to the nature of his costume, and he understands what's happening between Izuku and Shouto better than any of his classmates.  All Might and Endeavor are in the stands too, of course, and both of them are heavily vested in this match.  But for all that they have in common in that (and not just that) sense, their role in all this could hardly be more different.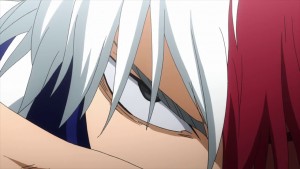 In a very real sense, I think this battle is as much between All Might and Endeavor as it is between their stand-ins.  I mean that in this way: two competing philosophies are at war here.  All Might is a true mentor, a man who took up the cape in order to help others, and he bleeds every time the power he gave to Midoriya wounds him.  Endeavor is a user, a vainglorious manipulator who sees others as tools towards his own glorification.  What he did to the young Shouto Todoroki is terrible altogether, but the most terrible thing he did was drive the mother Shouto loved to lash out and, in her anger at Endeavor, mutilate her son.  In doing so he shook Todoroki-kun's faith in everything that was decent and right.  And of course, he made it almost impossible for the boy not to hate a part of himself.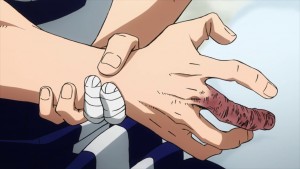 That's what this titanic battle (and it is titanic, there's no doubt – the tactics and the power on display are incredible) really boils down to.  With all due respect to Shouto, who I adore, Deku stands tall as a hero among heroes.  Because here, even with the stakes as high as they are, he does exactly what All Might would do – he thinks of Todoroki before himself.  Shouto comes as close to literally fighting with one hand tied behind his back as possible without actually doing it, and this offends Izuku as a competitor.  But more important is that fact that Deku sees Todoroki as his friend, and knows what this constant suppression of himself does to him.  All the agony Deku subjects himself to, all the injuries not even Recovery Girl can magic away – more than to win, he does this to force Shouto to free himself.  And if that's not heroic, I don't know what is.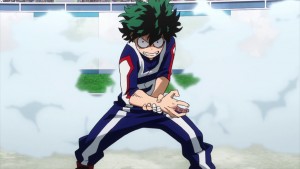 "To Be a Hero" could easily have been the title of this series, because it's constantly pondering what that means.  I think my favorite part of Todoroki's backstory is when his mother, at his low ebb of despair, says "It's OK for you to be a hero."  She's telling her son that whatever he is, he's himself and no one else – and this is something that All Might and Deku know instinctively.  Make no mistake about it, Deku desperately wants to win this.  Yes, he wants to defeat Shouto at full strength, but he also wants both of them to walk out of the arena ready to become the heroes the world needs them to be.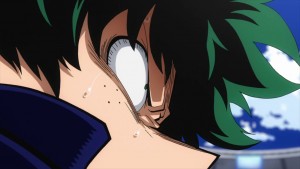 Of course, only one of them will walk out of the arena, because Izuku has damaged himself so badly he has to be carried.  The sheer weight of courage and resolve in that tiny body never ceases to be astonishing, and through all the agony, Deku never stops thinking – knowing that no matter how great his quirk, his brain will always be his greatest asset.  Right now it's not enough – he's just strong enough yet to take down Todoroki at full power.  But surely we've learned enough about this boy by now to realize that won't deter him in the slightest, because he always keeps his eyes on the prize.