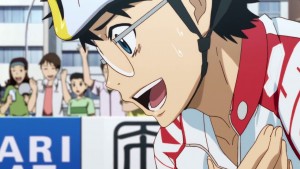 It would be too simplistic t0 say "that's more like it" about the last couple episodes of Yowamushi Pedal: New Generation, because there was plenty of good stuff in the first 16 .  But it did feel at times like it was dicking around a little too much.  There were a lot of distractions and a lot of sidebars, and not enough focus on the core characters that made the first two seasons so memorable.  Some of that is unavoidable, because some of those characters have moved on – but the heart of the cast remains here, waiting only for the camera to turn to them.  And now, finally, it has.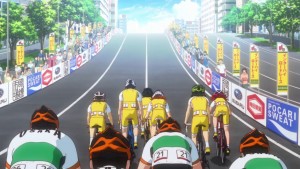 We're now in a realm where Watanabe Wataru is extremely comfortable – the Inter-high.  It's clear Watanabe knows this event the way only a cycling otaku can, the way Adachi Mitsusu knows the Koushien.  And that's good, because in sporting terms a multi-day cycling grand tour is a complicated, often confusing event – and that makes it challenging in dramatic terms, too.  Through his knowledge and his skill as a writer Watanabe-sensei knows how to mix it up, how to change perspective and keep things exciting but not too exhausting.  A grand tour is as much a mental grind as a physical one, and it would be a crime to sell either side of the drama short.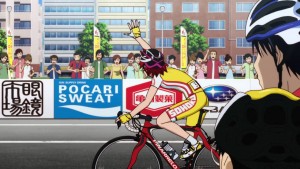 The first part of the Inter-high, as we know, is a processional – a 2 km controlled jog that allows the cyclists to warm up and the fans to salute them.  It's also a chance for the competitors to feel each other out verbally, to size each other up.  Onoda-kun seizes upon the opportunity to drift back through the field (champions ride at the head of processions, after all) to greet Manami.  This relationship is, in many ways, the heart of Yowamushi Pedal, and it's always wonderful to see the importance Onoda places on it.  The new Hakone riders seem a bit perplexed by the tiny climber's humble, amiable demeanor but Onoda doesn't even notice – he's savoring the moment.  Riding with Manami-kun is the highlight of his calendar, whether it's in the Inter-high or just a friendly hillclimb.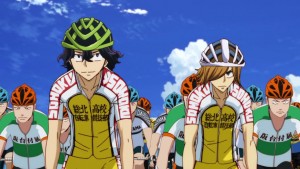 It turns out there was such a meeting – courtesy of Toudou, who invited his two kouhai to a "party" – which turned out to be a match race up a snowy peak to settle the matter of who would be the new king of the mountain.  Of course there was so much snow Onoda and Manami (Toudou would never ride in such conditions, of course) couldn't even race each other in a friendly, but it served to keep the fires of eternal competitive brotherhood well-stoked.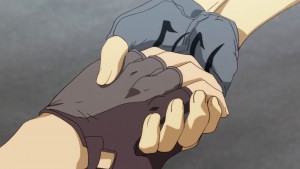 There is actual racing on this first day of the Inter-high, and that's the first sprint checkpoint.  It's the first chance to take the pulse of where the top two teams are, and it's interesting to note that of Kyoto Fushimi we hear not a single peep.  We don't know if Midousuji has another sprinter on this squad, but we do know he's a damn good one himself – is he choosing not to compete for the first tag, saving himself for when it really matters (perhaps having learned a lesson from the last Inter-high)?
That's Izumida's strategy – he sends the "road monster" Doubashi to the front but declines to go himself.  And he assumes that something similar is happening with Sohoku when he sees Naruko riding with the peloton – not realzing, of course, that Naruko has declared himself an all-arounder now.  I loved the torture not chasing the rabbit put these two greyhounds through – sprinters and glory hounds both of them, it kills them not to attack.  But Izumida is a captain now, and Naruko has his own considerations.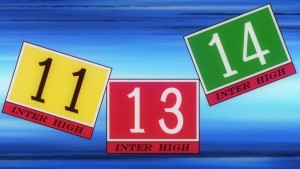 It's Aoyagi who goes on the attack for Sohoku – with Kaburagi in tow.  Kaburagi still insists he's an all-arounder himself, Teshima not having broken the truth to him, and can't understand why everyone keeps calling him a sprinter and why he keeps passing supposedly elite sprinters from other teams.  Of course Kaburagi is as bright as a ten-watt light bulb but even so, his initial wilful disregard for orders isn't doing anything to endear him to me.  I'm skeptical of what he's going to be able to provide Sohoku in the long-term, but the sprint checkpoint will be the first test – both in terms of his ability to keep up with human puffer fish Aoyagi, and his willingness to fall back and let Aoyagi be the one to race for the line.
Todoumake: