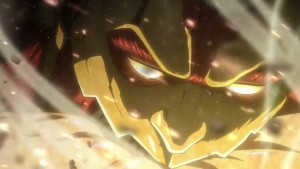 A word seems in order about Fujiwara Keiji, the actor who played Hannes in the first season of Shingeki no Kyoujin.  Fujiwara-san would be beloved around these parts for his portrayal of Leorio Paladiknight in Hunter X Hunter 2011 even if he'd never done anything else in his career – but of course, he's done a great deal of other wonderful things.  Kenjirou Tsuda is a very fine seiyuu but this episode is really the first time this season I've been acutely aware of Fujiwara's absence, because it cast Hannes in the same dynamic in which he spend much of the first.  Fujiawara has taken his cue from Togashi in initially not saying what the cause of his professional hiatus is – "unspecified illness" is all that's been reported – but let's hope he finds his way back to voice acting soon.  He's missed.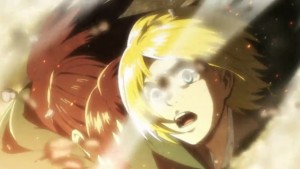 Hannes is the one who really sums up the state of affairs in this episode, which is one of Shingeki no Kyoujin's rare quiet interludes between bouts of insanity and violence.  Things between Eren, Mikasa and Armin are just like they were when they were kids –  Eren acts rashly, gets in way over his head, and Mikasa goes racing off to save him.  She has to wait a little longer this time until the cavalry arrives (with the horses) but in the end, the cycle is the same.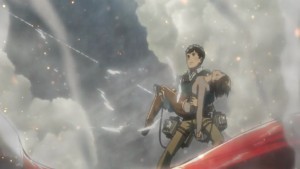 That may be why the relationship among the main trio just isn't all that interesting, at least to me.  They really just do the same things over and over, and Armin is the only one who shows any growth (though even he remains trapped in the same patterns a lot of the time).  Eren and Mikasa are just bigger versions of themselves, and I've never felt the emotional traction in Mikasa's obsessive loyalty to Eren.  This pool just isn't very deep, but Attack on Titan just keeps jumping back in it.  It's kind of the opposite of the phenomenon I talked about with the other "Shingeki", and Boku no Hero Academia – when it comes to Eren and Mikasa, they always leave me wanting less.  I really only want to see them when they've been gone for a long period of time and I've forgotten how little they interest me.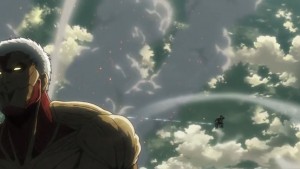 That leaves us with the story to carry the day, and there's no denying Eren is essential to that.  I was pretty pleased to see him kidnapped by Reiner and Bertolt, because that at least signalled the possibility that we were about to get some answers.  For the most part the human authorities have been hamsters running in the cage – Erwin looks pretty, Levi scowls, Hange plays mad scientist, Pyxis drinks.  But the more the obvious conspiracy this society is built upon is forced to the surface, the harder it is for them to keep doing the same things over and over.  "Stale", indeed.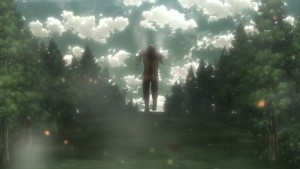 What of Eren now?  Well, he wakes up in the forest where Hange has miraculously concluded that Reiner and Bertholt will be taking him, there to conveniently rest until the Survey Corps can catch up.  Eren's situation may seen armless, but this isn't just a gathering of classmates – Eren is the outsider here.  Presumably Reiner has brought him to to at least attempt to talk Eren into joining whatever cause it is Reiner is fighting for – a discussion which will presumably take place mostly off-camera.  It seems unlikely anything will come of that effort – I'm not sure where the narrative could go from there – but hopefully at least a couple of the smaller puzzle pieces will be filled in over the course of the final showdown with Reiner.