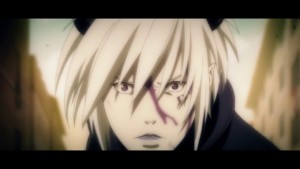 "Virgin Soul" really is amazing – almost unbelievably so, to be honest.  We're at the point now where it makes me question whether I'm somehow selling the first season short in my memory of it, despite the fact that I remember it in an almost totally positive way.  I'm not, I don't think – it was very good, but this season really is that much better.  In terms of pure entertainment value this season of Shingeki no Bahamut can hold its own with with pretty much anybody.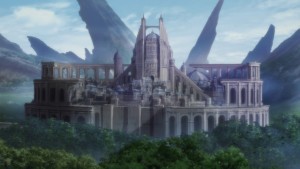 There are a lot of things this series does superbly well, among the foremost the way it balances the serious plot elements (which are very serious indeed) with some rather tropey anime standards.  The thing is that those are executed so beautifully – and integrated so seamlessly – that what often should be annoying never is, and what's supposed to be funny almost always is.  That's a pretty big difference between "Virgin Soul" and the first season, I think – this one feels much more like a conventional anime, whereas that one played like a Hollywood swashbuckler from a bygone era.  Normally I wouldn't expect that to be a positive development, but "Virgin Soul" is all about defying expectations.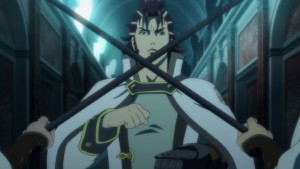 Another thing this show does well, of course, is tell a straight-ahead story with extreme confidence and skill – something it very much has in common with the first season.  The staff here is extremely experienced, and it really shows – they know what they have and never seem to be trying too hard.  As with all shows like that, the storytelling dexterity can actually make Shingeki no Bahamut a bit difficult to write about – it doesn't leave a tremendous amount to interpretation and it doesn't require a whole lot of explanation to plaster over clumsy bits.  But as a viewer, I sure as hell can't complain.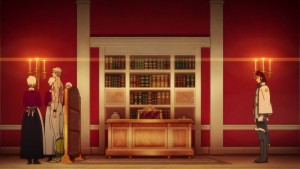 I suppose Nina's situation does lend itself to a certain amount of theorizing, but to me it seems pretty clear what's happened is what last week's episode hinted at.  That is to say, falling in love (as opposed to in lust) with Charioce has at least temporarily stopped Nina from transforming into a dragon (how else could she resist those adorkable hugs from Azazel?).  As with much in "Virgin Soul" it's hard to know just how to feel about that.  I mean sure, good on her – but she fell in love with a sadistic genocidal despot.  Also, her newfound inability (or unwillingness, if there's a difference in this case) to transform has really screwed the pooch as far as Azazel's attack plans are concerned.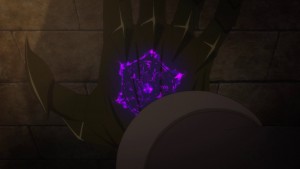 That too raises an interesting question about how we're supposed to feel.  Are we supposed to be rooting for Azazel here?  Because I certainly am – and that's understanding that he's no angel (no pun intended).  Azazel has done terrible things, but in the moment he seems a much more sympathetic character than Charioce.  On some level everyone has to make a decision about whether they believe people can change or not – and it seems to me that Azazel seeing the things he has changed him.  But even now he still acts from rage, and has so sympathy for the humans he once tormented, and who now torment him.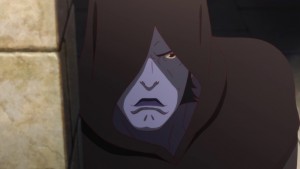 If there's a downer about "Virgin Soul", maybe it's that every element of this series is so good that it leaves you wanting more of the ones we don't get much of (this ep seemed to last about 7 minutes).  The power trio of Rita, Bacchus and Hamsa is so wonderful that I'd happily watch a show about just them – these three seiyuu are doing a fantastic job.  And Kaisar is the most compelling character in the cast for me, given the way his honor tortures him.  And that's not even considering the absence of Favaro, who was a fantastic co-lead in the first season.  But one thing's for sure – if the worst you can say about a show is "it leaves me wanting more", that's one damn fine show.