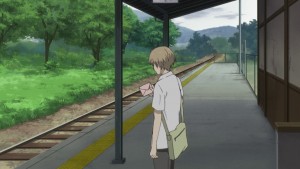 This was another very strong episode for Natsume Yuujinchou Roku, and with three episodes remaining it's shaping up to be a better than average "Natsume" season for arguably the most consistent multi-series anime ever.  But I can't help but be of two minds at the moment, because the preview effectively confirmed that this will be yet another season without a Kogitsune episode.  The tone of "Roku" would have been perfect for it, too – this is a season that's tacked close to the layline for Natsume Yuujinchou, very true to the series' true course.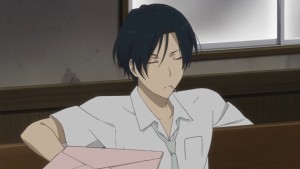 Of course, this episode dealt with one of the absolute core themes of Natsume Yuujinchou, and one which cuts perhaps closest to my heart – the nature of emotional commitment.  I've discussed this in writing about Natsume Yuujinchou before, and it's something I've definitely wrestled with in my own life as many people do – what's trendily called "fear of commitment" is really just a reluctance to expose yourself to eventual (inevitable) emotional pain, even if that exposure imparts great rewards.  It can be a romantic relationship, it can be getting a cat, it can be many things – but this equation is one which all of us must wrestle with many times in our lightning flash of a lifetime.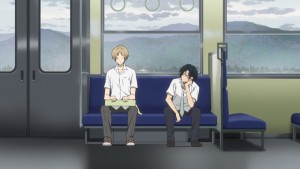 Midorikawa-sensei certainly realized long ago that this premise was the perfect vehicle to explore this topic (perhaps that was even the point).  At heart, Natsume Yuujinchou is at it most emotionally powerful when it explores the intersections between the human world and the youkai – intersections which are inherently fraught with potential pain.  Humans and youkai live in different worlds, on different timelines – "Natsume" has shown us this over and over, in many ways.  Yet still, somehow, humans and youkai are drawn to each other – creatures of empathy, fundamentally lonely, who latch onto the miracle of their connection and cling to it like a lifeline in a hard and uncaring universe.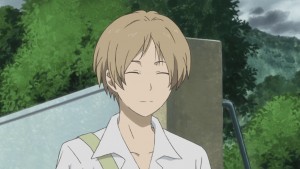 The principals here are Aoi (Ono Daisuke) and Kaoru (Komatsu Mikako).  Natsume meets Aoi when waiting for a train in the neighboring town, and for all the world he looks like a normal (if cheeky) high-school boy.  But Aoi is a youkai, as Natsume learns when Nishimura is unable to see him.  And he's searching for Kaoru, carrying a mysterious envelope which looks like (and is) an invitation.  As Aoi and Natsume come to know each other, Aoi opens up and reveals the truth – he's a forest guardian in training, and had a childhood friendship with Kaoru.  He broke it off for her sake, knowing the issues with them staying together were too formidable, yet she's refused to give it up for all these years.  She's been leaving letters in the mailbox of an abandoned house, their secret communications center, and this final one is an invitation to her wedding.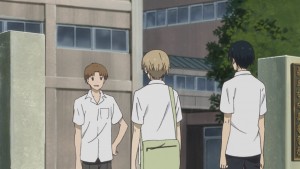 Ultimately this is a very, very simple story.  A youkai and a human fall in love, he breaks it off to spare her (and himself) the pain of their eventual enforced (by time if nothing else) separation. But Kaoru never gives up, and her invitation is a trap – a ruse, just so she can see Aoi one more time and tell him she loves him.  If there's any surprise here, it's that the ending sees Aoi and Kaoru deciding to stay together despite the overwhelming obstacles – and even Nyanko-sensei seemingly approves.  This is an affirmation of the idea that yes, it is worth the pain – that the brutal separation that will eventually come is less painful than a lifetime of self-imposed isolation and loneliness.  This is absolutely philosophically consistent with Natsume Yuujinchou – for all its bittersweet melancholy, this series is indisputably optimistic about the goodness of most people (and youkai), and the idea that they're worth the emotional cost of letting them inside our hearts.