shounen (adjective) : [Japanese, "teen boy"] see "Boku no Hero Academia".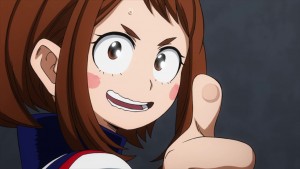 That was pretty much a master class in Shounen right there, one which doesn't need a whole lot of extra flannel from me to sell it.  I'll say this much – if that didn't work for you, you may just not be a fan of traditional shounen manga/anime, because I'm not sure you'll see it done any better.  There's genre-bending and deconstruction out there that sits in its own category (like Hunter X Hunter of course – obligatory mention: check) but for the straight-ahead stuff, this is pretty much what should be studied in the textbook 'cause it'll be on the test.
And just consider this – BnHA really hasn't gotten to the good stuff yet.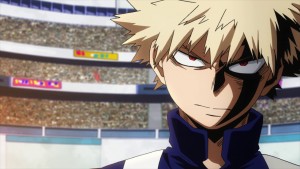 There are so many reasons why Horikoshi-sensei is so good at this, one of them being his innate understanding of the form and function of it.  There's also the fact that his characters are so vibrant and so distinct.  I mean, truthfully Bakugo vs. Ochako is a solid "B" match, not a headliner – but it sure feels like a headliner, doesn't it?  There's no part of Kacchan and Uraraka's journey that we don't understand, because we've come to know them so intimately.  I think a case can be made that the outcome of this match was never in serious doubt, but with Boku no Hero Academia, it never felt like a sure thing.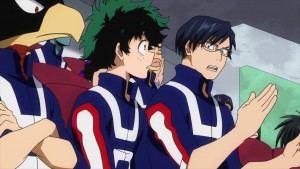 It's a fascinating matchup, no question about it.  Ochako is a fairly transparent character – and I mean that in a good way.  Her motivations are known and easy to understand, she's loyal and consistent, a true friend and a model of fair play.  Kacchan seems transparent, too, but he's actually not.  It's a mistake to think this boy is simple or easy to understand, because he's neither.  He's very good at giving the impression he's governed by his rage, which makes him act rashly and without thinking.  But – and this makes him way more interesting – he's full of rage but channels it into well-calculated decisions.  He factors in all that anger and arrogance and builds a strategy around it.  I'm not saying he doesn't exercise bad judgment sometimes because of his temperament – but it's always judgment.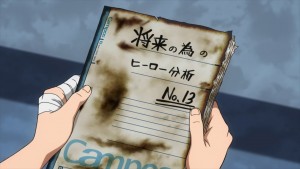 There's a simmering chauvinism in this battle, a scent of the sexism that runs so deep in Japanese society (and shounen).  Why should Bakugo go easy on Uraraka because she's a girl?  She chose this path, just as he did.  In truth Kacchan is being much more respectful of Ochako in every sense than the audience (and Present Mic) who boos him for "bullying" her – he may call her "roundface" but he's equal-opportunity when it comes to disrespecting opponents, gender is irrelevant.  Kacchan wants to win this just as he does every match, and he knows Ochako is a threat he can't take lightly (pun intended).  Full kudos to Aizawa-sensei for calling out the audience and his broadcast partner for their condescension and the strategic blindness it causes.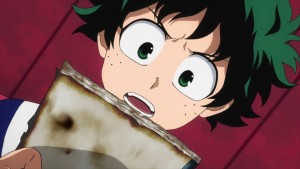 In the end, though, Bakugo is simply stronger than Ochako – it doesn't come down to heart or guts or strategy, and there's no shame in it.  Her plan was a good one, maybe great – lure Kacchan into attacking her low to the ground and giving her an arsenal of debris projectiles to make weightless and use against him.  If Kacchan were the impetuous berserker some mistake him to be it would have worked – but he's not.  He's as careful and calculated as he is powerful, and he makes the necessary adjustments to survive Uraraka's best shot.  But he never lets his guard down, right up until the match is called.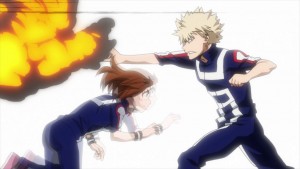 That clears the stage (once Kirishima has won the PK shootout for the final quarter-final spot) for what indisputably counts as a major headliner – Deku vs. Todoroki.  They don't get much bigger than this, and thanks to Horikoshi's writing, the matchups don't get much more compelling.  Here we have All Might's willing protege against Endeavor's unwilling one – two boys who genuinely respect each other (I couldn't agree more with All Might that they "give off a similar vibe", which makes this matchup so much more gripping) but have their eyes on a much bigger prize.  The difference here could not be more stark – All Might makes no attempt to make this about himself, but for Endeavor this match is totally about himself – and All Might, of course.  Surpassing him, that is.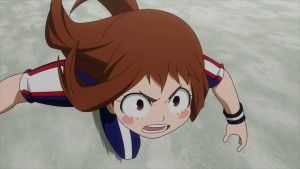 The chance meeting in the corridor between Izuku and Endeavor is very interesting indeed.  Endeavor is quite respectful – much more so than with his son, certainly – and he notes that Deku's quirk is "magnificent".  He also notes its similarity to All Might's but doesn't drop any hints that he suspects.  What really strikes me, though, is how Deku chooses to play this moment.  His immediate response is to defend his opponent – yes, he declares "I'm not All Might" but as they both say, that's obvious.  But for Deku to take the bold step of telling Endeavor that Shouto isn't like him tells us so much about Deku.  Make no mistake, he's the "hero" in the title of this series – Izuku Midoriya is a child to be admired on so many levels, and a great shounen protagonist.