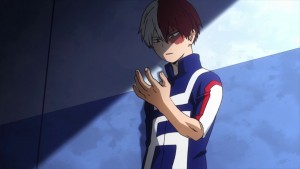 It's a transitional episode for Boku no Hero Academia this week, no question.  But this series is a lot like Hunter X Hunter (I'll stop doing that when it stops being true) in that while the shock & awe episodes tend to draw the most attention, it's often the ones that bridge them that are actually the most important in terms of progressing the story and character development. It's part of the gift of a good writer to give you both, and it's one Horikoshi and Togashi certainly share.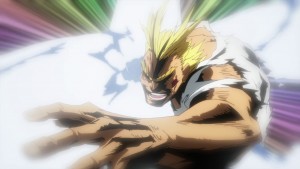 Amongst the Yuuei students there are three that really stand as cornerstones of the story IMHO, without meaning any disrespect to Iida or Uraraka (who are crucial but, I think, ultimately satellites to the main story).  One might have assumed the number was two based on the first 18 episodes, but Izuku and Bakugo are only two-thirds of the tripod.  As befits Todoroki, he's been mostly silent and observational, only rarely giving us glimpses of either his true power or what's going on inside his head.  But that's certainly changing now.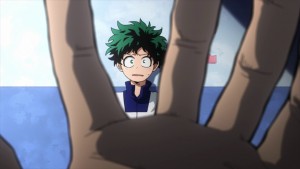 There's a lot of symbolism to Todoroki Shouto's character (obviously), and to the role he plays in the dynamic of the main trio.  Deku – who observers everything with so much clarity that it's practically a quirk-level ability – notes that Todoroki gives off a "cold aura, very different from Kacchan".  Well, Todoroki embraces the ice that's part of his nature and rejects the fire – and Kacchan burns bright red all the time, explosion and flame his entire M.O..  That leaves Deku balanced between them, carving out his own niche from the support that's gotten him to where he is.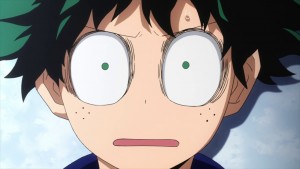 It's no coincidence that Kacchan silently observed the meeting between Deku and Shouto, because he's a part of this dynamic too.  And it was certainly unlike him to stand silently and just listen, but Bakugo understood the significance of this moment – and was no doubt hoping he might hear something that answered some of the nagging questions in his own mind.  Todoroki's guess that Izuku was the "love child" of All Might is quite a logical one for anyone, but especially someone with Todoroki's own backstory.  And a terrible backstory it is, too, the product of a forced "quirk marriage" between perennial #2 hero Endeavor and Shouto's mother – a mother who hated her life so much that she poured boiling water on her son's face to try and burn away the mark of Endeavor on him.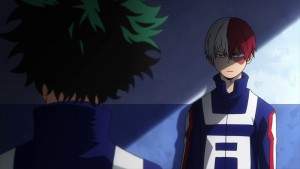 Todoroki is, in a sense, the ultimate insider – engineered to rise to the top in his father's place, desperate to prove himself in his own right and reject the father he hates (which in his mind can only happen if he rises to #1 using only his mother's inheritance).  Kacchan is the ultimate outsider, a rebel without a cause who wants to storm the barricades and take over the hero world.  What makes Deku such a great protagonist, I think, is that he truly is the product of an incredible support system rather than some inborn gift – and that he totally recognizes that fact.  Deku's motivation is to justify the faith all those who've supported him have in him.  Todoroki senses how powerful that is, even if Deku doesn't give it the credit it deserves himself.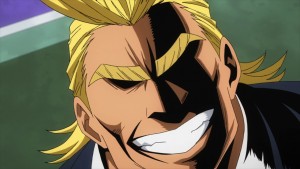 And what a support system it is, too.  Every time All Might gives Izuku an inspirational speech he reaffirms what a truly great mentor figure he is.  He leads by example, he supports through love and empathy, and he always makes it about Deku, never himself.  Ironically Deku and All Might share a flaw in that neither of them give themselves credit for being the exceptional person they are, yet it's that flaw that makes them so uniquely suited to wear the mantle of hero. And even if his still-growing body is only able to use 5% of One For All's power, Deku is more than capable of supplying the other 95% through grit and intelligence – thanks to those who've helped him get this far.  And it gives just a taste of what he's capable of when he's fully mastered the quirk.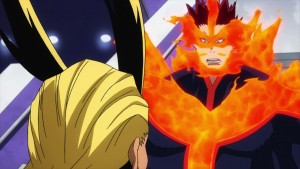 As for the competition itself, it does continue – through a series of recreational side-games after lunch.  There are some hijinks as Mineta cons the girls into wearing cheerleader outfits, and a couple of the survivors in the final 16 declare that they'll step aside because they did nothing to earn their place (including Ojiro-kun) – a move I consider a mistake.  As for Deku, he's drawn Shinso Hitoshi (Wataru Hatano) from the general studies course in the first round of the elimination tournament.  Ojiro has warned Deku of the nature of Shinso's quirk, which is some sort of geas which causes the enemy's mind to go blank and their body to freeze – but despite the warning, Deku seems to have allowed Shinso to goad him into replying to him, triggering the quirk.  It's another challenge for Deku to overcome not through One For All but through his own mettle, but he's already proved he's more than capable of doing just that.