Man – how the hell am I going to survive 8 more episodes of this?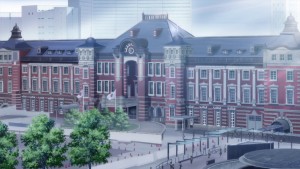 I'm a bit worried that we may be getting to that stage where I'm starting to care too much about Tsuki ga Kirei.  That may not sound like a bad thing – and it's certainly way better than the opposite.  But it does pose a couple of potential problems, one of which is that my objectivity (which, in truth, is always relative when it comes to criticism anyway) could start to suffer.  It's also just plain old emotionally draining to be so invested in a series and characters that you live and die with every development.  I loved this episode but damn – by the time it was over I was exhausted.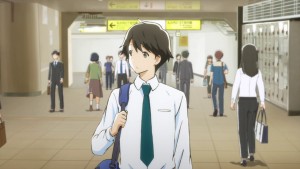 I think Tsuki ga Kirei takes place at a kind of literal meeting point of "romance", "drama" and "slice of life".  Anime fans (and not just them) have tended to take a modernist view of SoL as pertaining only to snapshots of nothing of consequence, of amusing idyll – but really, what could be more representative of the term than giving an audience what plays very much like a slice of the characters' lives?  That's what watching this show is like – being a silent observer at Akanae and Kotarou's adolescence.  Naturalistic doesn't begin to cover it, but it's a start – the events of the narrative are as unforced as in any character drama in recent memory.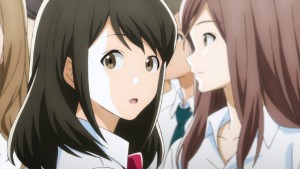 I saw a lot of wringing of hands and gnashing of teeth after last week's cliffhanger ending, smug predictions that As the Moon, So Beautiful was about to descend into cliche anime romance tropes and (shudder) "melodrama".  Well, it didn't.  Here's the thing – "drama" is not a four-letter word (it's five – I double-checked).  Any series about middle-schoolers and relationships is going to have drama because, guess what – when you're a middle-schooler life seems pretty fucking dramatic. Especially when you're talking your first halting, fumbling steps into the world of romance.  It would be totally unrealistic not to have traumatic, dramatic events unfold in Kotarou and Akane's lives – the only thing that tells the tale is going to be how well those events are portrayed.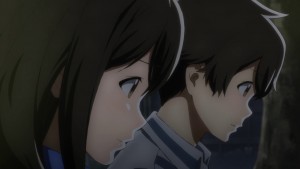 Well, if this episode is any guide, we're in for a fantastic couple of months.  This was one of the better school trip episodes of the decade, and not only because of the developments between the leads.  As they usually do Kishi and Kakihara get the background details spot-on (this show is as observational as it is naturalistic).  Anyone who's been to Kyoto has observed the endless packs of junior-high kids on class trips, and how they behave (just like this).  I loved the interactions amongst both the boys and the girls – and the teachers, too.  The cat-and-mouse with the cell phones, the after-hours chat sessions, the irresistible curiosity (and a little resentment) from classmates towards friends getting a few steps ahead of them on the romance road.  A show about middle-schoolers where they act like actual middle-schoolers – what a unicorn that is.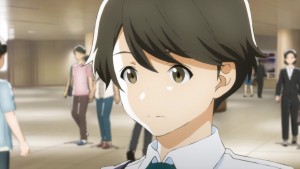 When it comes to Akane and Kotarou this episode didn't disappoint – though it certainly did torture.  Akane, unsurprisingly, needed a bit of time to process what Kotarou had asked her – she was as surprised as we were to hear it.  Class trips are the craps game of teen relationships – the stakes get raised, everything is on the table, and it can all go right or wrong in an instant.  It's an opportunity and a trap.  Naturally our two heroes are mostly separated – each within their own class and their own circle of friends, who mostly mean well but can't help but torture.  But Kotarou and Akane are adorably fixated on each other, even if they rarely make any contact.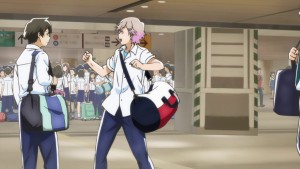 From the moment the two started texting in their rooms, I was on a knife's edge.  "Send it!" I shouted as Kotarou's thumb hesitated after typing his invitation to meet outside Daimaru Depatto at Noon the next day during free time.  I groaned in agony as Roman and Daichi's roughhousing got Kotarou's phone confiscated, knowing it would lead to disaster.  Really, the whole thing put me in mind of Takaki's train journey from Byousoku 5 Centimeter for high anxiety – and believe it, that's high praise coming from me.  But it was all a bit of a crucible for Akane, I think – it forced her to confront the truth.  Namely, that she was really, really hoping the boy would show up in front of that department store.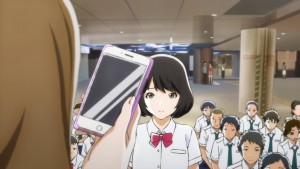 The final sequence was really great on just about every level.  Let's start with the fact that Aira finally realized just what an ordeal Akane was being put through, and set her free.  Then, just when it would have been the cliche thing to have Chinatsu be a threat, she (and her phone) turned out to be a savior (though Akane clearly still sees the threat potential).  Tsuki ga Kirei isn't following anime formula here – it's letting the lives of the two leads direct where the story goes.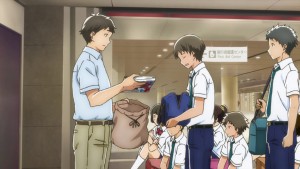 Ultimately, Kotarou and Akane do meet.  And it's awkward and uncomfortable – because really, how could it be anything else?  Akane is a little unreasonable but she knows she's being unreasonable and doesn't know why, and knowing that makes her even more unreasonable.  Kotarou can't quite bring himself to explain what happened right away but on some level, I think he realizes an explanation would do more harm than good at that moment.  And he gets his answer – not an eloquent and specific one, but one whose meaning is as clear as he could possibly hope for.  This is as convincing a start to a relationship as we've seen in a school romance for a good while, and based on what Tsuki ga Kirei has already pulled off, things should only get better from here.
Romake:
Setsukomake:
Shoumake: