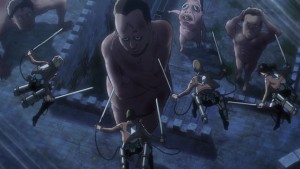 I think even a die-hard fan of Shingeki no Kyoujin would have to admit (or who knows, maybe they wouldn't) that there's a kind of same-iness to it after a while.  Hints at the conspiracy, experienced soldiers die gruesomely, cadets suffer but live to fight another day.  We're heard this record play before, and especially where the gore is concerned there's a numbness factor to this series after a while for me.  It's a contradiction, really – if you cut the stuff that's just here for spectacle, I suspect you could move this story along at about four times the pace.  But if you cut out too much of the spectacle, it wouldn't be Shingeki no Kyoujin any longer.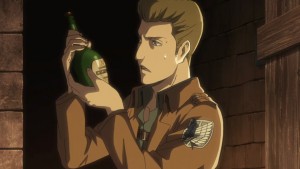 The current focus of the conspiracy plot is of course Krista Lenz (she of the close attention of the Order of the Walls) and her friend Ymir.  Why can Ymir read the language that's indecipherable to the other cadets, and what is this promise on the mountain with Krista she refers to?  We'll find out when Attack on Titan is good and ready and not a moment before, but clearly, that Ymir is part of the grand conspiracy at the heart of the plot is plain well before the big reveal at the end of this episode.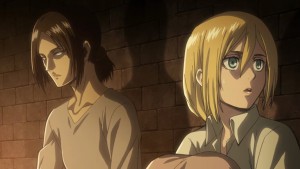 Certain phrases run through the mind watching this stuff play out – " we have met the enemy, and he is us", "the enemy within, et al.  When Conny says the titan at his house "reminds him of his mother", it's funny in the kind of semi-intentional manner that Attack on Titan is especially fond of, the way this series toys with its audience and winks at them at the same time.  In that sense characters like Ymir seem almost to be proxies for the author, hinting and misdirecting in the same breath.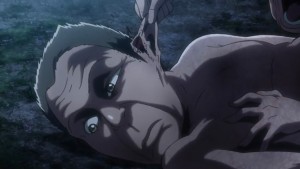 As the scope of the story has widened the characters who were initially at the heart of it have become less of the focus, so when one of them is put under threat it grabs your attention.  Rainer doesn't die here, but all of the scouts protecting him and the other cadets do – and that leaves it to Ymir to drop the veil of secrecy in a seeming attempt to save them.  What does it mean when a character like that exposes the cadets to something they clearly aren't ever supposed to see?  I guess we'll find out soon enough.