Shaka, when the walls fell.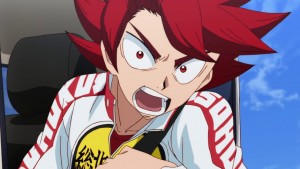 Well, I won't lie – that was a pretty bitter pill to swallow.  I sort of had a feeling Sugimoto-major wasn't going to win that sixth inter-high spot (there are narrative reasons why it doesn't make a lot of sense), but when in fact it played out that way it was still a pretty crushing disappointment.  And Watanabe-sensei does have a way of surprising you, which is a pretty rare thing in sports anime – the ending played out quite differently than I'd expected (as you know, I was tentatively betting on Sugimoto-minor).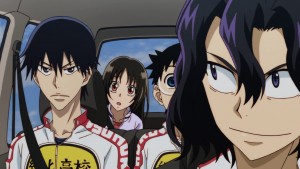 I guess my first question would be, to quote Leiber and Stoller, "Is that all there is?"  I mean obviously we have a whole bunch of story still ahead of us – there's another full cour plus an episode to this season, and lots more manga after that.  But what about Sugimoto-kun?  He waited to so damn long for his spotlight dance, and Watanabe crafted an absolutely brilliant one for him – one of the most dramatic and affecting arcs of the series.  But now that's he's come up short, what now?  Does he simply fade into the background like a piece of scenery again?  I certainly hope not.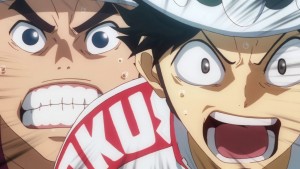 Part of the problem for me is that I don't like Kaburagi Issa very much.  Well- at all.  Yowapeda has a way of turning my initial perceptions of characters around (Midousuji being the most prominent example), but the series has some work to do making me root for Kaburagi as the sixth man.  I don't find his motivation especially appealing – it's really all about self-aggrandizement for him.  I don't like his one-sided relationship with Danchikun – it has none of the mutual respect and bromantic charm of TeshimAoyagi.  And I don't like his generally snotty attitude towards his seniors.  Did I mention I don't like him?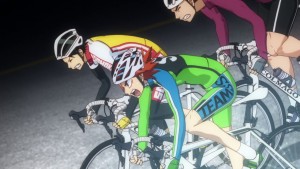 The way those final few meters (was that the season's first Mr. Pierre sighting?) played out was certainly interesting.  In effect, Sugimoto Terufumi and Kaburagi left the other two in the dust.  Honestly, I could sense when it was the older Sugimoto doing the pulling that the brothers were in real trouble – Danchikun pulled for Kaburagi for most of the final stretch, but Terufumi had little help.  As a marathon man without a lot of fast-twitch prowess Sugimoto was always going to be at a serious disadvantage in a final sprint, but he made it damn close – it wasn't until the final few meters that Kaburagi edged him out.  Considering everything, Sugimoto's ride was certainly the most impressive of the bunch.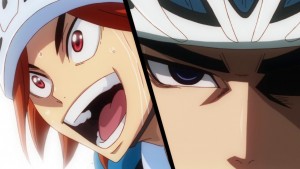 The aftermath – Terufumi convinced he'd won – was really heartbreaking, not least for his teammates.  It seemed almost cruel of Watanabe to show us that, to be honest – wasn't it enough that Sugimoto had just had his dreams crushed by an imperious little pissant like Kaburagi?  Poor Sugimoto trying to be brave and laugh it off was gut-wrenching.  And while the final part of the episode was excellent, it was still a little disturbing to see Terufumi brushed aside without a further mention.  I hope it doesn't bode ill for his place in the story.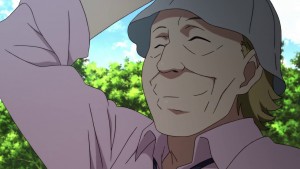 I do like the stuff that focuses on Onoda's role as a sempai, though.  He's just so ill-suited for the Japanese seniority obsession – to the point where he doesn't even like to enter a kouhai's classroom.  All that stuff – the souvenir photo, the attempts to be a mentor to Issa on their practice run – was classic Onoda.  It's very interesting to put to the test whether someone can be a mentor and sempai in way that runs totally counter to Japanese (and sports manga) culture – through unvarnished kindness and total humility.  If anyone can do it, he can – and he is so kind and humble that Onoda is always easy to root for.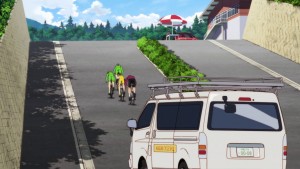 Lastly, we have the new odd couple of Kinjou and Arakita, now attending the same university and members of the same cycling club (which is about to face off against Fukutomi and Shinkai's).  We get so little manga or anime about college sports that any mention of it is welcome, but even these two are thinking about the coming Inter-high.  And this year's event is apparently being staged on Irohazaka – the winding slope that terrifies drivers (and tour bus passengers) as it corkscrews up the high mountains above Tosushou-guu in Nikko.  The route peaks at 1,840 meters and features a climb over twice the Hakone route – which seems, on paper, to favor the likes of Onoda and Manami, serious climbers who can handle the relentless grind.
Daigakkoumake: