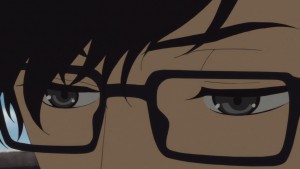 Well, it's over.  And honestly, here at the end not a lot needs to be said except for "Bravo!".  I often feel gratitude more than anything when great series come to an end, and that's the case with Shouwa Genroku Rakugo Shinjuu.  It's a privilege to have been able to enjoy something so brilliant – so profound, so emotionally powerful, so mature and so ambitious.  If you're any sort of fan of anime as art, it's hard to imagine you could come up with any measure by which this series doesn't stand up as truly great.  It's a rare and precious gem that's surely going to age like a fine wine, and go down as one of the finest series in the history of the medium.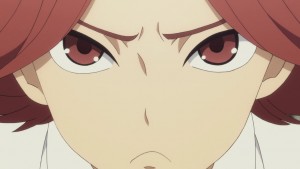 By this point I've said just about all there is to say about this masterpiece, and praised it to the stars in just about every way possible.  But one thing that strikes me as remarkable now that it's over is this – as great as the first season was (my #2 series in a very decent year), "Sukeroku Futatabi-hen" was better.  And not just better – clearly better, as in not even all that close.  All of the threads that were dangled by the first season were tied together artfully and effortlessly.  It's such a beautiful thing when a great manga gets a treatment like this, really – all the time it needs to tell its story, a superb cast and staff.  Sadly, it's as rare as it is beautiful.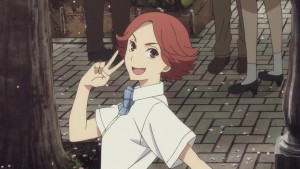 Any series finale post has two jobs to fill, of course, and one of them is to talk about the finale itself.  I know some people like the final episode of the series to be the "biggest" – the one where the most dramatic and traumatic events take place.  But I much prefer that to be the penultimate episode, especially with multi-cour shows.  There's a difference between the climax and the ending, and they don't have to happen at the same time (and in the best stories, they rarely do).  Finales, for me, are at their best as vehicles for reflection by both the cast and the audience – a time for quiet rather than bombast.  And that's exactly what we got here (which was exactly what I expected).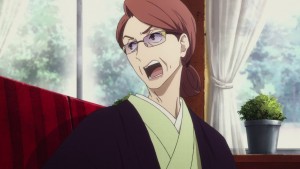 Was this episode the emotional meat-grinder last week's was – the blockbuster exclamation point that hammered home all the themes of Shouwa Genroku?  No, of course not – it could never have competed with that, and it was never meant to.  Shouwa Genroku Rakugo Shinjuu is more Yakumo's story than anyone else's, and his journey ended with last week's episode.  But part of Yakumo's story is the impact he left on rakugo, and on the world – and that deserved an entire episode to itself.  And it's hard to imagine it could have been done any better.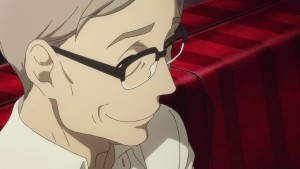 As I had hoped, we got the chance to see Shinnosuke perform rakugo – the jovial "Hatsutenjin", to be precise – and that was thanks to a roughly 16-year timeskip.  Shinnosuke (now played by Ono Yuuki) is a young man freshly promoted to Futatsume and (nervously) preparing to perform at the re-opening of the rebuilt rakugo theatre.  He has a sister named Koyuki (Asai Ayaka), who loves listening to rakugo (especially her father's) but isn't an aspiring performer herself (sadly Koyuki doesn't get much development, but that's a casualty of time – it's hard to see how that could have been avoided).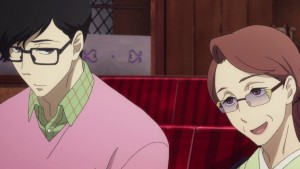 It's easy to see that Shinnosuke has changed a lot as he's grown – fascinatingly, while as a cherubic bozu he seemed to embody the feckless charm of his grandfather, he's now quite perceptibly taken on the pensive and thoughtful mien of the man he called "Grandfather".  In fact he's become a huge "Yakumo baka" in his mother's words, a true devotee of Yakumo's works.  Thus it's quite fitting that he's taken on the name "Kikuhiko" as a storyteller.  But I find the other name he's taken on even more powerful – Yotarou has taken to calling Shinnosuke "Bon".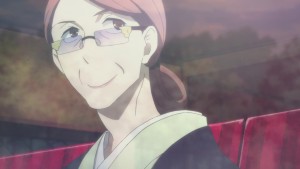 If there was a blockbuster in this quietly reflective epilogue, it was certainly the revelation – confirmed by Konatsu's non-denial of Higuchi-sensei's speculation – that the boy's real father is, in fact, Hatsutarou-Bon-Kikuhiko-Yakumo himself.  I know this was a theory widely speculated upon, but it's one I never quite believed myself – and I'm still not sure how I feel about it, to be honest.  It casts so much in a different light – Konatsu's conflicted relationship with Yakumo, the old man's feelings towards Shinnosuke – and as Hii-sensei notes, it also means that Shinnosuke is a boy in whose veins the blood of both Sukeroku and Yakumo flows.  That makes his transition from boyhood to adolescence utterly fascinating, and seemingly full of symbolic meaning.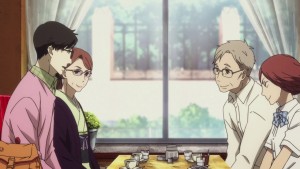 Well…  Now all the adults in the cast have secrets they'll take with them to the grave, I suppose.  It seems only fitting that it should be old Matsuda-san (now 95 and in a wheelchair, but looking rather spry nonetheless) to tie all this together. It's as Matsuda says – whatever the truth of the relationship chart is, the events we've seen were really driven by everyone's kindness.  They all found a way to be decent towards each other in the end, even after the terrible tragedy that befell the group.  What a joy it was to see that Matsuda-san was there at the end after all – his act of ferrying Kikuhiko across the Sanzu River apparently a miracle of Buddha's mercy.  Matsuda is the bridge that connects the past to the present in Shouwa Genroku – the groups gathered under each of the cherry trees, separated now by the gulf of death but forever united in spirit, and in Matsuda-san's memories.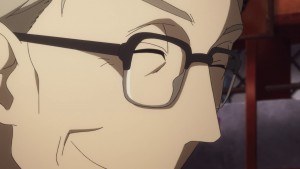 The first performance in the re-opened theatre is also the last performance, of course.  Yotarou has decided to take the name "Yakumo", in the end – despite the stylistic detach that exists – as a final tribute to the man who will forever be "Master" to him.  Shinnosuke and he are as close as ever, united by a love thicker than blood and by a shared love of rakugo.  He who is now both "Shin" and "Bon" takes possession of the battered old "Sukeroku" fan and opens the show with  a stellar "Hatsutenjin" that both his fathers and grandfathers would have been (and are) proud of.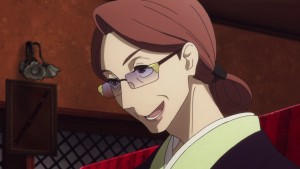 Shinnosuke is the future of rakugo, but that future will seemingly include female performers, thanks to the courage of Konatsu (now Kosekuroku) and the ego-free and undying support of Yotarou.  That we don't get to see her perform here will no doubt disappoint some, and I think that's probably understandable.  But there are only so many hours in the day, so many minutes in an episode, and in the end the closing of the loop in Shouwa Genroku is with Shinnosuke inheriting the mantle of both Sukeroku and Yakumo.  I think a case could be made that having anyone else – even Konatsu – perform in the finale would have diluted the symbolism of the ending.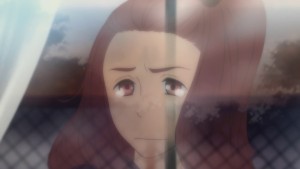 As for Yotarou's – now Yakumo's – final performance, well – it's also an encore for the prior Yakumo, of a sort.  "Shinigami" again, of course – it always had to be "Shinigami".  And Yotarou seems to finally channel the spirit of his master in a way he never has before, capturing all the chilling disquiet of the piece.  Yes, there's a lot going on here – not least the fact that Yotarou himself isn't as young as he used to be.  He too is starting to see the candle flickering, and his hand trembles as it holds his mortality in its fragile grip.  Rakugo will go on, but it's larger than any man (or woman).  None of our lives are timeless, and the Shinigami will always be waiting at the end of the performance.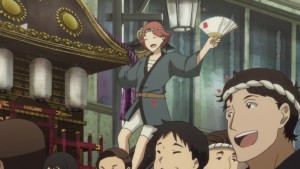 As Kikuhiko's journey ended, so Shouwa Genroku Rakugo Shinjuu's journey ends with sakura – the ultimate symbol of mono no aware.  There's no shortage of irony here – in death, Yakumo has freed rakugo to grow and evolve beyond his own vision for it.  Yet it's their love for him that drives all of them – his son, his protege, his step-daughter, the man who writes the new works that keep the medium vibrant – to carry rakugo forward. Kikuhiko was truly a man whose life had meaning – he changed others, and changed the world as well.  The final credits roll with the simple accompaniment of Yakumo, Sukeroku and Yotarou giving voice to the old stories one last time – ending with the words of Saheiji, the man who made a living staying behind.  Rakugo, in the end, is forever larger than any one performer.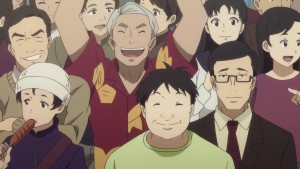 It's been an amazing journey with this series.  In Kikuhiko it gave us one of the most fascinating and complex characters in anime history, brought to life by as good an acting performance as the medium has ever seen in Ishida Akira. In terms of execution, Rakugo is probably as close to flawless as any multi-cour series since Seirei no Moribito – a masterpiece of great storytelling in manga form brought to the screen with style, grace and sheer brilliance on every level.  Whenever a show this good ends I always wonder if we'll see its like again, but so far at least the answer has always been yes – eventually.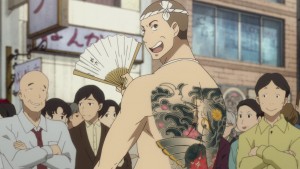 It seems only fitting that Shouwa Genroku Rakugo Shinjuu should end on a day when Anime Japan showered us with a barrage of depressing and inexplicable series announcements, because it's at times these that we need to have our spirits bolstered and our hopes renewed.  Anime, like rakugo, is a medium for storytelling – and like rakugo, those that love it have sometimes worried for its future (and now is certainly such a time for me).  By its very existence Shouwa Genroku gives us proof that creative genius can still flower in anime, and hope that perhaps Yotarou's final benediction might cross the divide and touch anime as well: "I never worried for a second that we'd ever lose rakugo.  After all – something this good could never go away!"
ED Sequence: