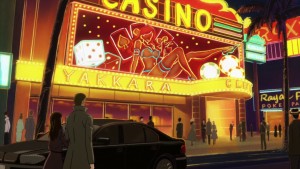 The word "coup" has taken on a rather more immediate meaning in the United States in recent weeks.  Like warfare on our own soil it's something we Americans don't have much experience with – something we read about in history books or see happening in other places on the news, but something remote to our own experience.  As the depth of what's happened in this country becomes clear, causing some to recoil in horror while others bury their heads in the sand and try to deny it, one truth is inescapable – it really can happen here.  The proof is that it did, and it's still happening right now.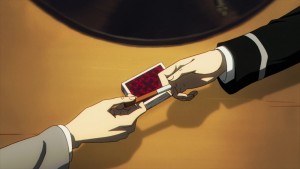 I find that colors my experience when watching ACCA, which has become more and more centered on the idea of political upheaval in a seemingly stable country.  And I find myself wondering just how much Jean knew and when he knew it.  Clearly, this is a very smart young man – it's in his genes, and it's reflected in the way he conducts himself.  The hints have certainly been there for quite a while, all the more so once the cigarettes started being exchanged.  Has he really been in the dark this whole time?  It's possible, but it seems more likely to me that he's suspected pieces of the truth, if perhaps not the whole of it.  And I think that helps explain the rather haunted expression that so often crosses his kind and sardonic visage.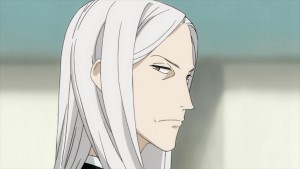 Leave it to ACCA to deliver up what was for all intents and purposes a very low-key episode, two eps from the end and right after what was (for this series) a rather intense one.  But be that as it may, there was a rather strong sense of foreboding in the air this time – a weight, for lack of a better word.  And I think that's actually a pretty good word, because as he travels through his next-to-last round of district audits Jean seems very much as if a weight is increasing on his shoulders.  However much he knew before, what he knows now is causing him to realize he has a great responsibility.  This ACCA and this country he loves could very much be at risk, and he might just be the only one that could save it from descending into chaos.  That's a lot to take in for anybody.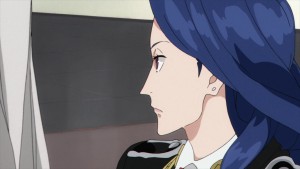 First this time is Yakkara, the Las Vegas of Douwa, where the district chief makes it very clear that the locals are gamblers and they consider Jean to be holding a pretty good hand.  But much more interesting is Pranetta, perhaps the most visually arresting of all the districts we've visited with Jean.  A parched desert where the folks live inside a giant cavern to escape the heat, entertained only by TV and seeing the sky only at dusk when the weather is tolerable.  These are poor people used to hardship, and they've declined to join the coup because they have nothing to protect.  But the old district chief makes it clear that when it comes to justice, they believe it's on Jean's side.  I found the moment when he bummed a cigarette off Jean, only so that he could symbolically offer it back to him, one of the most emotionally powerful of the series.  It was then, in the face of that quiet endorsement of decency by a humble local official, where Jean seemed to fully realize for the first time the burden he carries.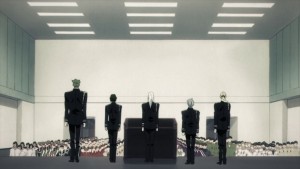 The great wild card in all this remains Lilium, and his district of Furawau is the last Jean will be visiting.  Whatever Lilium is planning he's surely after more than just a coup for the sake of the nation, and his hold over Grossular is one of the more unsettling remaining mysteries.  The king has fallen ill, too – rather suspiciously, as it's on the eve of the centennial celebrations – and the ACCA hierarchy is in an uproar over what to do next.  Lilium is about to pounce, and Jean is about to walk straight into the lion's den.  One suspects that ACCA is about to take its darkest turn.