If John le Carré and Rick Steves each took 10mg of Valium and made a show together, I bet they'd call it "ACCA".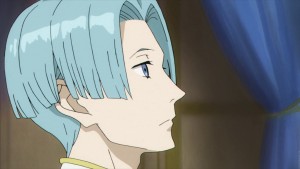 It was pretty much a given that after the developments of the past two episodes, ACCA was going to ramp up the stakes big-time this week.  And it certainly did, but what I find really interesting is that even as it happened, the basic style of storytelling really didn't change at all.  The characters are (mostly) still acting the same way – it's just that now the matters at-hand concern life and death.  And through it all, still the ever-present food obsession – no matter what else is happening, there's always time for food porn.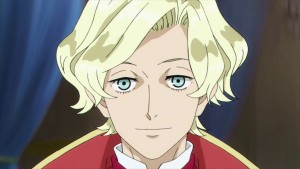 The game is truly afoot now, both in Douwa and Badon.  I'd kind of half-convinced myself that Schwan wasn't as much of a doofus and general douchebag as he was initially portrayed, but while I think I've been proved vigorously correct about the first it looks like the second was wishful thinking.  The baka prince is really no baka – he's a devious little bastard.  And his visits to his aunt have been directed by a simple purpose – to get her to do his dirty work for him.  She has a daughter she wants to put on the throne (though I'm not sure exactly how that will work), and by spilling the beans that the Otus siblings are likely of royal blood, Schwan goads her into sending assassins after then.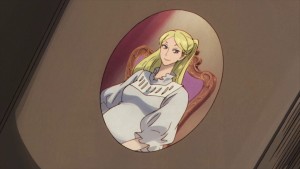 All this tells us a few things, the first of which is that Schwan considers Jean and Lotta a much greater threat than his aunt.  We can also deduce that Schwan's hold on his retainers' loyalty is not air-tight, because Magie – who rather bonded with Rail as fellow bread otaku and likely also has a crush on Lotta – tips Rail off that the assassins have been dispatched.  And it's a good thing, too, because Jean is on yet another inspection trip (three provinces in succession this time), leaving Lotta unprotected in Badon (since Nino is, presumably, shadowing Jean).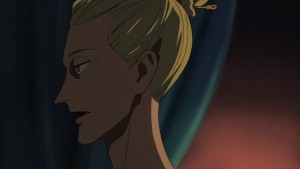 Jean is clever, make no mistake.  He's asked the chief to take Lotta out for meals while he's away because he was worried something like this might happen.  I wouldn't be surprised if the Chief suspects the truth anyway, since rumors of Jean's parentage have been floating around for months, and has been keeping a close eye on Lotta for that reason.  Rail arrives just before the assassins do, and while it's clear he's not exactly Jason Bourne his heart is in the right place.  He tries to protect Lotta the best he can, though admittedly that's not all that "best".  It's only the arrival of the chief after Rail has blundered himself and Lotta into the assassins' hands that prevents this from ending in tears.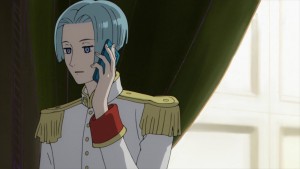 This is a "chase" sequence, but one as only ACCA would portray it.  There are no explosions or gunshots, and no one even raises their voice.  Lotta seems more concerned with protecting the windows and making sure she packs sweets and who's going to join her for lunch than the fact that she's just been told she's a royal princess, and there are four (extremely polite) royal henchmen trying to kill her.  I respect ACCA for staying true to itself even as we get into the "serious" plot – that takes guts, and a certain measure of trust in the audience (which, if the inexplicable and frankly unbelievable Stalker numbers are to be believed, may not be entirely misplaced).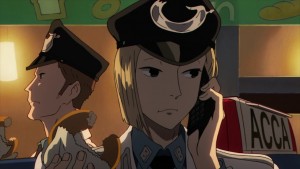 Meanwhile, Jean is touring new (to us) districts, and has embraced his role as a stalking horse for a coup.  In Peshi (the province that refused responsibility for the train accident) he makes it clear to the director that the rumors are true, and extracts a pledge of support.  Afterwards it's Yakkara (where "the guys are really nice, even though they're all bums"), a stand-in for Vegas.  The seeds of what Grossular has done are being sown here – a great many people seem to suspect the truth about Jean, and that makes me wonder if Jean himself was in the dark about it for as long as he seemed to be.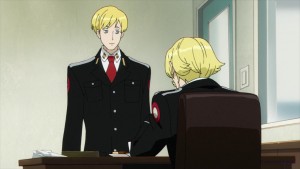 The nut of what's happening here is pretty much as expected – Grossular has been preparing the ground for a coup, with the explicit understanding that Jean would take over as king and maintain ACCA's role in society (which Schwan has pledged to abolish, apparently).  But ACCA drops one more big shoe on us, and it's the reveal that Lillium (who I always found kind of suspicious) is the one pulling the strings.  There are two obvious questions begged here – the first being what Lillium has on Grossular to force him to obey (if indeed Grossular is Abend, maybe he's threatening to expose the Otus' siblings – but that's not really much of a secret now).  The other and perhaps more critical question is just what Lillium's endgame is here.  Is he likewise working for a pro-Ptus coup and just being Machiavellian, or does he have a goal of his own – perhaps abolishing the monarchy altogether and making ACCA the only true power center in Douwa, with him at its head?