Meanwhile, back in Hakone…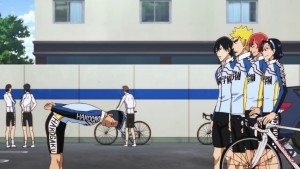 With the state of the Sohoku cycling club more in flux than ever (stock report for this week: Onoda up, Naruko down) Watanabe-sensei takes a detour (or at least the anime does) to the Izu Peninsula.  That's the home of Hakone Gakuen, of course, and they're the sole focus of not just this week's episode, but next week's as well by the look of things.  HakoGaku has always been more of a co-lead team than an antagonist or supporting one, so it's not really much of a surprise.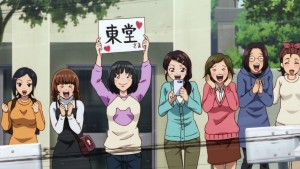 Hakone, like Sohoku, is in a state of transition.  They're losing not just three seniors that were the center of their squad, but four.  But in watching them right after seeing the state of the Sohoku side, it's striking just how wide the gap between these two clubs is.  With HakoGaku it's always just a question of choice – there's never an instance where there's no one to step in, but a choice of options.  Climbers, sprinters, all-arounders – at Hakone there's always someone waiting in the wings to take their chance.  That doesn't mean things are going to come easily for them in the absence of their third-years or that Izumida will prove a worthy leader, but they certainly start out with a considerable advantage over Sohoku.  It just points up what a miracle it was that the Sohoku Six beat them even once.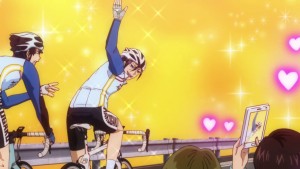 The occasion of the farewell "fun ride" for the third-years is a good opportunity to take stock of just where this team is at the moment.  "Fun" is a loose term in this case – as Kuroda Yuki (remember him?) points out, anytime there's a finish line at the end Hakone riders are going to try and win.  And the course is a full 120 km, looking a lot like a one-day condensed version of the Inter-high layout.  There are flats, sprint checkpoints and mountains – a chance for the whole squad to show what they have.  And there's also time for the third-years to express their feelings for each other, and to pass the torch to the new generation (catchy title – someone should use it).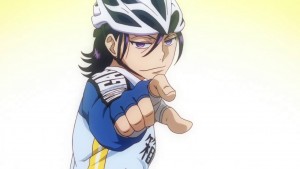 This being Yowapeda those emotional moments are not exactly low-key, but they're certainly effective.  That also goes for the duels among men with pride on the line, starting with Shinkai and new skipper Izumida fighting for the sprint checkpoint.  The big news here is that Izumida (Abu!) has rolled out a new team member to join Frank and Andy – it's Fabian (as in Cancellara, AKA "Spartacus", arguably the greatest time trialist in cycling history).  Fabian is in charge the back muscles, apparently, and Izumida imagines himself naked when Fabian is brought out of hiding.  Izumida and Shinkai are no less absurd in battle than ever, and their duel in the sun fully lives up to their characters' lofty standard of bombast.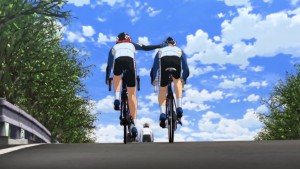 I think the most interesting mystery with Hakone is Manami, though, and he finally makes an appearance here.  Yuki (the guy Manami beat out for the Inter-high climber spot) dresses him down pretty good for the way he's been beating himself up after losing the Inter-high (Ashikiba gets some ridicule too), but when the opportunity comes to push himself in a grueling climb against Toudou-san, Manami definitely seems up for it.  Izumida has won the day for the next generation in the sprint (unlike Naruko did, I might mention) and now it's up to Manami to do the same.  When it all shakes out HakoGaku will surely be elite once more, but it's hard to see them having a chance at winning the G.C. unless Manami can get back to his top form.
Omake: