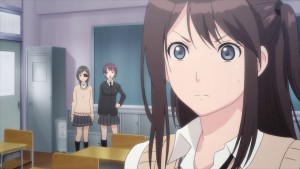 I've made mention a few times that I consider Seiren to be about on a par with the original Amagami SS series', and I like it just about as much.  But one difference that stands out is that there seems to be a lot less romance in Seiren, at least so far.  We're seven episodes in, about to wrap up the second route, and we haven't really had any relationship time at all (if you don't count the last three minutes of this week's episode).  The Tsuneki arc had its fair share of flirting, but I don't really count that.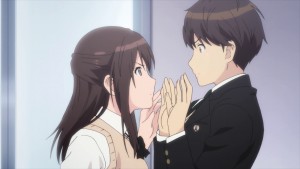 The thing is, the Miyamae arc has been really good – but it prompts me to at least ask myself if the comparative lack of romance is a legit problem in what's pitched as a romance series.  What this arc has really been, basically, is a friendship chronicle.  Shouichi and Tooru have great chemistry together but it's only manifested itself in their "partnership" so far.  I hope that's changing – certainly I'll be disappointed if the last episode doesn't focus on them as a couple – but given Tooru's background and its social implications, I guess the friendship theme is actually rather on-point.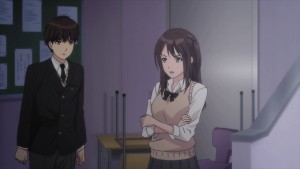 Here's the thing – being a "girl gamer" isn't especially easy, either in Japan or the States.  There are certain expectations placed on teens (especially by each other) and for girls, hanging out with the boys at the arcade isn't one of them.  I kind of think it got Tooru branded as something she's not – Hikari makes reference to the way she "treated girls and boys the same way, and that led to false impressions", and I think that's exactly on-point.  When a middle-school girl hangs out with the guys and isn't interested in fooling around, she's a cock-teaser.  When she trashes them in games simply because she's better, she's a ball-buster.  Is Tooru either of those things?  Not from anything we've seen – she's a serious gamer and a little too intense about it, but if she were a boy would anything she's done so much as raise an eyebrow?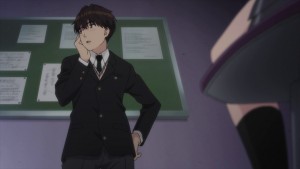 Seems like Hikari chose a different path than Tooru did – she "outgrew" gaming, but at least part of that was driven by a desire to have a normal social life.  Perfectly legit – but then, I think Tooru's choice was just as legit, if more problematic.  That's why Shouichi seems to be a good match for her (as Hikari notices, to her credit) – he's a gamer boy, but largely unencumbered by a bloated ego.  That's one reason why I hope these two do become a couple in the arc's final episode, and a good example of why many of the better sexual relationships out there start out being friendships.  Friends tend to have to be compatible in ways lovers don't.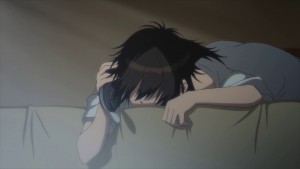 As ever, I rather like the low-key way Seiren approaches all this.  Tooru's "brocon" for her big brother Souta isn't the classic anime trope, but a quite normal adoration and mimicry.  When it does come time for Shouichi and Tooru to move past being partners and become "partners", it all happens in a blink and without much fuss.  Tooru cloaks her confession in the form of an invitation to Comiket (looks like mascot design is her chosen vocation, as Shouichi suggests), and cleverly nudges Shouichi into being the one to ask her out (which even for a guy like him is an important ego-boost).  As ever, one of Seiren's best traits is its ability to find a middle ground when it comes to depicting school romance – now, it just needs to shift gears and do a little more of it.