OK, the love-hate (well, like-hate) pendulum with Kuzu no Honkai is starting to tilt heavily to one side.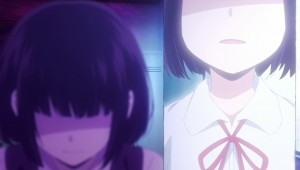 I've felt strongly that this was going to be the make-or-break week with Kuzu no Honkai (well, and Masamune-kun too, though that's honestly not as consequential).  I felt like we were getting to the point where I either had to admit I could no longer overlook the things that annoy the hell out of me with this series, or simply accept them and deal with it.  And I was right – and about which is would probably end up being, truth be told.  But given that this is already my leanest anime season ever, you don't want to jump into any decisions.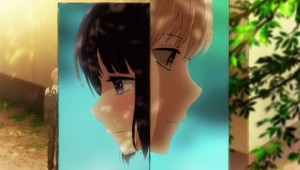 That said, I'm pretty much done here, I think.  And that should clue you in as to just how huge the problems I have with this show are, given the weak competition and the fact that Kuzu can certainly make me feel something far more than the average series.  Fact is, though, I've kind of come to hate everyone in the cast except Mugi (and seriously – I can't be the only one who feels badly for him in all this, can I?).  And watching people you hate do things that annoy you has a limited shelf-life, at least for me.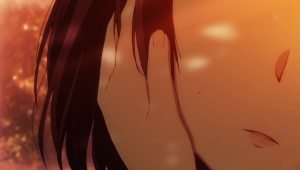 Of the things that annoy me, Hanabi's NON-FUCKING-STOP internal narrative is at the head of the list.  And Hanabi having slipped into the group of characters I hate is probably the tipping point for the series as a whole, because she's plastered all over it.  Seriously, that inner voice never shuts the hell up – and it's a constant prattle of self-absorbed adolescent pseudo-philosophy.  Not to mention (like most adolescents) she gets everything wrong most of the time.  The funny thing is we've reached a stage now where I can no longer tell if Kuzu no Honkai is showing me how stupid Hanabi is, or just being incredibly stupid and Hanabi is voicing what the show actually thinks.  Akane – full of self-worth?  Seriously?  Seriously?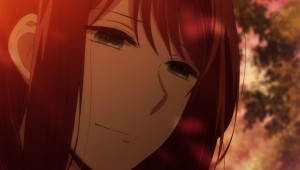 There are lots of other problems too, of course.  The horrific Moka seems destined for screen time.  And in addition to the unpleasantness in the show itself, the tenor of the discussion around it (not here, just to be clear, but in other venues) is really sickening – it gives vent to the worst attributes in the modern anime audience, which I suppose is anything but coincidental. I've always said at its worst anime has a remarkable ability to be demeaning towards both sexes at the same time, and that's what we've arrived at with Kuzu no Honkai.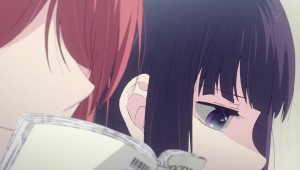 There really just aren't and straws to cling to here.  Moka – I don't need to say anything there, I hope.  Ecchan is pretty vile, a predatory manipulator and one of the most selfish anime characters I've seen in years.  Akane is an awful character in every sense, a narrative crutch, and Narumi is a pathetic lap dog of a man who's done nothing to make us believe Hanabi has good reason to be in love with him.  Mugi is really the only one in the cast who's remotely sympathetic as far as I'm concerned, but it's more clear with each passing episode that his role is the story's punching bag, the caricature of male neediness and weakness.  Kuzu no Honkai is certainly not uninteresting, but ultimately I think it's hollow and manipulative and has little respect for either the audience or its characters.  And even in a season like this, that makes it a little too unpleasant to spend time with.