And then we have Kuzu no Honkai, which is so irritating it makes any vexation I feel over Masamune-kun no Revenge feel like a blip…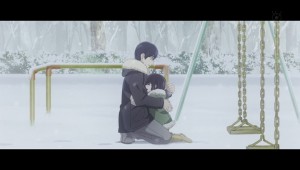 Not to share too much information, but earlier this evening I figured I'd jump in the shower and then watch Kuzu no Honkai.  But then I thought "You know, you're going to feel like you need to shower after watching that show", and I decided to flip the order.  The point being, this is that sort of series – it just makes me feel like I need to wash its stink off every time I subject myself to it for 22 minutes.  Is that really evidence that you're enjoying the experience? But of course, sometimes with art we need to subject ourselves to things we don't enjoy because the experience is worthwhile anyway.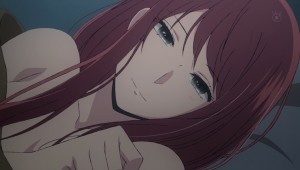 Mind you, I have no idea if that's true here.  I don't have the foggiest idea, in fact, what I should do with Kuzu no Honkai.  It's tempting for me to dismiss it as Aku no Hana without the hideously failed animation experiment, and there's no question that like Aku, it's posing as high art while in truth being straight-up provocateur pulp.  But there's a sort of artistry to Kuzu, both visually and narratively, that keeps me kind of fascinated even as I recoil in revulsion at what it has to say.  And it has something quite genuine in the relationship between the two leads.  But what bothers me perhaps more than anything is that I know it doesn't take that element seriously – it's just bait to lure me into the bear trap.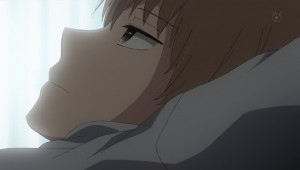 If the point here is that people use each other, well, "duh".  Even people in love with each other use each other to a certain extent – it's just our nature.  There are degrees and degrees of course – I mean, Akane-sensei is a straight-up demoness.  She makes the show close to unwatchable when she's on-screen because she's such a transparent narrative device, but she's critical to the story so there's a lot of her.  She pretty much checks all the boxes – she doesn't become interested in Narumi until she knows it will hurt Hanabi. And she doesn't decide to move past the teasing stage until he accidentally calls her "Hana-chan" in an unguarded moment (after which she promptly sleeps with him).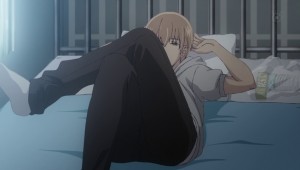 Much better are the moments that focus on Mugi and Hanabi, especially both of them together.  And this week did give up some welcome exposition with Mugi, who remains (somewhat ironically) the much more innocent in the main pairing.  It's quite telling that as he lies in his bed, bored and thinking of Hanabi's quirks, it's his deflowerer sempai that he makes a booty call to.  There's a fundamental difference in Mugi and Hanabi's situations, I think, in that there's just a chance that Hanabi's crush might have reciprocal feelings for her – and there's no chance of that at all with Akane.  And that makes Mugi much more likely to be badly hurt, because he's much more likely to expose himself to Hanabi emotionally than vice-versa.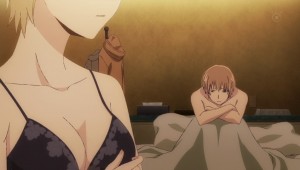 Does Hanabi wanting to have sex with Mugi indicate that she's more interested him than before, or less?  In this context that's a tough question to answer, because sex is not a sign of intimacy in this story.  It'a always Hanabi who initiates contact with Mugi, and it's seemingly always Mugi who's betrays real feelings for her.  She's also aware that the two of them have a connection, that there's the basis for a meaningful romantic relationship between them.  But Mugi seems by far the more likely to actually pursue it – and his asking her to became his "for real" girlfriend right after she's backed out of having sex despite having insisted on it moments earlier is the proof that he actually is.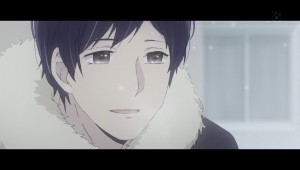 I just don't know – this series is so pretentious and silly (that whole business about Mugi and Hana immediately knowing the other had made love to someone – please…).  And it's plainly much more interested in provocation than meaningful exploration.  But if you'e going to be a provocateur, you better be good at it – and it is.  And the fact that Kuzu no Honkai is so good at sex scenes that are totally lacking in eroticism is the proof that it's at least as interested in emotional provocation as physical (which makes it that much more interesting).  I don't know how I can call myself anything but undecided as we near the halfway point.  But if the opposite of love isn't hate but rather indifference, we at least have that to build on because while I may be conflicted, I'm anything but indifferent.