I think the other shoe just dropped into a puddle of shit, which splashed up and hit the fan.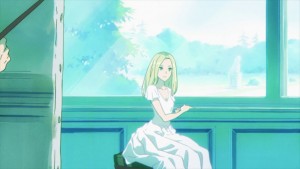 Well, that was certainly eight episodes of serious, hardcore ACCA content crammed into one episode.  It strikes me that plots are a lot like earthquakes – and I don't mean "plotquakes".  If you have little developments constantly, some of the pressure on the main fault is relieved and you don't get major temblors.  But if almost nothing happens but setup for a long time, all that pressure on the fault just grows and grows as the plot plates grind against each other, barely moving – and when it's finally released, you get the big one.  And in plot terms, this week was ACCA Magnitude 8.0.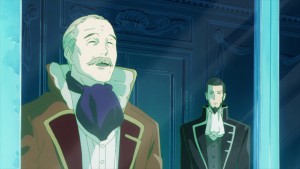 Obviously, this was the most important (and I think most beautifully animated) episode of ACCA so far because it connected all (or at least most) of the dots with the story.  But that wasn't all it connected.  For me, this was the ep where ACCA finally closed the circuit that hadn't been firing these last two months – it finally took all that intrigue and bemusement and connected it to emotion.  Why?  Simple – because this episode wasn't so much about the "what" in the story – though there' was plenty of it – but the "why".  At long last, we have a sense of the human motivations that brought us to this point, why these people have done the things they've done.  And for me, that makes a big difference.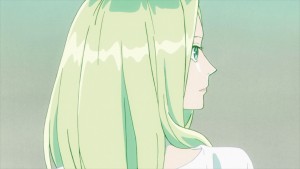 The broad picture I'd formed in my mind several weeks ago – that Jean and Lotta were members of the royal family – was effectively confirmed last week.  The details that emerged this week were fairly close to what I'd imagined, too.  The king had indeed sent his daughter, Princess Schnee, away from the capitol, and she is indeed the Otus' mother.  The reasoning is interesting – as Kuvarum states it, she was becoming a "shadow" on the kingdom.  As a girl, she can never ascend the throne, but she has a curious and adept mind, and a desire to understand the country her family rules.  She's unhappy being in a gilded cage, and as her interests become more broadly known and there continues to be no male heir, it creates increasing unease around her presence.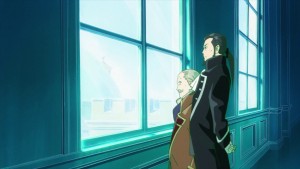 It seems best for everyone that Schnee be erased from the family registry, but there's no legal means for that – and it's not as if the king will allow her to be killed or something, as he seemingly loves her best among his daughters.  The solution?  Kuvarum hatches a plan where Schnee with go on a trip with her servant Abend, and the two of them will "drown" in a small boat and then disappear in the bustling city of Badon.  Abend is given a choice, but it's clear it's not a real choice.  And he asks to take his servant with him, though it means the man will have to leave his small son behind in Douwa.  Both of them agree at once, despite the personal price – but the son has other ideas.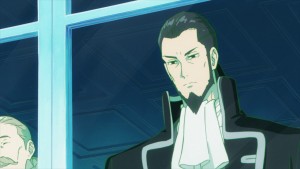 Almost all the loose ends of the plot are tied up here, but what's most interesting is the actions of the characters themselves.  Everything we see in this episode is driven by a sort of love.  Abend and his servant leave their homes behind out of love for their king and country (and something more, in Abend's case).  The king lets his daughter go out of love.  The boy, who turns out to be Nino (played as a child by Mei) insists on coming along out of love for his father – despite the fact that his father was willing to leave him behind.  And at some point he follows Jean not out of duty, but out of love for a friend.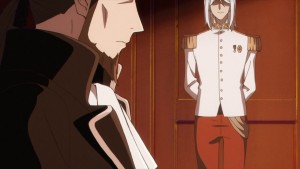 Interestingly, it's not Abend (whose location in the present day remains one of ACCA's big hanging threads) who ends up becoming Schnee's shadow, but his servant.  He watches her daily as Abend fades into the shadows – and eventually the man enlists his son to assist in the pursuit.  All this for the purposes of sending back reports to the king – though whether simply to satisfy his concern for Schnee or as part of a larger plan is hard to say.  That's not all – when Schnee falls in love with a commoner, Abend arranges for the apartment complex to be built so that he'll have a job and the family a place to live.  I kind of suspected that – and that it was Kuvarum that Nino was reporting to.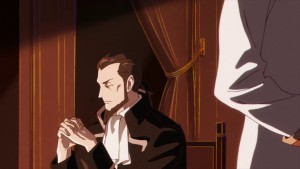 We're certainly not free and clear of mysteries here.  Though Jean has no legal claim on the throne at this point, if his parentage were revealed he could certainly stake one – he's a decade older than Schwan.  Just what is the king plotting here, where Jean and Lotta are concerned?  Just who is the Otus' father?  Was the train accident truly an accident, and what is Grossular's role in all this?  As ever with ACCA all that is fascinating, but the real difference now is that we finally know who these characters truly are – and I don't mean their names and parentage.  ACCA is, at last, a human story – and as I've long said, a series that seems to have a chance to finish on a very high note.