If ACCA were music, I think it'd be the Dave Brubeck Quartet.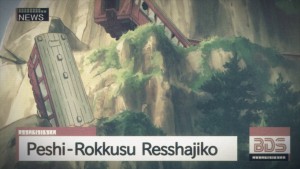 I continue to find ACCA-13 to be an interesting and very peculiar piece of anime.  Over and over watching this episode, I kept getting an image of Brubeck in my head – which might seem odd, but really clicks for me.  I love Brubeck, but even the name of the genre he more or less invented – "Cool Jazz" – reflects the somewhat aloof nature of his genius.  And that fits ACCA to a "T", especially given the rambling and improvisational nature of the narrative.  It certainly isn't hard to guess that Nastume Ono is a jazz fan based on the soundtracks her anime adaptations have received (and her series' general tenor) but it by no means surprised me to learn she's designed album covers for Japanese jazz artists.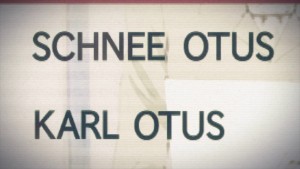 Music and anime are very different mediums of course, and I must confess I think Brubeck achieves greatness in jazz (though there are a few artists I'm more stylistically in synch with) to a degree ACCA does not in anime (or at least has yet to).  I think the "West Coast Jazz" approach simply engages more with improvisational music than with anime – in this arena, there's something missing with ACCA that prevents it from completely winning me over.  I want more warmth and emotional commitment than Natsume-tachi have been willing to give me – I need a little Parker or Bill Evans mixed in with the Brubeck.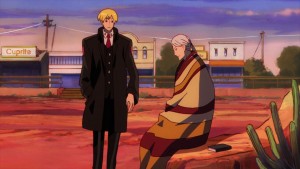 But that's me – your mileage, as ever, may vary.  And there's no denying that there are moments of sublime cleverness scattered like Easter eggs throughout the narrative with this show.  I do enjoy quirkiness and ACCA has that in spades.  The commitment to the mundane is really something special here – while the tone of the series is strictly dry martini, all of the little details definitely add a dash of color and texture that would otherwise be missing.  Natsume, I think, is genuinely interested in stuff like sandwich bread and hotels – and frankly, so am I.  There's a part of me that wonders why she'd think anyone would be interested enough to stick with her through an entire series of that, but another part of me is very glad she is.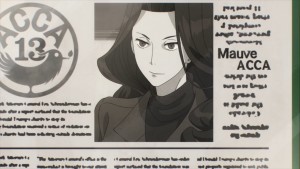 Mind you, there's certainly stuff happening here – there's lots of plot, even if it sometimes plays as if it's been written by Rick Steves.  Development-wise, we have the revelation that Jean and Lotta's parents died in a train accident on the border between Rokkusu and Peshi thirteen years earlier.  At that time Peshi denied all responsibility for the accident, while Rokkusu (under the influence of Grossular) declared that it would be unfair to the victims' families to niggle over such things and accepted responsibility.  They also pushed for Douwa's transit to be nationalized under ACCA – which it was, resulting in a dramatic improvement in safety.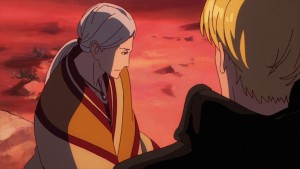 Now, all that is interesting for a number of reasons.  There's some political commentary here – the nationalization of Japan's rail system was a turning point for the country and likewise resulted in huge safety improvements, though there are still right-wingers who wish to undo it.  On a more personal level this incident inspired admiration from Jean towards Grossular for the way he handled the tragedy – and that admiration has led to Jean's stated belief that Grossular couldn't be involved in the rumored coup.  This is one of the m0re overtly emotional developments in the series.  It's also the source of a problem for Jean, since Mauve has clearly expected him to deliver some juicy coup info on Grossular and is very disappointed when she doesn't get it.
The question of loyalties continues to be central to the spiderweb of intrigue driving the plot.  Mauve has her own agenda, but so do the five members of the leadership – and at the very least, Ilium and Grossular seem directly at odds with each other.  How many of these people genuinely suspect others of being involved in the coup, and how many are just playing a role for show?  During a visit to the Hare district (quite transparently Okinawa, right down to the life expectancy) Jean realizes what role Mauve has chosen for him – as the supposed intermediary of the coup-plotters, he's the one the locals he visits will be sizing up for information about the coup.  Jean wants to please Mauve (both for personal and professional reasons, I think) but he seems to genuinely dislike being thrust into the role of entrapper.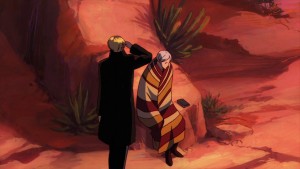 We're halfway through now, but we still seem barely to have scratched the surface of the mystery.  Prince Schwan continues to brazenly plan for his ascension to the throne, and makes reference to a "tragedy of 33 years ago" which caused the royals to forbid their families from leaving Douwa.  That makes a trip to Badon problematic, and Schwan's love rival Rail continues to stumble closer to Lotta.  And there's definitely far more to the story of the Otus family and their ownership of the luxury apartment building than we've been told – my suspicion that their position as its managers might have been a gift from the king to his lover is growing with each hint that's dropped.