Poor Sugimoto.  I'm starting to wonder if it's a running gag.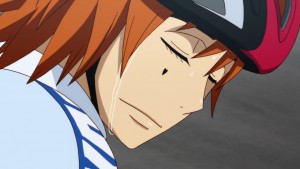 We're still very much in the setup phase of "New Generation".  And since so much of the deck has been reshuffled, there's a lot we still don't know about how this series is going to look when it's sorted itself out.  One thing for sure: in life in general and certainly in sports, Father Time is undefeated.  The third-years' will run out, and they'll have to make way for others to follow in their pedals.  And that almost certainly seems to be the central focus of this season on Yowapeda.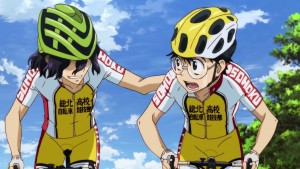 To begin with, there was the matter of the Minageyama Hillclimb to shake out.  And shake out it did, with Onoda proving two very important things – that his triumph in the Inter-high was no fluke, and that he's mostly recovered from his desolation over Makishima's departure.  I like where this is headed – Sakamichi is the incongruous badass of Yowapeda, a legit monster despite his tiny stature and meek manner.  Teshima, for his part, held on for third but bemoaned his own lack of ability after the race (somehow, I felt that was for show – he's playing possum).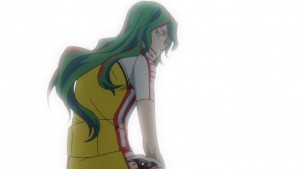 As for Ashikiba, it was probably too soon to win a race against this level of competition.  Yowapeda is nothing if not generous in giving opponents development time, and he's no exception.  It's good that his physical similarity to Maki was finally acknowledged, and not only that was relevant to the plot – that was what pushed Sakamichi forward, in the end.  It's true that you rarely see top-caliber road cyclists with Ashikiba and Maki-chan's build, and this dancing is probably the only way they can be competitive at the highest level.  Ashikiba will be fine – the Hakogaku sempai have his back, and they take care of their own over there.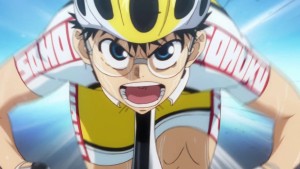 There's more racing to be done, though – this time around a Criterium, a short-ish road race generally held on closed city streets.  That means it's time for the sprinters to shine, but sadly that doesn't include our experienced rider Sugimoto.  He barely generates a look, after the big three have left him for dead in the peloton.  We have to include Aoyagi on that classification now, as he's clearly grown a great deal over the past few months.  It so happens that this is also the last race for Tadokoro-san, which lends a certain extra spice to the three-way fight for the win (none of the other schools is really a factor).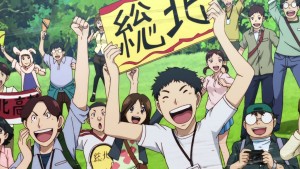 I figured Tadokoro would probably win, this being his swan song, though it was interesting to see that Aoyagi seemed to give nothing up to Naruko at all as far as speed goes.  Honestly it's hard for a character who never says anything to be especially memorable in a series with a cast like Yowamushi Pedal, but as a cyclist Aoyagi is certainly making an impression.  Which is more than can be said for Sugimoto – at no point do the three riders at the front even acknowledge that he's in the race.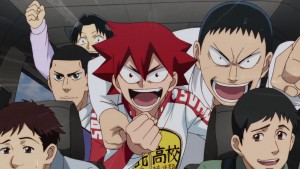 Tadokoro and Kinjou get their proper sending off, as they should.  But even here, it's apparent that they're no longer the real story.  The elephant in the room all season has been that Sohoku is a little bit short of a full deck going forward, and Sugimoto doesn't seem to be the final card.  I'm pretty sure that's what Imaizumi wanted to talk to Naruko about on the quad, though whether it means recruiting new members or something else I don't know. And as far as the omake, well – I always enjoy a Jiro Ramen reference in my anime.  For the record, there's no damn way I could finish one of those bowls in 8 minutes (most of the time I couldn't finish them at all).
Jiromake: