That honeymoon ended pretty quickly.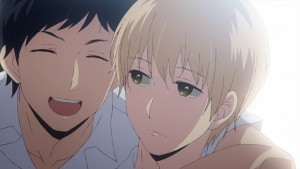 Maybe that's a deceptive headline, because I didn't by any means hate the second episode of Kuzu no Honkai – only parts of it.  But it would be fair to say the magic of the first episode was missing for me.  Maybe in part it was because the visuals weren't so magical.  Don't get me wrong, they were fine, and this is still one of the more stylish efforts of the season so far.  But they weren't transcendent and awe-inspiring like they were in the premiere, the kind that can draw you into a series despite every instinct screaming at you to flee in terror.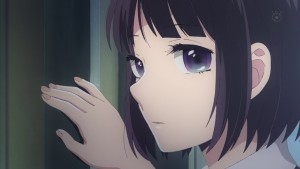 In the end, though, a much bigger problem is content.  In every way this episode felt much more conventional than the first one, not just in terms of visuals.  There were parts of it that carried on the spell (the scenes between Hanabi and Mugi were by far the strongest), but a lot too that felt pretty hackneyed and melodramatic (even I'm allowed to use that word as a pejorative once in a while).  I hear people compare this series to School Days, and it puts me in mind of Yosuga no Sora a bit.  I don't know if it's going to get anywhere near as out there as those two shows, but it definitely has trainwreck written all over it.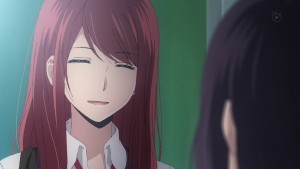 I didn't care for either of the new elements the series introduced this week, but by far the worst was the osananajimi Kamomebeta Noriko.  She's pretty much every annoying imouto cliche you can imagine and some you can't, though she doesn't happen to literally be Mugi's little sister.  She's awfulness incarnate, from the voice (sorry Izawa-san but it's true) to the twintails to the mugging for the camera.  The less we see of her the better.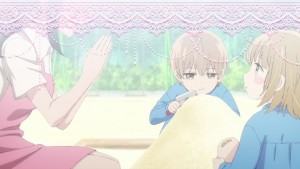 The other new character is Ebato Sanae, who's Hanabi's only female friend and known widely as "Ecchan".  She's better, if nothing else because she's played by the marvelous Tomatsu Haruka.  It's hinted that she has a crush on Mugi (those stares could hardly be less subtle) but in fact she's in love with Hanabi.  A lesbian romance angle that's treated as a serious plot development and not as yuri pandering would certainly be an interesting turn, but I'm far from convinced this is the right sort of series  for that.  My instant reaction was "Oh, boy – this on top of everything else!?", and we're only in the second episode.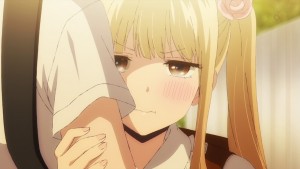 This is the true problem, really – it already feels like there's a lot of manufactured drama here, and this episode traded pretty heavily in anime tropes.  Every major character in the cast seems to be in love with someone, and each of them are involved in an unrequited relationship either as the giver or receiver (and in the case of the two leads, both).  Yeah, high school is dramatic but in this world, not every relationship is a dysfunctional powder keg.  There's something interesting between Mugi and Hanabi – the way they seek comfort in each other and dance at the edge of true romantic feeling (there's both desire and affection there, obviously) but man, even this early in the run there's already a ton of baggage.  We'll see – I'm still intrigued, but my expectations are tempered by my better instincts.