Well, I've been asking for unambiguity – I certainly got it…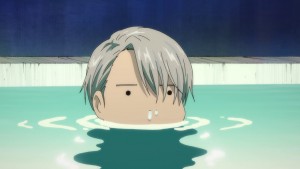 As we sometimes do around these parts, let's start at the end and work our way back.  This was a mighty fine episode of Yuri on Ice, but it was surely overshadowed by the ED sequence.  It was everything a mid-series "special" ED should be – visually clever and hilarious and on-point.  But it also managed to be a game-changer, and provide some long overdue exposition about a certain plot point.  All in all, it's hard to think of instances where the device has been used to greater effect.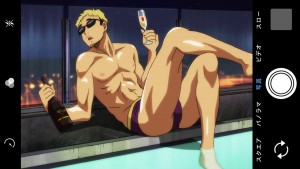 This was a setup episode, in the classic sports anime context, but it certainly didn't want for action.  It's the day before the start of the Grand Prix Final in Barcelona, and the entire episode was told from Viktor's point-of-view.  That runs the risk of being a bit precious but it works well, because (especially given the ED) it's his perspective on these events that we need to see here.  There are six men (and boys) involved in this final, and each of them is important to the episode in their own way (including the one we've barely been introduced to until now) but obviously, it will ultimately come down to Yuri and Viktor.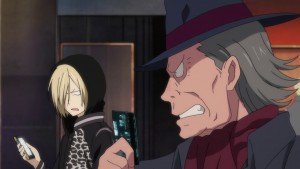 Yurio has grown on me a lot, and not just because he's the most consistently amusing character in the cast.  His derision for everyone is so transparently an overcompensating defense mechanism for his insecurity that it's hard to judge him too harshly – if he weren't such a cub he'd probably even see that himself.  He holds J.J. in special disdain, but he's got plenty left for his "Yuri's Angels" – the flock of girls who follow him everywhere he goes (even by smell).  Yes, they're creepy – but fortunately Yurio is rescued by Otabek, the surly Kazakh skater who's barely been a blip so far in the series.  His shotgun bromance with Yurio is a bit rote, but it's another brick in the wall of Yurio's character building.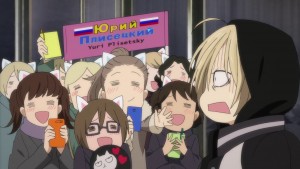 I don't think you can blame Yuri for being especially nervous on the eve of this competition, because he's pretty much choked every time he's been on the big stage.  Not only that, but this is pretty much his last chance.  While he sleeps Viktor is seeing a bit of Barcelona, crossing paths with Christophe at the pool (an outdoor pool in winter – in Spain?).  Eventually, though, Yuri wakes up and decides he wants to do a little sightseeing.  Does he really care about sightseeing in Barcelona?  No – but this is his way of not having to be alone with his thoughts.  Viktor's company is part of it, but mindless activity is too – anything to keep Yuri from thinking about what he's about to do.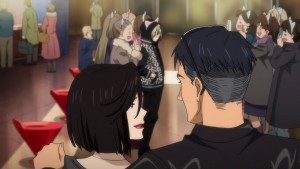 That all changes, though, when late in the evening they come across a jewelry shop.  There, Yuri decides to buy "good luck" rings for he and Viktor – though at this point, I don't think things could possibly be any less ambiguous (not even Yuri could be buying his story).  And when he and Viktor place the rings on each others' right ring finger (as they do in Russia) that's pretty much that.  Not to put too fine a point on it, but this is a bit of a watershed moment for anime – this is not a BL series, or an absurdist comedy.  This is a relatively serious and quite mainstream show that's just set its two male main characters off in a committed romantic relationship, without treating it as a joke or puerile attempt at titillation.  It shouldn't be a big deal – certainly not when it's become dead common when the principals are female – and we shouldn't be celebrating the fact that it is.  But we should celebrate that it finally happened, because it's about fucking time.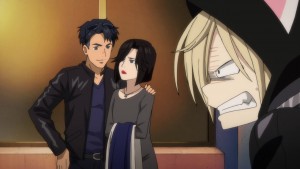 There's a certain suspension of disbelief here – there's enough institutional homophobia in figure skating that if such a thing happened so publicly (and when Phichit makes an announcement at a restaurant, it could hardly be more publicly) things wouldn't have been so chilled out (especially given that Viktor is Russian).  But that aside, it's interesting to see the impact it has on the others – most notably Yurio.  For him, I would imagine this would be the last straw in Yuri stealing Viktor from him – not as a romantic partner, but as a mentor and even father figure.  Viktor, to his credit, is smart enough to realize that it's better for Yurio to define himself through himself, not through Viktor.  But Yurio is an explosively unstable 15 year-old, and there's a lot that he just doesn't understand yet.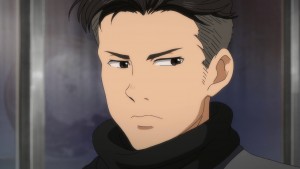 But really, it's all about that ED.  It makes so much sense – Yuri being the only one who doesn't remember the spectacle he made of himself after getting tanked at the banquet after the last Grand Prix Final.  Naturally Viktor and Christophe have it all captured (including Yurio matching Yuri move for move – to a point) on their phones – and the ED plays off that hilariously.  Now that we know what we know – not only was Yuri the only one who didn't remember what was said and done that night, but the others in the cast all assumed he did – everything we've seen for 10 episodes is brilliantly recast in a brand new light.  It was fantastically done, both as a narrative device and as an entertaining piece of art.  But what I really want to know is this – just where did the stripper pole come from?  Perhaps Christophe carries a telescoping one with him in the event of such emergencies?
ED Sequence: