This is a good season to keep your expectations in check.
Listen, I won't beat around the bush, because there's no point – most of you already know my feelings about next year's prospects for anime. On paper 2017 looks like a down year, and Winter 2017 the worst season in my lifetime as an anime fan. Winter 2013 was pretty bad (Kotoura-san was the only non-sequel I finished that season) but Winter may just be even worse this time around.
Of course, those are two very different projections. Winter's schedule is a known quantity, and I'm only previewing 12 shows – the lowest number since I started this site. But we know more about the rest of next year than you might think, especially Spring. Indeed, when you factor in that a sizable number of the series not officially scheduled yet will end up as Spring entries, we already know over half of that schedule. And it's not pretty.
Am I worried? You bet. 2016 will likely end up being a pretty good year for anime creatively, but most of the ambitious series flat-out tanked commercially. And what we know of 2017 has the stink of capitulation and defeat to it, as if 2016 was the last chance for those in the industry advocating creative ambition to show they could deliver the Yen – and they failed. Formula and cliche is everywhere, the docket full of derivative shows that blatantly parrot tropes that weren't any good to begin with. There's a difference between climate and weather – and 2016 feels more like a cool day bucking the global warming trend than anything else.
This is the Winter 2017 Preview, of course, so let's focus on that. And I'll try and be positive, as tough as that is. We do have a great sequel, the second season of Shouwa Genroku Rakugo Shinjuu. And what looks like a great manga adaptation in ACCA: 13-ku Kansatsu-ka, Madhouse's adaptation of Ono Natsume's manga, featuring an all-star staff list. Plus there are a couple of other welcome sequels on the docket. So… Yeah.
Stepping back, I can't see any overriding pattern apart from a general bunker effect. It's a small schedule, maybe light even for Winter – but that's probably not a bad thing. One widely-held theory is that there are simply too many TV anime being produced these days, diluting the spending power of the audience and overtaxing a studio system already reliant on underpaid and overworked animators. There's enough thematic variety here that you might just find a couple of shows on the schedule that appeal to you – but if you're expecting a packed anime calendar, you're probably setting yourself up for disappointment.
The sidebar poll is in the usual place – go get it.  Without further ado, on to the previews: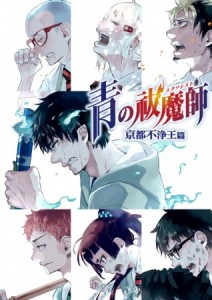 Ao no Exorcist: Kyoto Fujouou-hen – A-1 Pictures
Director: Hatsume Kouichi
Writer: Oono Toshiya
Schedule: Premieres Friday 01/06, 25:55
Episodes: TBA
First Look: Ao No Exorcist's return probably provides the most widely-anticipated sequel of the season, and it's not hard to see why.  The Shounen Jump manga is extremely popular, and received a very solid adaptation from A-1 Pictures in 2011 (an eternity ago by anime standards) – albeit one whose anime-original ending was widely (and excessively) panned by fans.  There was also a successful theatrical original film, which was quite beautifully produced.
I like this series quite a bit – it's a very good shounen, though not quite a great one IMHO.  It'll be interesting to see how it holds up after so long away.  Long-time animator Hatsumi Kouichi is finally stepping up into the director's chair, but most interesting for me is seeing Oono Toshiya jump in on series composition.  I adored Tsuritama, was massively disappointed in Gatchaman, and I'm curious to see what Oono can do with adapted material.  A-1 is a studio whose productions range from threadbare to lavish, but they figure to treat AoEx as a prestige title and give it the latter treatment.
Masamune-kun no Revenge – Silver Link
Director: Minato Mirai
Writer: Yokote Michiko
Schedule: Premieres Thursday 01/05, 22:30
Episodes: TBA
First Look: The ranks of sleepers are pretty thin this season, but there's at least a faint air of something interesting about Masamune-kun no Revenge.  It's the story of a boy who was bullied in grade school for being overweight who trims down, transforms himself into an ikemen, and comes to high school intent on getting retribution against the girl who led his tormentors. That's a story that has potential, the manga isn't poorly thought of, and Silver Link is more than capable of very good and innovative manga adaptations. A boom or bust proposition, I suspect.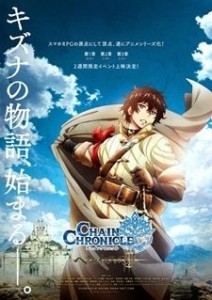 Chain Chronicle: Haecceitas no Hikari – Telecom Animation/Graphinica
Director: Kudou Masashi
Writer: Machida Touko
Schedule: TBD
Episodes: 12
First Look: Pretty much a flyer for me on this one, but I liked the concept art and the trailer looked pretty good. Chain Chronicle is an adaptation of a mobile game that's all over the media map, with an ONA, movies and this TV entry. Plot looks pretty much boilerplate maidens and monsters fantasy RPG.
ēlDLIVE – Studio Pierrot
Director: Furata Takeshi
Writer: Takeuchi Toshimitsu
Schedule: TBD
Episodes: TBD
First Look: Another flyer, but without those I wouldn't really even have a preview. This sci-fi is based on a manga by Reborn!'s Amano Akira, and the premise has something of the look of those angsty teen sci-fi anime from the 90's – a normal teen who's always heard voices in his head lives a normal life, until one day a magical creature transports him to a "space police station". There's nothing special in the anime staff list and the manga isn't all that well-reviewed, but Pierrot has put together some decent adaptations in the past few years and this one might just be watchable.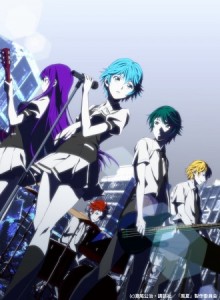 Fuuka – Diomedea
Director: Kusakawa Keizou
Writer: Akashiro Aoi
Schedule: Premieres Saturday, 01/07 – 22:00
Episodes: TBA
First Look: I feel as if I must be crazy to wade back into the world of "The Town Where You Rage" mangaka Seo Kouji, but it's that kind of season.  Seo's manga are full of characters who do incredibly annoying things all the time and plot twists which make you, well- rage.  But there aren't that many true shounen romance dramas out there, Seo's art is appealing, and he has a talent for sucking you into his story even as he makes you want to poke your own eyes out Oedipus-fashion.  I'll watch Fuuka until I just can't take it any longer, just like I did with Kimi no Iru Machi.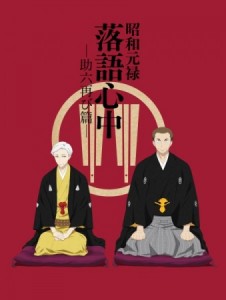 Shouwa Genroku Rakugo Shinjuu: Sukeroku Futatabi-hen – Deen
Director: Hatakeyama Mamoru
Writer: Kumagai Jun
Schedule: Premieres Friday, 01/06, 26:25
Episodes: 1 Cour
First Look: There's not much to be excited about this Winter, but the second (and concluding) season of Rakugo Shinjuu is a big exception.  The first season was nothing short of brilliant – a subtle, complex and powerful character drama beautifully staged by one of the most underrated directors in the business.
There's no reason to think we're going to see any dropoff in quality with Sukeroku Futatabi-hen – the key staff is back and the material is all canon. With the watershed event that occurred near the close of the first season we're presumably going to see a shift in focus this time to the "present" timeline, but I'm not worried – what we saw of that in the first cour was every bit as compelling as what took place in the past.  Rakugo isn't a well-known subject to most of us in the West, but this series makes it fascinating – a character in its own right.  But make no mistake, it's the human stories that make this series the stalwart that it is.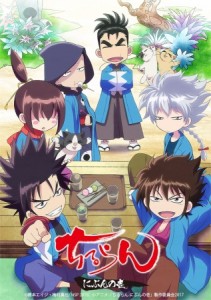 Chiruran: Nibun no Ichi – LandQ, TMS
Director: Muroi Fumie
Writer: TBD
Schedule: Premieres Monday, 01/09, 25:00
Episodes: TBD
MAL:
First Look: This adaptation figures to be a short, but I'm just barely curious enough to include it in the preview.  It actually adapts the gag manga spinoff of Chiruran: Shinsengumi Requiem – why that was chosen rather than the parent manga itself I have no idea.  Shinsengumi stuff has the potential to be interesting and it's not like there's much else to watch next season, so what the hell.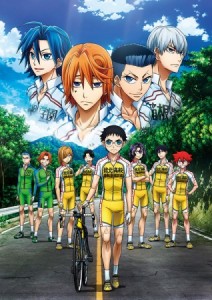 Yowamushi Pedal: New Generation – TOHO
Director: Nabeshima OSamu
Writer: Sunayama Kurasumi
Schedule: Premieres Monday, 01/09, 25:35
Episodes: TBA
First Look: One Ikebukuro favorite is ending (for now) in Haikyuu, but Yowamushi Pedal is here to pick up the slack.  Yowapeda is not as polished as that volleyball series in Production I.G.'s hands, but I find it to be more emotionally involving.  While Haikyuu has mastered the difficult art of being slick while seeming innocent, I think that innocence is just who Yowapeda is.  Anyone who knows mangaka Watanabe Wataru knows he basically is Onoda Sakamichi.
One key difference between the two series is that while the third-years continue to push their way into the limelight with Haikyuu, Watanabe has gracefully slid them side-stage as we enter the third season.  I think that's healthy – Yowapeda will see a fresh dynamic with a new makeup of the Sohoku Six, and the old-timers (especially Makishima) will still have their role to play.  Yowapeda took a very unusual step in having its heroes achieve their big goal on their first try – virtually unknown in sports shounen – so the rest of the way is sort of the undiscovered country.  It promises to be an interesting ride.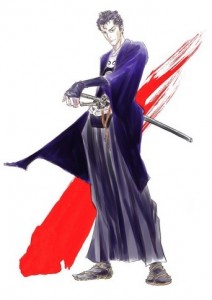 Onihei – M2/TMS
Director: Miya Shigeyuki
Writer: TBA
Schedule: Premieres Monday, 01/09, 26:05
Episodes: 13
MAL:
First Look: In a season as lean as this one, Onihei definitely stands out despite the fact that I know next to nothing about the source material.  That would be the Onihei Hankachō, or Onihei crime novels by Ikenami Shoutarou (already adapted into a jidaigeki and manga, Onihei Hankachou).  The story surrounds a "samurai policeman" who recruits criminals to act as informants and becomes feared as the titular "Devil Heizou".
The most compelling argument in Onihei's favor is probably that it was a vanity project by Maruyama Masao, who – having already left one studio he founded (Madhouse) to start another (MAPPA), has now left that studio to found M2 (many Madhouse/MAPPA staffers are on working on this series).  Maruyama is one of the giants in anime history and a true patron of creative ambition, and he seems to be hop-scotching around trying to maintain an environment where he can try and do what he wants with as little commercial pressure as possible.  Maruyama is an old man, and has been quoted as saying he believes he only has a few years left, so if he believes Onihei is a project worth spending his time on I'm inclined to give it every chance (while I wait longingly for Pluto or the completion of Kon Satoshi's Yume Miru Kikai).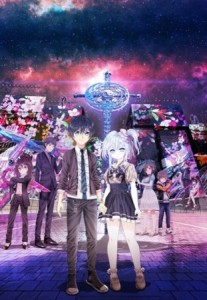 Hand Shakers – GoHands
Director: Suzuki Shingo
Writer: Kanazawa Hiromichi
Schedule: Premieres Tuesday, 01/10, 24:30
Episodes: TBA
First Look: Every season has at least a couple original sci-fi, seems like, and this one is no exception.  Hand Shakers is set in Osaka sometime in the future, and features esper pairings (always male-female apparently) who summon powerful weapons called "Nimrodes" (oh, dear) from their "deep" psyche.  There's every chance this could be pretty dumb, but given that it's from the studio that did K (and returns most of the key staff) it might just be dumb and pretty.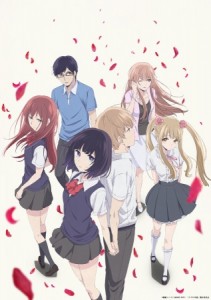 Kuzu no Honkai – Lerche
Director: Andou Masaomi
Writer: Uezu Makoto
Schedule: Premieres Thursday, 01/11, 24:55
Episodes: 11
First Look: Judging from their first two series of 2017, NoitaminA seems to be embracing this whole creative surrender thing enthusiastically.  Kuzu no Honkai is an adaptation of a not especially well-loved manga about a pair of high schoolers who pretend to be a couple, but are actually each in love with a teacher (not the same one).  That's not the worst premise ever, I suppose, and it does have a decent staff.  Given how few seinen make it to anime these days, you can't really let one go by without at least giving it the time of day.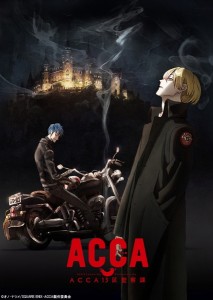 ACCA: 13-ku Kansatsu-ka – Madhouse
Director: Natsume Shingo
Writer: Suzuki Tomohiro
Schedule: Premieres Tuesday, 01/10, 23:00
Episodes: TBA
First Look: Last but not remotely least is the one non-sequel on the Winter schedule that seems like a lock to be a keeper.  It has everything you would want – Madhouse putting together a stellar staff, a source material by Ono Natsume (Sarai-ya Goyou, Not Simple) that's widely praised, an all-star cast.  In any season, ACCA would stand out as one of the top prospects.  In this season, it and Rakugo are the ultimate sore thumbs.
ACCA seems to be one of Ono-sensei's more fanciful works.  It's set in the Dowa Kingdom, where the 13 states are controlled by the powerful organization of the series' title.  And the story, it seems, is something of a slice-of-life featuring the inspectors who work at the 13 divisions of the agency.  I don't know the manga, but I know Ono's work – and director Natsume Shingo is one of the steadiest hands in the business.  This show ought to be really good – and if it's not, we're seriously screwed.
Will Definitely Blog: Shouwa Genroku Raakugo Shinjuu, ACCA: 13-ku Kansatsu-ka, Yowamushi Pedal: New Generation, Ao no Exorcist: Kyoto Fujouou-hen.  Four may not sound like much, but that's one-third of the shows I previewed.
Sleeper Candidates: Masamune-kun no Revenge – because I have to have at least one…

OVA/Movie: Not much better here.
Whistle (ONA) – 12/17/2016: It's not every day that an almost-twenty year-old manga that's already had a TV anime gets an ONA, but so it is with Higuchi Daisuke's soccer series Whistle.  I have no idea why this ONA exists but I've always heard good things about the manga, so I'm curious to give it a look.
Akatsuki no Yona – 12/20/2016: It's the second and final volume of Yona's Zeno backstory arc, but the first one hasn't even been subbed (well – you have to look really hard to find it). I haven't watched either of them yet, to be honest, both because I know they're likely to be the last of this wonderful series we see animated, and because having now read the manga chapters in question I know how emotionally heavy they are.  I will watch these OVAs and I will blog them, most likely after both are subbed.  But the most important thing I can say is "read the manga", because it's a masterpiece that just keeps getting better.
Theatrical: Just one entry here.
Kuroshitsuji: Book of the Atlantic – 01/21/2017: Every time A-1 Pictures have stayed with manga material they've hit paydirt with Kuroshitsuji, and there's no reason to expect "Book of the Atlantic" to be any different.  This time around the story finds Ciel and Sebastian boarding a luxury liner to investigate rumors of the dead rising from their graves.  This is a pretty action-driven arc by Kuroshitsuji standards, and it should be quite well-suited to the big screen.