Haikyuu!!, as you'd expect, does not deliver an ending as envisioned by T.S. Eliot.  These are indeed not hollow men.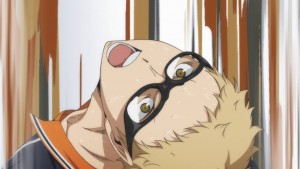 I've been mostly resigned to the fact that Karasuno was going to win this matchup with Shiratorizawa for a while now.  In narrative terms, the handwriting has been on the wall for the last few episodes.  Personally I think it's the wrong decision – not so much because of the way the match itself played out, but because the series painted a picture of a Shiratorizawa that didn't really exist.  If Shiratori were the squad we were led to believe they were (and indeed, as they were portrayed prior to this season) the Crows wouldn't have had a chance.  But that wouldn't have been much of a story, would it?  And because by now I've pretty much accepted the inevitable, the way the match ended wasn't really that disappointing.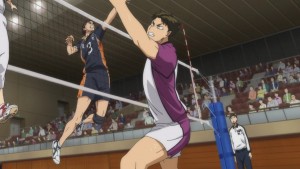 Of course for that wrong decision, it's easy to list a whole series of right decisions Haikyuu!!! made.  It's easy to get caught up in the production side of the equation, because this series just about redefined what sports anime can do.  It's a peerless production top to bottom, and the finale was certainly representative of that.  But let's also dole out some praise for the planning of Karasuno VS Shiratorizawa, because going with 10 episodes was absolutely the right call.  Haikyuu!!!! is very popular – we all know that.  This season could easily have been padded to 12 or 13 episodes and popped out another disc volume as a result – but it would have been a weaker product if it had.  And it's nice that the production committee (who admittedly know this franchise will continue to be a cash cow for years to come, true) made a call based on story, not profitability.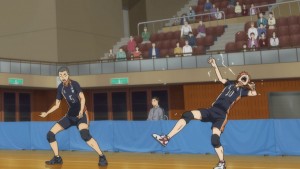 In the end, the final episode was very much about the aftermath of the match and not the match itself.  And that's been a pattern Haikyuu!!!!! has observed for all three series thus far.  Shouyou's spike at the end of Episode #9 didn't end the match, but that point did – and while the back and forth of that rally was certainly dramatic, my sense in watching it was that the battle had already been decided.  There was no question in my mind not just that Karasuno would win, but win on that point.  Only the manner was to be decided, and that was about what you'd expect, too – off a spike by Hinata, after a chance for everyone to get in a dash of heroics.  I believe every Crow on the court (Nishinoya was not) touched the ball during that rally.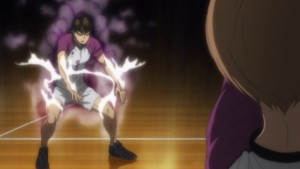 So there wasn't much tension in this episode, true – that was pretty much all reserved for last week.  The best part about that final sequence for me was the way the endgame was portrayed as a struggle between the entire Karasuno team and Ushijima, because let's face it – that's what it was. Ushijima was the standout personality of this season for me, its most memorable character.  And he was unbowed and unbent in the end, even as his final two spikes were stopped (one by Shouyou's face).  There were tears here of course (this is Haikyuu!!!!!! after all), and on both sides, but not from Ushijima.  He was dazed and disbelieving, but never lost his sense of who he was.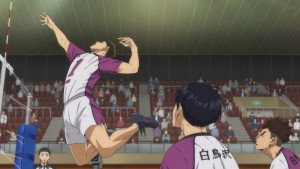 For the Crows, Ukai was correct in his assessment – Tsukishima was the MVP here.  Considering the scope of the match, Shouyou was a surprisingly small part of the total picture.  He may have exercised his MC privilege and poached the final kill (and even that was as part of a synchronized team attack), but he was a non-factor for long stretches of the match.  It was truly a team effort for Karasuno (far more so than Shiratorizawa), but it was Tsukki who was at the center of every emotional swing.  Kageyama may be the fulcrum of their attack and Shouyou may be the most dangerous weapon, but Tsukishima is the straw that stirs the drink.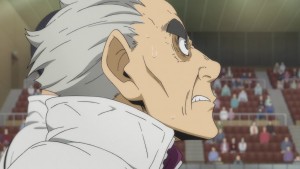 This all, of course, sets up the eventual showdown with Nekoma High at nationals.  And since that means a reunion of Shouyou and his fated rival Kzoume Kenma, it seems a safe bet he's going to be far more the center of the narrative in the fourth season than he was this one.  But before that, there's the little matter of Kageyama being asked to join the Japanese national youth team (Japan!) camp, where he will presumably be teammates with Ushijima.  That will be interesting, and I don't know how large a component that camp will be in the story, but the most obvious impact will be the potential rift it might cause between Tobio and Hinata.  I would assume the littlest Crow would be envious – I think almost anyone would in his position.  The potential for fireworks certainly seems to exist there.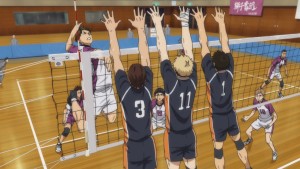 As for that matter of next season, well- to paraphrase Harry Caray, "As sure as God made little green apples, Haikyuu!!!!!!! will be back on TV".  This is a massively popular franchise, and Shounen Jump is starting to run a little low on those.  Fortunately they've shown some restraint in the way they've mined that resource, avoiding burning through the material too quickly and prioritizing longevity over instant gratification.  That seems to be the pattern with Shueisha in recent years – they're far more aggressive with the franchises they don't mind burning out while the iron's hot, but play their cards carefully with the ones that have staying power.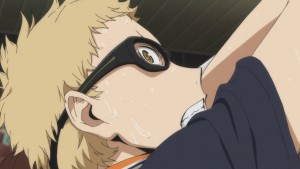 And Haikyuu!!!!!!!! certainly has staying power.  I think some of the adulation it receives is pretty over the top, but it's undeniably one of the most consistent and smartly crafted sports series out there.  There's an art to giving your fanbase what they want without being too obvious about it, and this series is as good about that as any I know.  It knows exactly what it's doing but there's an honesty and directness about it that's very appealing.  And it's nice to know that even as anime prepares once more to go gentle into that creative dark night, some things will remain the same – and Haikyuu!!!!!!!!! will be one of those things.  Change is well and good, but there's a lot to be said for delivering what's expected exceptionally well.