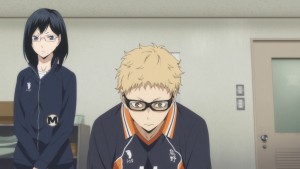 That was a pretty nasty cliffhanger Haikyuu chose to end on there.  But given that it's the penultimate episode of a season devoted entirely to one match it's not at all unexpected, and I certainly wouldn't say I was bothered by it.  Watching this final set play out has been about as much like watching an actual sporting events as anime gets (and yes, that is a compliment).  It's playing out more or less in real-time and the tension is ratcheting up more and more with everyone's fate hanging in the balance on every other point.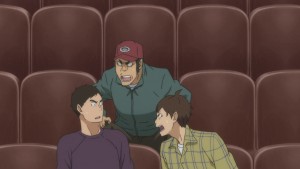 One headline competing for attention with that, of course, is the re-casting of Ukai-san.  While Haikyuu teased us a bit with the notion that Ukai would simply be silent (four straight reaction shots without a word), of course they'd long since cast the replacement for the late Tanaka Kazunari – and they chose veteran Egawa Hisao.  Simply put, it's a thankless job for a seiyuu to step in at this stage of the game – Egawa has no chance to really blend in seamlessly, and it's jarring to hear his voice coming from Ukai's mouth.  But he's a good and experienced actor who doesn't try to do too much – or to imitate Tanaka-san.  It's still a sad way for this season to go out, but at the very least Tanaka was given an incredibly poetic and inspiring last line of dialogue that was so appropriate it makes one question the nature of coincidence and fate.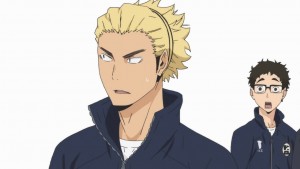 As to the match itself, it doesn't require a whole lot of commentary at this late stage – just incredibly tense stuff with Haikyuu's usual insane Sakuga.  Tsukishima makes his promised Willis Reed-style return (NBA lifers will know what I mean), injured pinky taped to its neighbor, and immediately impacts the match in his usual manner – with his brain.  Tsukki is definitely the most cerebral of the Crows, but it's nice to see him give in to his GAR side and throw himself into things with abandon.  One can only imagine how much it must hurt to take one of Ushijima's spikes off that (probably broken) finger – though having broken a pinky in athletic combat myself, I can at least do that much.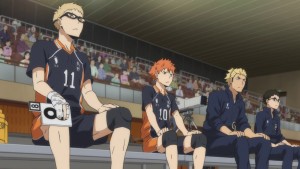 There's lots of heroics on-display here, since every moment is life-and-death – stuff like Kageyama's dump at match point against and Nishinoya's relentless theatrics.  But you know, funny as it is I think Ushijima is my favorite player in this match.  I get that it's the team concept of Karasuno against the individual stardom of Ushijima and Shiratorizawa, but dammit – I find this guy really admirable.  He's absolutely comfortable with who he is, he achieves greatness strictly with his talent and doesn't play head-games, and he has superhuman determination.  He doesn't let ego get in the way either, which for a guy as great as Ushijima is pretty rare. Whoever wins this match there can be no question that Ushijima is by far its best player, and I kind of hope that's rewarded in the end.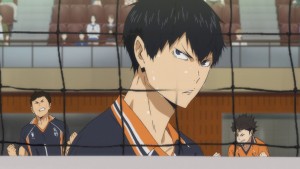 That's partly why I can't imagine this cliffhanger is the end – win or lose, can this match really finish with Ushijima having been irrelevant to the last several points?  Maybe it will be on a Hinata spike that Karasuno wins (if they do I imagine it likely will be) but not, I think, like this.  There are a lot interesting dynamics at play here – the team concept, the idea that a little man can dominate not with trickery, but straight-on athleticism and power, the notion that the Crows can win because they don't have a signature style they have to "defend".  Add to that the fact that legs are giving out everywhere (with Karasuno pretty much everyone, with Shiratori the guy who's incredibly scored almost half their points) and you have high drama indeed, of the sort that Haikyuu is consistently brilliant at delivering.