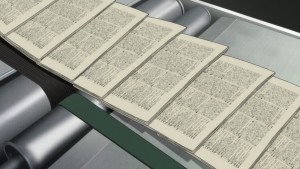 I suppose it's only natural that the finale of The Great Passage has left me in a tremendously reflective mood, because it's one of the more reflective series you'll ever see.  It seems timely, as well, despite it's being adapted from a 5 year-old novel that was made into a live-action film two years later.  That's fitting, too, because one of the many themes of Fune wo Amu is that truly important things are timeless – they outlive us, but through the work of our lives we transcend our ephemeral existence and live on in those who follow us.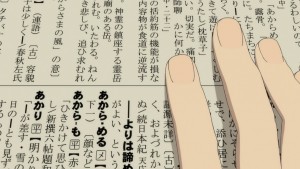 The cast of Fune wo Amu seems to exist in a kind of time warp themselves.  They do work that most modern humans would probably see as a holdover of another time.  They barely use technology in their work – before or after the 13-year time skip in the middle of the series.  Some have criticized this aspect of the series as unrealistic, but for me, it's an essential part of who these people are and what they do.  Yes, they could use photographs instead of drawn illustrations, just as shows like this could be animated via CGI rather than hand-drawn and the music of Mozart could be reproduced digitally rather than by human hands and breath on wooden and brass musical instruments.  But simply because something can be done doesn't mean that it should be done.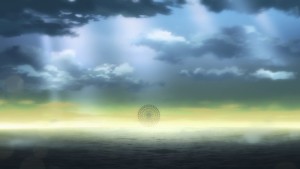 There was very little in this final episode that came as a surprise to me.  Despite that, however, it still hit me like a ton of bricks – especially the beautiful, powerful and dignified final five minutes.  That was as good as any anime this season or this year – a quiet and sober statement of defiance and purpose and an embrace of the power of human decency.  I think the poet in me always knew Matsumoto-sensei wasn't going to make it to see "The Great Passage" finally published, but it was important that he make it clear to us why that wasn't something tragic but rather itself part of an even greater passage.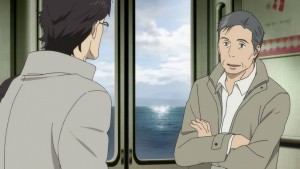 3000 pages is a lot of words, but that means little when stacked up against the sheer weight of human lives that went into producing them.  I've said it many times, but The Great Passage is a story of passion – don't be fooled by its quiet demeanor.  Everyone who gave their lives over to producing the dictionary did it as a labor of love – for the work itself and yes, for their co-workers too.  They managed to live their lives in the meantime – Nishioka and Miyoshi did get married after all, and have two kids to boot.  But I would argue that the work gave these people lives even more meaning than their private lives, because rather than connecting them to a spouse or children, it connected them to the entire human race.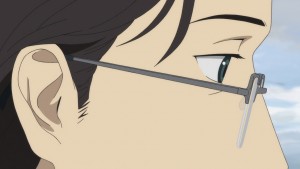 I was especially struck by something Matsumoto-sensei said to Majime and Araki during their visit, just before breaking the news that he'd been diagnosed with cancer.  He described how dictionary publication was often publicly supported in Western countries – something which seems quite a good thing.  Matsumoto then asked Majime why he thought this was, knowing that because he was talking to a kindred spirit he'd get the right answer.  But he then described why this might not be such a good idea – there would be temptation for those in power to influence the content to suit their own ends.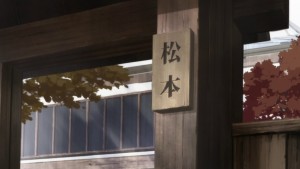 "Words and the heart of those who use them must remain free.  Even with our scarce funding, we are individual people, not a nation.  We spend our lives editing the dictionaries.  Let us take pride in this."  In the softly-spoken words of a dying old man, Fune wo Amu makes a bold and revolutionary statement that rings loudly in the ears of anyone who hasn't closed their minds to them.  It's a shot across the bow of those who would divide and demean the human race, no more and no less.  If that dichotomy of style and substance doesn't sum up Fune wo Amu, I don't know what does.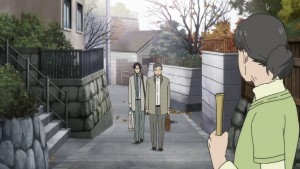 Matsumoto-sensei's statement of purpose doesn't just invite us to consider its meaning – it demands it.  The idea of "individual people, not a nation" is as anathema to the core of Japanese culture as it gets, but Japan is currently in a time of rising nationalism and militarism.  Fune wo Amu was always about the importance of words as a means to connect people to each other – not Japanese people, just people.  In America we've seen the rise of a demagogue who demonizes those who oppose him personally and demonizes entire groups as a means of fostering the resentment he rode to power (which is pretty much what all fascists do).  If Fune wo Amu is anachronistic in a good way, it's important to remember that there are many elements of human society that don't change that are far less desirable.  Progress always involves backwards steps as well as forwards – somehow, we need to find the wisdom to hang on to the elements of the past make us human even as we jettison that which makes us savages.  Needless to say, progress is a work in progress.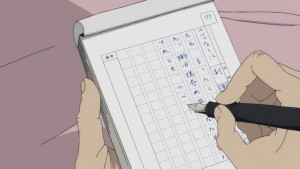 In anime as in life, progress is a matter of fits and starts.  Coming off its strongest year since 2012, anime is staring into the maw of a 2017 that appears at this remove to be a creative wasteland of repetition, pandering and exploitation.  And even as it finished a year which saw it flash more ambition than it had for some years, NoitaminA too seems to be headed for dark times.  Fune wo Amu is not only an anachronism in terms of its characters, but its very existence.  It's a relic of another time for NoitaminA, and it's impossible not to wonder if it represents the last of its breed.  It's not the best show NoitaminA has ever produced but it is as true as any to what it once represented.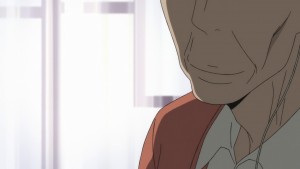 We seem, then, to be headed into a dark tunnel whose end is not in sight – as people, as fans of anime.  The Great Passage makes a dignified, respectful case for defiance – it urges us to stand true to what we know is right, and to resist those who would drag us from the true path.  As individual humans we're small, our lives a blink of an eye – but collectively we can move mountains, either for good or for evil.  We must be true to ourselves by accepting that we're powerless without others – and only through words may we build the connections which move humanity towards enlightenment.  Those who live their lives in their service of this idea – be they dictionary editors, authors or anime producers – deserve our gratitude and respect, and they certainly have mine.
End Card: "Light"