Of all the anime this season, Yuri on Ice is the most.
That was it, really.  There's no more coming.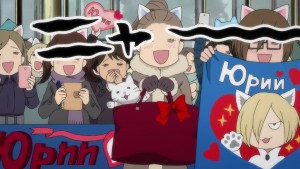 Generally, shows that only have one gear don't work all that well.  Changes of pace are very important for an audience, for a multitude of reasons – digesting the plot, catching their breath, et al.  And eventually a sense of monotony sets in, as if you're eating a multi-course meal where all the dishes share the same flavor profile.  There are exceptions, both on the "fast" and "slow" ends of the spectrum – but they're relatively rare, on the whole.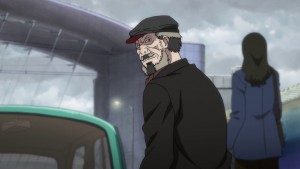 Yuri on Ice probably crosses the threshold into exception territory, because it certainly has only one gear, and we're almost three-quarters of the way through and it's working pretty damn well.  As is usual with Yamamoto Sayo, she pushes the envelope until you think it can't be pushed any further, and then she says "I'm just getting started, Bitch".  Some people dig that generally, but it's not my jam – or at least it hasn't been until Yuri on Ice.  Here, it works – the bombast with which this series approaches every element of its storytelling is infectious enough that at some point I stopped fighting it and just let it sweep me along.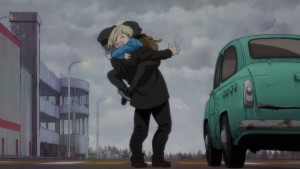 One way in which Sayo and writer Kubo Mitsurou exhaust the senses is by throwing a continuous stream of new characters at the audience, which I suppose is understandable given the premise.  It's to their credit that we're able to keep them more or less straight (no pun  intended), a function of the fact that they all have oversized personalities.  Some of them seem even more interesting than the main trio to me if I'm honest, and that's a little frustrating because there's not nearly enough time to give them all their due.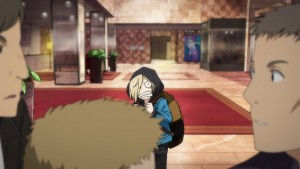 There are a bunch more this week – surly and calculating Korean Lee Seung-gil, affable Czech Emil Nikola (I quite liked him), and Italian siblings Michele and Sara Crispino (I know Westerners tend to look older for their age than Japanese, but that's really played up with this show).  The Italians are immediately the weakest characters of the series so far – seriously, yet another tired siscon subplot?  But the big dish is the Canadian Jean-Jaques Leroy – "J.J.".  If you wondered how Yuri on Ice could possibly kick it up a notch after already turning it up to eleven, adding a ridonkulously overinflated popinjay played by Miyano Mamoru at his most exuberant is the answer.  I guess there was no way this show wouldn't have a Miyano character of this archetype, is there?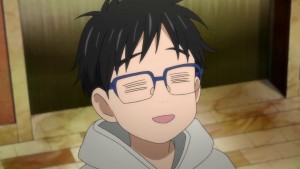 Ultimately it's still about the competition, and in this case that means the sadly neglected Yurio is finally being brought back from the wilderness.  He's competing at home, which means a reunion with his beloved grandfather Kolya (Kobayashi Misao).  Yurio is skating "Agape" for Grandpa, of course – which is why it hurts so much that he seemingly doesn't show up for the short program.  We run through a series of performances of varying interest, and it's actually J.J. who goes last – and scores the highest, having included the ultra-rare Quadruple Lutz in his routine.  But it's really Yuri and Yurio that we're here to see.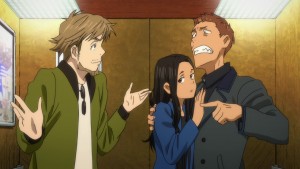 One of the things that's most impressive to me about Yuri on Ice is the way it's communicated to me – someone who's relatively clueless about figure skating – just how much Yuri has evolved as a performer.  He's a striking presence on the ice now – he seems to have a grace and elegance none of his competitors can match.  Somehow Yuri seems big on the ice – taller and more imposing than he does on dry land.  He once again skates a perfect short program, and Viktor kisses his skate in celebration – which serves to piss off little Yurio all the more.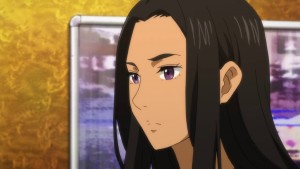 Yurio is really the one at the heart of this episode.  One thing Yamamoto does very well is communicate just how very young Yurio is – this moment is a lot for him, even as brash and talented as he is.  He emotionally bruises easily.  In contrast to Yuri he seems fragile and delicate (though he's freakishly athletic) on the ice – which Yakov and Lilia have been smart enough to turn to their advantage, making it part of his persona.  Yurio is the mono no aware competitor of this group – the power of his performance rests in the knowledge of its impermanence, because he'll soon outgrow this style of skating.  Yurio is hurting – he's lost his idol and big brother to Yuri, his grandfather isn't there, and it effects him – he tanks his relatively simple opening jump.  But he responds by showing what a formidable boy he is, rationally breaking down what he has to do and managing to bring the rest of his program home clean and place third (I love that he kept the nekomimi on his head right through the judging).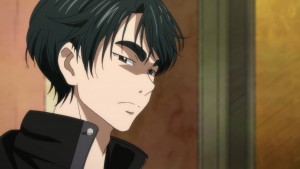 It will be a major surprise if Yuri and Yurio don't claim two spots for the Grand Prix final out of this competition, with J.J. seemingly very likely to grab a third.  But the complication is that Viktor's's dog Macca has choked on steamed buns (ironically the ones left as an offering at Vicchan's altar) and is at death's door.  Yuri insists that Viktor go back to Japan, which Viktor is unwilling to do until he's struck by the idea of having Yakov take over as Yuri's coach for the free skate.  That should certainly prove an interesting twist (hard to imagine Yurio will be too pleased with that development), and one Yuri on Ice will surely play for maximum theatrics.  Because that's just what it does.