The irony in this show's title is so delicious it's almost unbearable.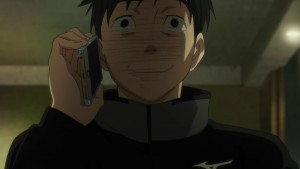 Anime makes strange bedfellows sometimes I suppose.  I've almost always been swimming against the current when it comes to Yamamoto Sayo, but here I find myself defending her as the dash for the door has finally become a stampede.  That said, I won't pretend Yuri on Ice!!! (if any show earns its exclamation points, this one does) isn't a very well-regarded show in general, and frankly my message to those bolting because of what happened this week is "Don't let the door hit you in the ass on the way out".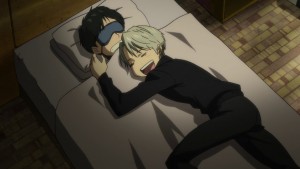 Who needs that sort of viewer, really?  It's just a shame so many of them still exist, but it's not that surprising when one of the world's great liberal democracies just elected a man as vice-president who believes gays should be subjected to electroshock therapy to try and fix them. Romance isn't really what Yuri on Ice is about (mostly) but make no mistake, what's happening between Yuri and Viktor is a big part of the series' identity.  And I'm glad it's pretty much out in the open now (that was as transparent a hedge as any bet has ever had) because if they were girls, it would have happened by the third episode.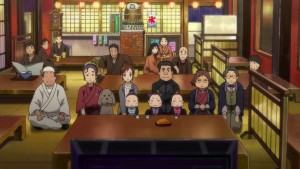 While that near-kiss was always going to be the headline, the fact remains that Yuri on Ice is to a remarkable extent very much a straight-ahead sports anime.  The last several eps have been dominated by competition, and the impact that competition has on the characters' psyches.  Yuri is the most important example of course – the series is more or less a psychological deconstruction of him – and he's as fragile as any sports lead we've seen in anime for a good while.  Maybe as Viktor says, all skaters' hearts are as fragile as glass – but Yuri especially seems to be on the verge of shattering all the time.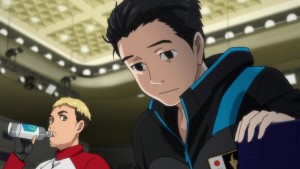 This week that manifests itself in his panicked (and predictable) reaction to sleeping on the lead.  In any sport that can be a difficult thing for someone not used to it or born to it, and Yuri is neither.  The interesting thing here, though, is the Viktor is really not equipped to deal with it.  He's not really a coach, not yet – he has no real answers for Yuri's insomnia and self-doubt. In the end he tries a desperate gambit (after dragging Yuri to the parking garage to try and get him away from the pressure of the other performances) – he tells Yuri he'll "take responsibility" and quit if he skates his way off the podium.  Whether it was exactly the right or wrong thing to do is hard to say, but Yuri's reaction is the real standout moment of the episode – he just wants Viktor to have more faith in him than he has in himself.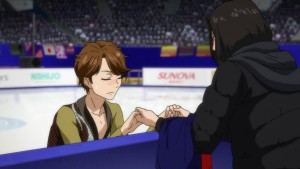 As to the other competitors, it's Phichit who really stands out from the pack.  Guanghong crumbles under the pressure of his home crowd, Georgi under the rejection of Anya.  Leo sort of disappears (one senses that he's basically an afterthought of a character), but Christophe skates a clean program.  Phichit, though, is the star – he skates to another "The King and the Skater" piece (apparently it was so popular, it had a sequel) and nails every jump.  His technical difficulty is short of the top skaters, but his artistry sets him apart.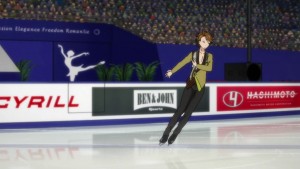 That leaves Yuri, who seems liberated after his crying jag.  Maybe too much so, as he over-rotates on a couple of his jumps and tries to turn his last jump into Viktor's signature quadruple-flip (and fails).  It's interesting to watch Yuri's transformation as he steps onto the ice – all elite skaters seem to have a persona that imbues every routine, and Yuri has taken on the air of a swan – dignified, regal, a bit fragile.  He grows in presence somehow – perhaps it's Viktor's influence in helping him find the inner self he struggled to bring out before.  It's Phichit who carries the day, though – Yuri manages to hang onto second, which means he has to go to Russia (and Yurio) to try and earn his way into the Grand Prix final.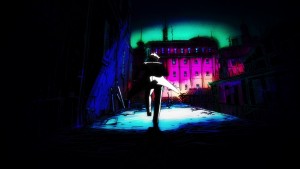 Ultimately, what it is that makes Yuri on Ice work as a series?  There are lovely visual moments to be sure, though once again the strain on the budget and staff is showing (most of the skaters seemed to be hovering a few inches above the ice).  There's the nerve-wracking impact of watching the characters compete, knowing what's at stake for them.  Mostly though, I think what makes this show tick is Yamamoto's relentless abandon – everything is full-steam ahead and over the top.  It's big personalities, big moments, big gags, big drama – and it's consistently true to that.  Yuri and Viktor's romance may not be the centerpiece but it does seem s natural extension from what this series is.  It's just a shame more viewers can't accept that and enjoy Yuri on Ice for the entertaining and bombastic runaway train it is.