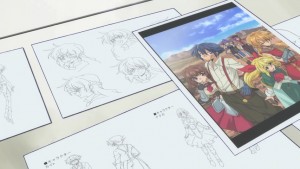 Girlish Number is a funny sort of series to watch.  It's fascinating to a degree, but my feelings are quite conflicted when it's airing.  Even for someone who's as sanguine as I am about the massive problems facing the anime industry, it's not necessarily fun to be slapped in the face with them for 22 minutes – it's kind of depressing. And most of the cast here – including the heroine – are depicted as frankly pretty unpleasant people.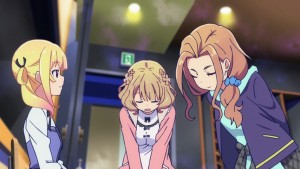 Here's the thing, though – that nasty bluntness is what Girlish Number does.  Whatever appeal this show has, that's it.  But the natural human instinct is to want to see things soften up a bit – a little burst of idealism, a few more admirable characters, a bit of optimism about the industry.  The problem is that when you get it – as we sort of did in the B-part this week – it makes you wonder whether Girlish Number might be pulling its punches after all (which is what most anime in this vein have ended up doing).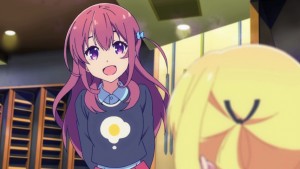 Boy – this anime-in-an-anime is a mess, though.  The material is terrible, the author is a stereotypical LN creator – anti-social and living in a fantasy of his own making.  Even the Series Composition hired gun seems fed up with the inanity of the whole light novel to anime assembly line – so much so that she quits midway through pre-production, leaving it to the episode writers to handle the scripts (this is especially disastrous for an anime, as history assures us – and the disdain for the importance of writers is one of the things creatively strangling the medium).  To top it off, Chitose is genuinely awful – she seems to have no inborn talent, she has no experience to draw on, and she has no clue about the social niceties of the anime production universe.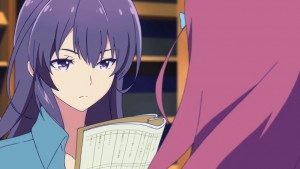 This is a pretty spot-on plot thread, actually.  Because Chitose is unwilling to observe the hierarchical structure that exists in every industry in Japan, she really has no allies she can turn to for help.  She's also a victim of a major problem in Japan – it's very hard to get direct feedback.  People – even superiors at work – will most of the time politely (and passive aggressively) work-around your deficiencies rather than confront you directly.  So Chitose sucks, she's getting the message that she sucks, but she has no one to push her in the right direction (even assuming she has the ability to act on that help).  And her brother isn't much help to her either, that's for sure.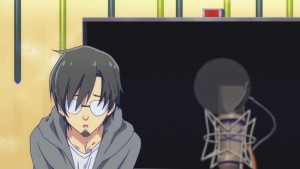 It's here that one can almost start to feel sorry for Chitose, especially when she reveals that she actually does have the desire to get better (if not the patience and work ethic to do it the right way).  And Momoka-chan seems to be confirming that she's the closest thing to a legitimately good person in this cast – she's pretty genuine and blunt with Chitose without being too mean about it (and even picks up the check).  And following her advice, Chitose does get better – by copy-catting a similar role from an older anime.  She's now competent, but still soulless – this isn't even real acting, truthfully.  Shobasaki points this out, calling Chitose's performance dull.  Momoka's reply to this cuts right to why Girlish Number is so accurate and hard to watch – "Isn't that exactly what they want?"  Damn, that's cold – but incredibly on the money.  I still don't know if this is entertaining, but it's certainly compelling.