You had one job.
How in the world did it come to this?  How did we get from elation and anticipation to this – a kind of resigned, sick feeling deep in the gut?  This should have been a premiere I was anticipating almost on the level of Boku Dake ga Inai Machi, but all I felt was trepidation.  It's almost surreal, like an April Fool's joke – but it's not a joke, or a bad dream.  It's all too real – it's really happening.  Sangatsu no Lion was made into an anime, and this is the anime it was made into.  And the question I just want to ask over and over again is "Why?"  But no matter how many times I ask it, I can't find an answer that makes sense.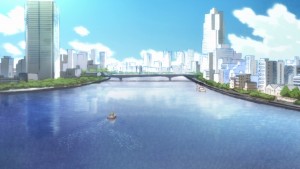 This wasn't an easy post to write, believe me, or a fun one.  I've put it off as long as I could and agonized over how to approach it, but the only thing that wants to come out of my brain is a post-mortem.  Is it really true that Umino Chika requested Shaft and Shinbou handle the adaptation?  If she did –  why did she?  Is Shinbou directly involved for a change?  Would it have mattered either way, when he's the head butcher at the abattoir?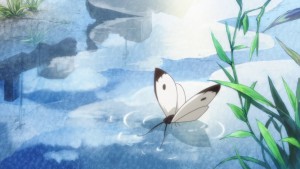 I have no reason to suspect Umino-sensei of being a dishonest person, so the Occam's Razor answer to the first question is most likely yes, she did.  I can make a case that this was forced on her and she's playing the good soldier by pretending to have requested it, but let's assume for the sake of argument that's not the case.  I don't know anyone who has serious complaints about the job J.C. Staff did with her prior work, Hachimitsu to Clover – in fact, it's one of the most widely-respected adaptions of the 2000's.  So what gives, then – surely Umino knows her own work better than anyone?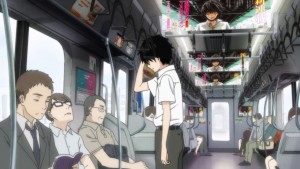 For my money, all Sangatsu no Lion needed was an adaptation that steered the course – something in the vein of Gin no Saji, for example. With source material this good, that's all you'd need for a rock-solid anime – you don't need a brilliant director or a lot of reimagining.  Yet Umino (supposedly) requested the one guy and studio that seem constitutionally incapable of adapting anything faithfully.  She requested the one team that instill their own oppressive aesthetic and bargain-basement production techniques on everything they touch.  What did she expect to happen?  Is this what she expected to happen?  Is she happy with what she saw?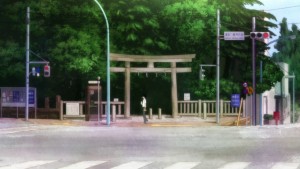 I can't really answer any of those questions, because I don't know Umino Chika and I can't read her mind.  What I know is this – the first episode of Sangatsu wasn't terrible, but it was mediocre.  And for a manga this good to produce a mediocre first episode is terrible.  There were a few nice moments – the insert song was pretty (if unnecessary), and apart from the SHAFT-ian obsession with the green tea bottle, the first ten minutes were relatively faithful to the manga even if they looked like shit.  But as soon as the scene shifted to the Kawamoto house it all went to hell.  At this point I can only assume Shinbou is incapable of making a good artistic decision, because he hasn't made one in years.  The way he handled the cats was obnoxious.  Kana Hanazawa is totally wrong for Hina-chan.  And all the trademark incessant camera tricks and quick cuts and still shots were everywhere.  It was almost impossible to process what I was seeing.  Stylistically none of this fits – it's just plain wrong.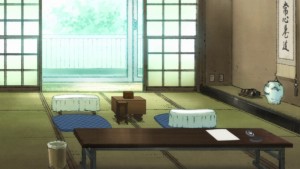 While all the early buzz was that Shinbou was going to personally direct this time rather than simply stamp his name on the credits, recent rumors are that he's barely involved in the day to day production of Sangatsu.  I don't know if that's a good thing or a bad thing, but the evidence suggests it really doesn't matter.  Shinbou isn't a director at this point, he's a brand – and Shaft is an institution built around stamping that brand on everything they touch.  It was naive, frankly, for anyone to think that things might be different this time – Natsu no Arashi and Soredemo Machi are wa Mawatteiru are long-since disappeared from the rear-view mirror, dinosaurs from the days before Shaft become the assembly line they are today.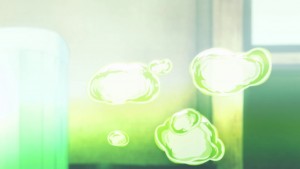 This one hurts on a very personal level.  I've walked across Takebashi and wandered the streets of Tsukishima, trying to sense the flavor of the world of Sangatsu no Lion.  This isn't a perfect story, but it's a powerful one – it comes from a place of real depth and isn't afraid to explore the dark corners of the soul.  Enough of it may well survive here for viewers who don't know the manga to enjoy the anime, and get a small taste of the full banquet Umino serves up in her bi-weekly pages.  But I'm too close to it I'm afraid, too aware of just how much is being lost in this translation.  I went into this genuinely hoping to be surprised, believing that Shinbou was smart enough to realize what he had here, and still capable of enough restraint to let it breathe and thrive.  He's not, and he's not – that's just the way it is, and there's not much point in pretending otherwise.  As anime body blows go, this one will take a good while to recover from.