I know one thing: if Manglobe still existed, they'd never let a potential commercial tank this big slip through their fingers.
OP: "Shiokaze (潮風)" by Taiiku Okazaki (岡崎体育)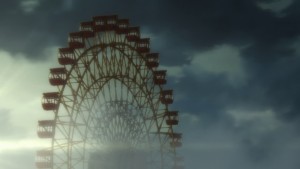 As is often the case, NoitaminA provides us with the last major premiere of the season.  It used to be the case that it was invariably among my most anticipated, though that hasn't so often been true in recent years.  It is this time, though – Fune wo Amu was one of the two or three shows I was most interested in, given the subject matter and pedigree of the source material.  And I'm happy to say it didn't disappoint, even as I wonder who the target audience is going to be.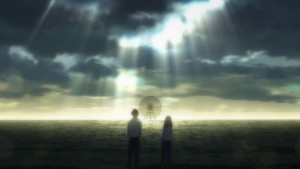 I could probably count on one hand the times I've preferred English versions of anime titles to their original Japanese counterparts, but this series is one of them – "The Great Passage" is a magnificently evocative phrase, a pretty literal translation but somehow that much more romantic.  The title in question refers to a new dictionary being put together at Genbu Publishing, seemingly the most comprehensive ever attempted in Japanese if the premiere is to be believed –  great boat to traverse the divide ignorance of language creates.  It's also the title of Miura Shion's novel, which has already inspired a live-action film which took the Japanese Academy Award for Best Picture in 2013.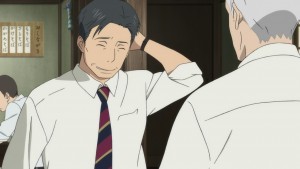 But why is it an anime?  I'm not remotely surprised to see the criticisms of the premiere as "boring" or "too slow" – the kind of anime which my muggle friend in the movie business would meet with "Why does this even have to be animated?"  This is a series for lovers of words, clearly – not those who love to talk, but those who love the minutiae of words.  The way their meanings morph with context and time, the role they play in shaping the world and our daily lives in it.  It's dialogue-driven, by its very nature, but this is not the machine-gun dialogue of Steins;Gate (though its series composer directed that show).  This is measured, meandering speech – the dialogue of daily life.  And to those who aren't a part of our daily lives, watching and listening to them would probably make them seem pretty mundane.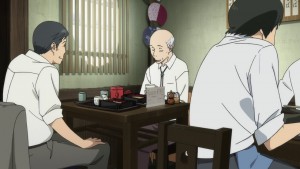 The creation of dictionaries (we even get an eyecatch omake with anthropomorphized dictionaries sharing their personality quirks) is the passion of Matsumoto Tomosuke (Mugihito) and his kouhai Araki Kouhei (Kaneo Tetsuo).  But Araki is being forced to retire to care for his ailing wife, and though he's promised to find a successor before he does, that's a big challenge.  As Matsumoto-san points out, a dictionary editor must be protective of words but not to excess, must have a perspective on language as a whole.  And it's clearly not a star position at the publishing house, judging by the way those in other departments flee when they hear Araki is out looking for potential replacements.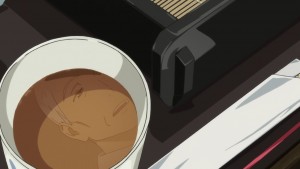 Help comes from an unusual source when one of the department's junior editors Nishioka Masashi (Kamiya Hiroshi) stumbles upon Genbu sales rep Majime Mitsuya (Sakurai Takahiro) making a call on the local hon-ya.  Majime (the joke is that his name means "earnest and dedicated") is no natural at sales – he mumbles and fidgets, and even walked into the shop carrying a competitor's bag.  But when Nishioka tracks him down after leaving the shop to give him a stern talking to, Majime reveals himself to be something of a word-taku – finding eloquence when discussing language which eludes him in normal conversation.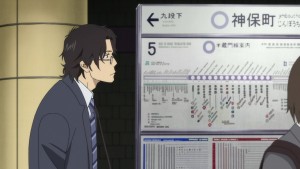 There are a lot of quiet moments here which I really loved, like the scene at his boarding house where the lonely old Ooya-san invites Majime and his cat to share her meal.  And especially when Araki "interviews" Majime by asking him to define "right" – which is a hell of a lot harder than it first seems, when you think about it.  Clearly, this is not the show for everybody – it's reflective and low-key, as niche an anime as NoitaminA has done in a long time.  But for someone who loves language and all its subtleties, The Great Passage is a real treat – especially knowing that one cour should be enough to give the novel a complete adaptation.
ED: "I & I" by Leola