There's not enough Dramamine in the world for this emotional roller-coaster.
bro
brō/
noun/informal
1.
short for brother.
"his baby bro"
2.
Suwa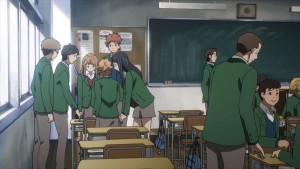 Orange is really taking years off my life.  It doesn't help when the heroine drops the BIGGEST TRAGEDY FLAG EVER right at the beginning of the episode. What, Naho, you couldn't even wait for the credits?  "Bright future" my ass…  There is a kind of opposite syndrome at work with this show, where the surface mood seems to contradict the actual state of events in the story.  It's always darkest before the dawn and all that – but with Orange I feel like the light at the end of the tunnel is- Well, you get the point.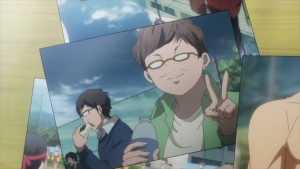 When you step back and look at this series as a whole, certain things become clear.  There are directions that mangaka Takano Ichigo has been moving in from the very beginning that weren't always obvious in real-time.  Suwa's role in the drama has changes more than anyone else over the past eleven episodes, to the point where I would argue that he's actually the co-protagonist of the story.  Kakeru is certainly central, and his fate still weighs most heavy on me as a viewer, but Suwa is no third wheel here.  One could almost say that Kakeru is the main character, Naho is the heroine and Hiroto is the protagonist.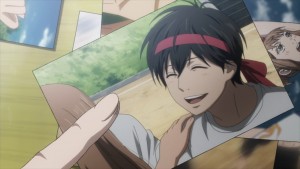 Suwa's feelings for Naho have always been the elephant in the room with Orange, and even once they were acknowledged by the characters that more or less remained true.  I think the reason is understandable – it's a very uncomfortable topic for any of the kids to talk about (most of all Hiroto himself).  When you really step back and consider what Hiroto-kun is trying to do at Suwa-san's urging, it's pretty staggering. If he succeeds, he'll never know the happiness his parallel self knows.  It's nice for Suwa-san to try and dictate Hiroto's life from a safe distance, but his future with Naho is secure.  He's asking his younger self to give up everything to try and assuage the guilt he feels over having betrayed Kakeru.  Talk about presumption – that pretty much defines it.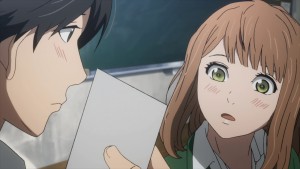 Here's the thing, though – Hiroto is who he is.  Even knowing everything he knows about his own future with Naho, he'd still want to do this if it meant saving Kakeru because that's just the kind of guy he is. We're looking at a massive circle of self-recrimination here – Kakeru blames himself for killing his mother, Hiroto and Naho blame themselves for killing Kakeru.  They're all wrong, but for the average person no amount of intellectual persuasion could ever get us to accept that emotionally.  The heart wants what it wants and feels what it feels, and the brain can go fuck itself.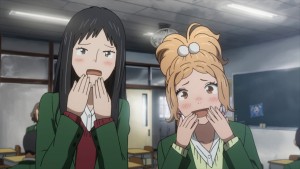 The New Year's sequence was a tough one to take in emotionally.  That day has a very strong pull for me – my memories of New Years in Japan are perhaps more vivid and distinct than any others, because it's such a revered event in Japan and so emblematic of Japanese culture.  The revelation that it was on New Year's Eve that Hiroto confessed is a big one, especially given that it came right after a fight between Naho and Kakeru.  That fight was really no one's fault – how in the world could anyone blame Kakeru for being hyper-sensitive to health issues with his grandmother under his circumstances?  And the emotional tug of the moment – New Year's at the Shrine, in a moment he should be happily sharing with Naho, naturally brought out the guilt and introspection in Kakeru.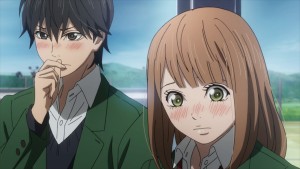 Should Suwa have confessed to Naho under those circumstances in the first place?  Well, probably not – but neither he nor Naho knew what was really happening with Kakeru.  It happened, and that's all there is to it.  The really painful thing is that even with all her foreknowledge and the events that have already been changed, Naho still can't prevent the fight with Kakeru.  And it reminds us of a very painful truth with Orange (and life) – in the end, you can't save someone from their personal darkness unless they want to be saved.  Only Kakeru can save Kakeru in the end, and as I feared, in the act of conspiring to save him his friends have made him feel even more isolated.  Kakeru senses something is off here, and that he's the only one not in on the secret.  He's an outsider, just as he was when he came to this beautiful little town.  And that means he's alone.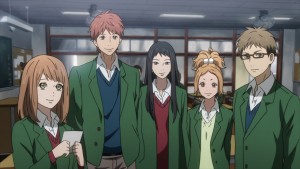 Ah, fate – why must you be so heartless?  All of Kakeru's friends only want to do what's right, to save the kind and wounded boy they've come to love.  As Hagita (who continues to emerge as a great character – his "I'm wearing a scarf too" was my favorite moment of the episode) points out, changing the future might not be such a great idea, because even if Kakeru is saved so many other things will change.  That's an interesting philosophical debate, and if you believe in the Parallel Worlds Theory I'd argue this is OK, because whatever future the kids create is the one that was meant to happen.  But the real concern for Hagita – for all of them – is that they know what Hiroto will be giving up if they succeed.  That's not an abstraction, that's a reality – and all of them have become aware of just what price Suwa is paying by working this scheme.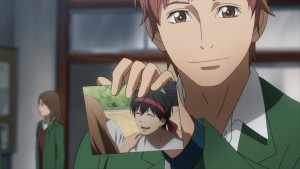 I did wonder, just for a moment, if Hiroto was going to repeat history when he showed up at the Jinja on New Year's just before Midnight.  But that wouldn't have been the Suwa we know, the ultimate bro, the pillar.  He's the axis around which this group revolves, the one whose presence defines their meeting spot.  Whatever happens, he's going to try and do what's right because his older self has made it impossible for him to happily follow the same course a second time.  He knows too much, and that knowledge has already changed his future irrespective of what happens to Kakeru.  Even in light of everything else that's painful in Orange, that alone should make us a little sad.