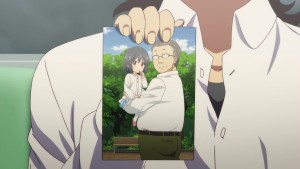 There have certainly been some ebbs and flows to this anime season, as there always are – but Kono Bijutsubu ni wa Mondai ga Aru! has been rock steady from beginning to (almost) end.  I liked this show immensely when I saw the premiere (I actually liked it just from the previews, though that was a stab in the dark), I liked it when I had time to think about it and come back to it, and I like it now.  This is my sort of comedy – a perfect melange of cute, edgy, smart and silly.  And it's gone ten episodes without really having an off week.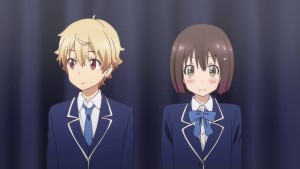 Kono Bijutsubu is quite clever in the way it uses continuity without losing it's episodic rhythm.  There are a lot of callbacks with this show (almost as if it's testing whether you've been paying attention) and the characters grow and change in very believable ways.  We hearken back to the 4th episode here (prompted by the return of Moeka in the 9th episode) and find out that Subaru and Mizuki have been "outed" (his words) for helping Moeka when she was lost.  Neither of them found it especially comfortable to be paraded in front of their entire school (as most middle schoolers wouldn't) for something so goody-goody, and Subaru especially is disinterested in the attention that comes their way after the fact.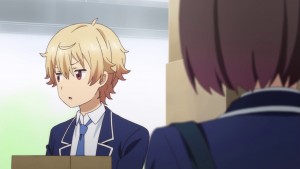 It's Mizuki this poses the biggest problem for, however, as her homeroom teacher decides that she should cash in on her celebrity and run for student council – because it will reflect well on him.  He (barely) couches it in terms of a choice, but eventually abandons even the pretense and just submits her name without her permission (yeah, I've seen teachers do that kind of thing).  This chapter isn't all that comedic, but I really like it as a character piece.  Mizuki is very believable here – she's a good girl and for a middle schooler in Japan to stand up to a teacher…  But Subaru comes to her rescue after seeing that she ceded most of the credit for the Moeka rescue to him (which was the truth, admittedly) in the school newspaper.  Subaru shows some real balls here in storming into the teacher's lounge and forcefully insisting Mizuki do her duty to the Bijutsubu, Seitoukai be damned.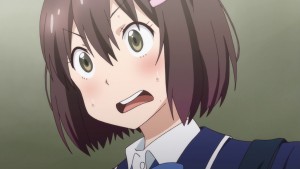 The middle chapter is definitely the meatiest here if you're a fan of the romance plot (as Colette is).  Subaru and Col-chan ("Col-chan I understand") have punted their midterms (he because he was following 30 anime series – are you listening, Samu?), and since he'll be forced to quit the club and go to cram school if he flunks, Mizuki volunteers herself and the Kaichou to tutor the two of them.  Conveniently, her parents are out of town – though as you'd expect, that comes off sounding rather differently than Mizuki initially intended.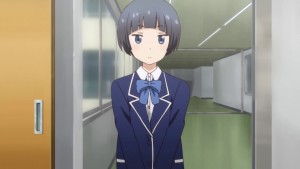 Mizuki says she's dragged Kaichou along because she "couldn't handle" it on her own, but while she was referring to the tutoring we all know that's not what she couldn't handle.  Kaichou proves predictably useless as a tutor (he promptly falls asleep) but he is useful in moving the plot, because his monopolizing the couch forces Mizuki to let Subaru take a nap in her bed when he's about to keel over.  This is great stuff, especially when it seems very much as if Mizuki won't be able to control herself.  This girl is very much in love, plain and simple. and Colette is fully aware of the vibe in the air – but that doesn't stop her from crawling under the covers and falling asleep in Subaru's arms while Mizuki is sitting downstairs in the living room.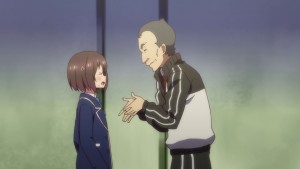 Finally, baka Kaori is back for a brief turn in the spotlight.  She's convinced that Imari is stealing Subaru from Mizuki and sets about finding evidence that Imari is a lowlife so as to drive a wedge between the two of them.  This sets off some fairly typical Kaori nonsense, this time involving a yo-yo camera with her name and class on it, but the upshot of the piece is that Imari is anything but the man-stealer Kaori is convinced she is.  She (over)bandages Kaori's leg when she falls while tailing her.  She tells Kaori that she loves Mizuki.  She gives Kaori Baby Star when her tummy growls.  And she even giver Kaori her umbrella when it starts to rain (despite the sunshine).  I admit the list would be a short one, but Imari might just be my favorite anime chuunibyou of the past couple years – for a chuuni, she's surprisingly well-adjusted.