Well, I certainly didn't see that coming.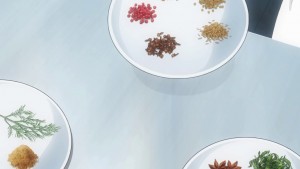 I did criticize Shokugeki no Souma last week on the grounds of being a bit too predictable at times, so I guess I should be happy that this episode took such an unexpected turn (for me, anyway).  But an asspull is still an asspull, so it'd be fair to say I'm of mixed mind about this week's result of the Hayama vs. Kurokiba match.  I'm not sure there would have been a "predictable" result along the lines of Souma defeating Mimasaka, though – it felt like Souma had more unfinished business with Kurokiba, but it wasn't a slam-dunk either way.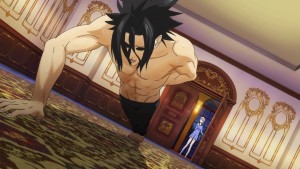 But this?  Boy, I dunno.  The matchup itself was a relatively interesting one, though obviously of secondary importance to the series since Souma-kun wasn't involved.  You certainly had a Yin-Yang dynamic here, white vs. dark, regal and refined vs. raw and savage (and it case that wasn't obvious enough, we were certainly beaten over the head with it).  I have my issues with Ryuu-kun, who I still think is too defined as a character by another character (though not as badly as Hisako is), but his combat style makes a nice contrast with Hayama.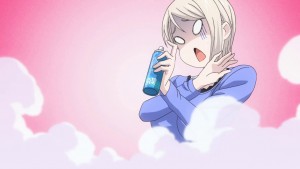 That the fight itself was a bit anti-climactic was probably inevitable – it was only given half an episode compared to the two Souma's match with Mimasaka got.  I'm not a huge fan of eel, and I thought Kurokiba's loosely matelote-inspried dish felt a bit too Japanese, given the themes of the competition (I actually thought the brioche was the most appetizing part). So chalk Hayama's duck breast as the dish I'd have been more inclined to favor, though I could see where some might consider his aroma-driven cooking style a bit too austere.  A dish as fatty and rich as duck breast desperately needs that kind of light touch, though.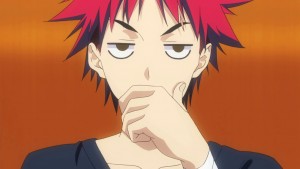 This tie-game result just doesn't sit well with me.  As far as I'm concerned it's unfair to Souma, because he did something neither of his future opponents did – he vanquished his opponent.  He's being punished by having his chances (narrative imperative aside) reduced to one-in-three despite having held up his end of the bargain.  He did everything that was asked of him and won his semi-final.  So why should he be punished because a judge couldn't make up her mind?  There's also the matter of there being no precedent for this in the mythology, internally or externally.  That's by definition an asspull, pretty much, and that's almost never a good dramatic move.