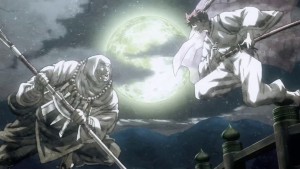 If there's a beef with Shokugeki no Souma (pun intended), it's that it can get a little predictable at times.  This is a tightrope it generally manages to walk quite well, being a series that's an overt attempt to put a new spin on shounen manga tropes.  In order for that approach to work it has to make it obvious what tropes it's spinning at any given time, and no matter how much it tries (and usually manages) to reimagine the formula, there are times when the requirements of the plot simply don't allow it.  And this shokugeki was one of those times.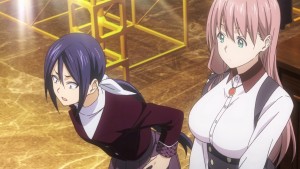 I'm not going to stew over this too long because it's not as though this episode was tripe.  But it didn't skirt the issue of what it was staked to do – get Souma-kun to the finals by showing the way to undercut Mimasaka's stalker strategy.  Mimasaka is good at running his tongue, and this tendency to rib his opponent during the matches is quite intentionally an attempt to throw them off their game.  But we know Souma pretty well by this point, so there's never really any fear in our mind that this will work, well-done though it may be. Souma is a rare example of a completely unflappable competitor – at least when he's not facing off against his dad.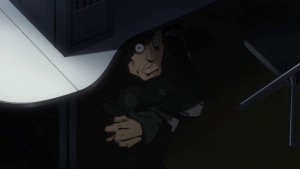 Mimsaka's "twist" this time is relatively straightforward – mesquite-smoked bacon.  It is true that mesquite is almost unknown in Japan apart from hardcore yankee barbecue aficionados, but on the whole this seemed pretty tame to me – especially considering that Mimasaka had actually wikileaked Soutsuda's notes.  Plus, is it a bit of a thematic blunder to make pork the finishing touch on a beef stew themed shokugeki?  I suppose in the end taste matters more than anything else, but betting everything on one ingredient like that is pretty basic thinking.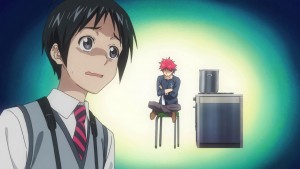 Souma comes up with the answer, as we knew he would.  He's not doing "improv cooking", as Mimasaka predicted would be his angle to try and short-circuit being profiled – he's simply putting together the results of a lifetime of cooking.  His theme park of beef (Yukihee Land-o!) keeps everything in the bovine family and trumps Mimasaka thematically, and as a take on Chikuzen (which ironically has no beef whatsoever traditionally), stays consistent with the original spirit of a Japanese take on a Western dish.  As usual Souma understands the soul of the competition better than his opponent.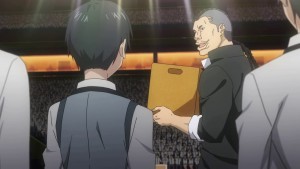 I'm not too interested in the inevitable rehabilitation of Mimasaka the ending of the episode kicks off, but next week's showdown between spice boy and eyeliner should prove more unpredictable – I think a case can be made for either being Souma's logical foe in the finals.  As for the matter of the 100 chef's tools, this is pretty predictable too – Souma offers them back to their original owners without any sort of a twist, but Takumi declines to accept his mezzaluna until he's beaten Souma head-on.  It's a fittingly by the books end for a pretty by the books episode.