You know I should say it because I don't often enough – I love, love, love this series.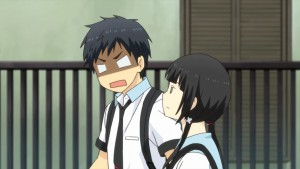 Last things first – let's talk about that ED.  I'm a sucker for a director playing out the final scene by starting the ED song early – if it's done well it's a fantastic device.  We saw that here, and what's especially noteworthy is that this is the second anime to use the wonderful "Natsumatsuri" as the ED – both of them after a fireworks-themed episode. Watamote used a Hatsune Miku version and ReLIFE used the original (as far as I know) by the much-missed Whiteberry, and both takes on the song were perfectly suited to the mood and tone of the respective series.  ReLIFE and Watamote both happen to be great series when it comes to using music, especially the ED.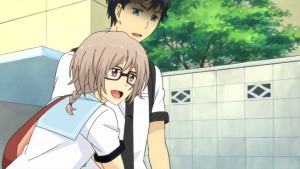 There wasn't a whole lot about this episode that wasn't absolutely perfect, though.  This was the one where ReLIFE really integrated the two halves of its story seamlessly for the first time – it was the most effective school comedy-drama ep so far, and it framed that in the context of the adults' role (especially Arata of course) in influencing events.  It was equally effective in presenting both its text and subtext, and that's a pretty tough balancing act to get just right.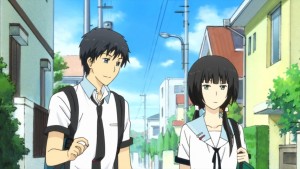 It was about time Ooga got some focus, because he's been rather left on the outside looking in for most of the series.  He's more than strong enough to carry the bulk of the plot here, but the implications for Arata and Chizuru are never far from the surface.  I thought the three way conversation among the adult teenagers was pretty dark, to be blunt.  Yoake is more or less encouraging Arata to get involved with Chizuru, on the grounds that it's a high-school fling and she'll forget about him.  I expect Onoya to suggest interfering with Ooga and Kariu's affairs, but it's surprising to hear that kind of thing from Yoake – whose speech about "toying with the hearts of the innocents" is rightly mocked as disingenuous.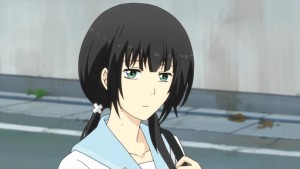 This whole scenario is one of the many reasons why I take serious issues with the concept of ReLIFE (the company).  It's rather cruel to Arata to ask him to spend an entire year in the company of these kids and not become involved with them, yet the inherent dangers are obvious.  I guess they did a good job selecting their subject, thank goodness – but clearly that wasn't the case the first time around.  Both Chizuru and Ooga are as naive as it gets when it comes to sex and relationships, and someone less scrupulous and empathetic than Arata could do a great deal of damage to both of them.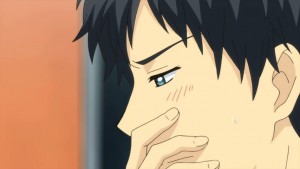 Make no mistake, Ooga is plenty innocent.  "I like everyone" is not something a high-school senior should say in response to Arata's question, and his response to Arata's obvious experience is that of a 6th-grader.  The thing is that of course Arata couldn't hide the fact that he is experienced, even if he wanted to – it's unmistakeable in the way he carries himself around the girls.  That Ooga truly does feel something for Kariu is pretty obvious, and her chance encounter (though I wonder) with Arata's kouhai from his company forces him to confront that fact.
This is utterly charming stuff, largely because Ooga and Kariu are very believable and likeable kids, but it's relatively straightforward anime romantic comedy.  The matter of Arata and Chizuru is much more difficult to confront head-on.  He's interested, obviously.  She's enough of s Sphinx that it's hard to  say for sure and so dense she probably doesn't know for sure herself, but probably feels something for him.  It's just not that simple, though.  His entire existence is a lie, and it's not as though Arata would just be another notch on Chizuru's belt – she's completely lacking in experience, and anything that happens between the two of them will be a defining event in shaping the woman she turns out to be.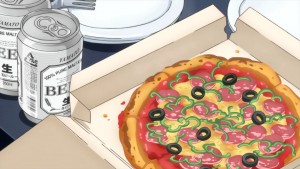 This is a vexing thing indeed, and thus, I think a very good subject around which to bring ReLIFE to a close.  I could hardly think there's a guy anywhere who would be kinder and more patient in guiding Chizuru through her first relationship, sexual or not – but that doesn't change the fact that he's an adult, a decade older than she is.  I don't know what's right or wrong here, but Ooga's decision to turn the hanabikaitai into a group date to make things easier on himself with Kariu sets the stage for what should be a fascinating, hilarious and ultimately moving finale.