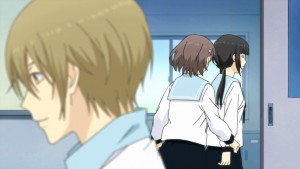 I was starting to get a little worried about ReLIFE losing its way for a while, really for the first time since the series began.  Episode 8 (I started to type "last week's episode" there…) and the first part of this one had a bit of drift syndrome going on, with the shift in focus to Honoka.  The truth is without Arata's direct involvement in the story ReLIFE plays a lot more like a conventional high school drama, and not surprisingly loses a lot of it's snap and narrative momentum in the process.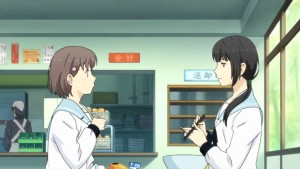 Happily, this proved to be a detour rather than a course correction, as the camera soon enough very much turned its eye back on Arata.  Not to mention Hishiro, who's a more distinctive and likeable character than Honoka.  What's going on with Honoka and Kariu feels very much like an overblown high school snit (though not to either of them, assuredly) but it has rather grave echoes of events in the adult world.  This is really much more on-point for ReLIFE – events in high school causing Arata to reflect on his life outside it, and Arata using his experience to try and spare his new peers some of the pain he endured.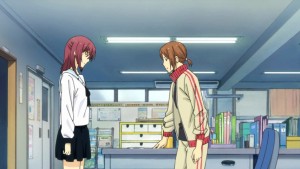 I confess I'm not getting tired of Hishiro's tin social ear – I find it endearing when she tells Honoka she looks "awful", and then asks if the redness under her eyes (from crying) was caused by bees (like I said earlier – imagine Sheldon Cooper if he gave a damn and wanted to change).  Hishiro is definitely learning – she understands something is amiss between her two new friends, and that Arata is the one to turn to for help in trying to fix it.  And snit or no, it does need fixing – Kariu is threatening to quit the volleyball team outright, and she and Honoka are in complete avoidance mode.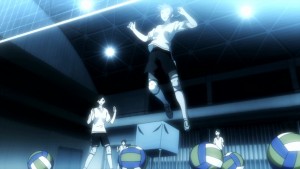 Not surprisingly, the scene where Hishiro visits Arata at his apartment (he hates the drop-in) is easily the best in the episode, and a great one by any standard.  Like it or not, age difference or not, there is a great chemistry between these two – but it doesn't have to be romantic and probably isn't.  Hishiro opens up to Arata about a bullying incident in school the prior year, and how frustrated she was at being helpless to prevent it.  We know Arata has a bullying story of his own, of course – but what we didn't know is just how horribly it concluded.  It's easy to understand why he'd be a little gun-shy about these types of situations, because he blames himself for causing what happened – for not "leaving well enough alone".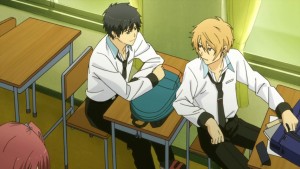 This is a complicated matter, and there are issues here I suspect ReLIFE will revisit in its final quartet of episodes.  This "equilibrium" Arata talks about respecting is really a trap – when we accept injustice and cruelty as unavoidable, we make its recurrence unavoidable.  But for now, it's enough that he finally shares his agony with someone, and even if Hishiro isn't his work sempai, at least he's able to feel as if he's helped someone even if he couldn't help the person he truly wanted to.  That he'll be able to help Kariu and Honoka I have no doubt, but that really isn't the point – this is more about the process of Arata trying to help himself.  And that tearful hug he shared with Hishiro is strong evidence that he's making enormous progress in doing that.